{"id":7602265292960,"title":"Guru Nanak at Kartarpur","handle":"guru-nanak-at-kartarpur","description":"\u003cp\u003e\u003cspan\u003eThis painting of Guru Nanak at Kartarpur is an artistic attempt to express the divine light manifested by Guru ji in his old age when he attracted many followers to sit alongside him in the wheat fields of Kartarpur. Looking at this art piece, we dwell upon the last days of Guru ji on this earth as he planted the core tenants of Sikhism in the hearts of a community of the faithful who gathered about him. He casts a royal blue shadow, which takes the shape of a warrior wearing a Dastaar and Kalgi. This foreshadows the transformation of their jyot into Guru Gobind Singh ji who would create the Khalsa panth, born out of the soil of Punjab from the seeds Guru Nanak planted generations before.\u003c\/span\u003e\u003cbr\u003e\u003cbr\u003e\u003cspan\u003eTo the left of Guru Nanak, we see the field of golden wheat but to the right it subtly transforms into a landscape of arrows and fire. This is an analogy for the turbulent and transformative times ahead for the land of Punjab, hardships which would engender the spiritual and bodily transformation of the Sikh community into the Khalsa panth. The tree is a metaphor for this community; it grew from the body of the Gurus into five powerful trunks (the panj pyare) and then beyond into countless more spirit born souls, stretching into the eternity of boundless time and the infinite cosmos.\u003c\/span\u003e\u003c\/p\u003e\n\u003cp style=\"text-align: center;\"\u003e________________________________________________________________\u003c\/p\u003e\nSome inspiriting text below taken from the writing of the great professor Puran Singh\n\u003cp\u003e\u003cstrong\u003eNanak and His Wheat Farms at Kartarpur\u003c\/strong\u003e\u003c\/p\u003e\n\u003cp\u003eGuru Nanak started wheat farms at Kartarpur, the town of Kartar (Creator) as he called it. His people came and worked with him in the fields. The Guru took keen delight in sowing wheat, and reaping the golden harvests: he was of the people. Once again his stores were open to them. The bread and water were ready for all at all hours of the day, and crowds came and freely partook of the guru's gifts. All comers were filled from the Guru's treasury of thought and love and power; the diseased and distressed were healed by him. He was an old man then; and he loved to see the crowds of God's disciples coming from the distant Kabul and Central Asia and Assam and Southern India - all the places where he had been in his younger days. In the trackless world of that time, the old Father of his people travelled on foot, singing his Hymns of Nam, and gathering every trace of love. The Afghan and the Biloch, the Turk and the Tartar, the Sufi and the Brahman, the white and dark races, mingled in his great heart. The disciples, both men and women, came from all directions, and took part freely in the song of the Guru. So great was the reverence of his own country for him, that Pir Bahauddin, the great Sufi teacher who counted his followers by thousands, one morning suddenly turned his back on Qaaba (which no Moslem would do), and began bowing, in his Namaz, in the direction of Kartarpur, "Why so?" cried his faithful followers, in alarm. "This morning I see the light of God in this direction, my friends!" said he.\u003c\/p\u003e\n\u003cdiv class=\"grid_3 listed\"\u003e\u003cstrong\u003e\u003c\/strong\u003e\u003c\/div\u003e\n\u003cdiv class=\"clearfix\" data-mce-fragment=\"1\"\u003e\u003c\/div\u003e","published_at":"2022-11-07T22:08:21-05:00","created_at":"2022-11-07T22:01:55-05:00","vendor":"ArtOfPunjabInc","type":"Posters, Prints, \u0026 Visual Artwork","tags":["Sikh art","sikh artist","sikh gift","sikh painting"],"price":5300,"price_min":5300,"price_max":112700,"available":true,"price_varies":true,"compare_at_price":null,"compare_at_price_min":0,"compare_at_price_max":0,"compare_at_price_varies":false,"variants":[{"id":42755497459872,"title":"Artist Signed Premium Canvas (rolled) \/ SMALL 20 W x 28 H inches","option1":"Artist Signed Premium Canvas (rolled)","option2":"SMALL 20 W x 28 H inches","option3":null,"sku":null,"requires_shipping":true,"taxable":true,"featured_image":null,"available":true,"name":"Guru Nanak at Kartarpur - Artist Signed Premium Canvas (rolled) \/ SMALL 20 W x 28 H inches","public_title":"Artist Signed Premium Canvas (rolled) \/ SMALL 20 W x 28 H inches","options":["Artist Signed Premium Canvas (rolled)","SMALL 20 W x 28 H inches"],"price":24100,"weight":0,"compare_at_price":null,"inventory_management":null,"barcode":null,"requires_selling_plan":false,"selling_plan_allocations":[]},{"id":42755497492640,"title":"Artist Signed Premium Canvas (rolled) \/ MEDIUM 25 W x 35 H inches","option1":"Artist Signed Premium Canvas (rolled)","option2":"MEDIUM 25 W x 35 H inches","option3":null,"sku":null,"requires_shipping":true,"taxable":true,"featured_image":null,"available":true,"name":"Guru Nanak at Kartarpur - Artist Signed Premium Canvas (rolled) \/ MEDIUM 25 W x 35 H inches","public_title":"Artist Signed Premium Canvas (rolled) \/ MEDIUM 25 W x 35 H inches","options":["Artist Signed Premium Canvas (rolled)","MEDIUM 25 W x 35 H inches"],"price":31600,"weight":0,"compare_at_price":null,"inventory_management":null,"barcode":null,"requires_selling_plan":false,"selling_plan_allocations":[]},{"id":42755497525408,"title":"Artist Signed Premium Canvas (rolled) \/ LARGE 30 W x 42 H inches","option1":"Artist Signed Premium Canvas (rolled)","option2":"LARGE 30 W x 42 H inches","option3":null,"sku":null,"requires_shipping":true,"taxable":true,"featured_image":null,"available":true,"name":"Guru Nanak at Kartarpur - Artist Signed Premium Canvas (rolled) \/ LARGE 30 W x 42 H inches","public_title":"Artist Signed Premium Canvas (rolled) \/ LARGE 30 W x 42 H inches","options":["Artist Signed Premium Canvas (rolled)","LARGE 30 W x 42 H inches"],"price":40600,"weight":0,"compare_at_price":null,"inventory_management":null,"barcode":null,"requires_selling_plan":false,"selling_plan_allocations":[]},{"id":42755497558176,"title":"Artist Signed Premium Canvas (rolled) \/ GRAND 38 W x 53 H inches","option1":"Artist Signed Premium Canvas (rolled)","option2":"GRAND 38 W x 53 H inches","option3":null,"sku":null,"requires_shipping":true,"taxable":true,"featured_image":null,"available":true,"name":"Guru Nanak at Kartarpur - Artist Signed Premium Canvas (rolled) \/ GRAND 38 W x 53 H inches","public_title":"Artist Signed Premium Canvas (rolled) \/ GRAND 38 W x 53 H inches","options":["Artist Signed Premium Canvas (rolled)","GRAND 38 W x 53 H inches"],"price":57100,"weight":0,"compare_at_price":null,"inventory_management":null,"barcode":null,"requires_selling_plan":false,"selling_plan_allocations":[]},{"id":42755497590944,"title":"Artist Signed Premium Canvas (rolled) \/ MASSIVE 54 W x 74 H inches","option1":"Artist Signed Premium Canvas (rolled)","option2":"MASSIVE 54 W x 74 H inches","option3":null,"sku":null,"requires_shipping":true,"taxable":true,"featured_image":null,"available":true,"name":"Guru Nanak at Kartarpur - Artist Signed Premium Canvas (rolled) \/ MASSIVE 54 W x 74 H inches","public_title":"Artist Signed Premium Canvas (rolled) \/ MASSIVE 54 W x 74 H inches","options":["Artist Signed Premium Canvas (rolled)","MASSIVE 54 W x 74 H inches"],"price":112700,"weight":0,"compare_at_price":null,"inventory_management":null,"barcode":null,"requires_selling_plan":false,"selling_plan_allocations":[]},{"id":42755497656480,"title":"Textured Watercolor Print \/ SMALL 20 W x 28 H inches","option1":"Textured Watercolor Print","option2":"SMALL 20 W x 28 H inches","option3":null,"sku":null,"requires_shipping":true,"taxable":true,"featured_image":null,"available":true,"name":"Guru Nanak at Kartarpur - Textured Watercolor Print \/ SMALL 20 W x 28 H inches","public_title":"Textured Watercolor Print \/ SMALL 20 W x 28 H inches","options":["Textured Watercolor Print","SMALL 20 W x 28 H inches"],"price":13600,"weight":0,"compare_at_price":null,"inventory_management":null,"barcode":null,"requires_selling_plan":false,"selling_plan_allocations":[]},{"id":42755497689248,"title":"Textured Watercolor Print \/ MEDIUM 25 W x 35 H inches","option1":"Textured Watercolor Print","option2":"MEDIUM 25 W x 35 H inches","option3":null,"sku":null,"requires_shipping":true,"taxable":true,"featured_image":null,"available":true,"name":"Guru Nanak at Kartarpur - Textured Watercolor Print \/ MEDIUM 25 W x 35 H inches","public_title":"Textured Watercolor Print \/ MEDIUM 25 W x 35 H inches","options":["Textured Watercolor Print","MEDIUM 25 W x 35 H inches"],"price":22600,"weight":0,"compare_at_price":null,"inventory_management":null,"barcode":null,"requires_selling_plan":false,"selling_plan_allocations":[]},{"id":42755497722016,"title":"Textured Watercolor Print \/ LARGE 30 W x 42 H inches","option1":"Textured Watercolor Print","option2":"LARGE 30 W x 42 H inches","option3":null,"sku":null,"requires_shipping":true,"taxable":true,"featured_image":null,"available":true,"name":"Guru Nanak at Kartarpur - Textured Watercolor Print \/ LARGE 30 W x 42 H inches","public_title":"Textured Watercolor Print \/ LARGE 30 W x 42 H inches","options":["Textured Watercolor Print","LARGE 30 W x 42 H inches"],"price":31600,"weight":0,"compare_at_price":null,"inventory_management":null,"barcode":null,"requires_selling_plan":false,"selling_plan_allocations":[]},{"id":42755497623712,"title":"Enhanced Matte Print \/ SMALL 20 W x 28 H inches","option1":"Enhanced Matte Print","option2":"SMALL 20 W x 28 H inches","option3":null,"sku":null,"requires_shipping":true,"taxable":true,"featured_image":null,"available":true,"name":"Guru Nanak at Kartarpur - Enhanced Matte Print \/ SMALL 20 W x 28 H inches","public_title":"Enhanced Matte Print \/ SMALL 20 W x 28 H inches","options":["Enhanced Matte Print","SMALL 20 W x 28 H inches"],"price":5300,"weight":0,"compare_at_price":null,"inventory_management":null,"barcode":null,"requires_selling_plan":false,"selling_plan_allocations":[]}],"images":["\/\/artofpunjab.com\/cdn\/shop\/products\/nanak-at-kartarpur-main.jpg?v=1667876558","\/\/artofpunjab.com\/cdn\/shop\/products\/guru-nanak-at-kartarpur-01.jpg?v=1667876570","\/\/artofpunjab.com\/cdn\/shop\/products\/guru-nanak-at-kartarpur-02.jpg?v=1667876569","\/\/artofpunjab.com\/cdn\/shop\/products\/nanak-at-kartarpur-detail-06.jpg?v=1667876623","\/\/artofpunjab.com\/cdn\/shop\/products\/guru-nanak-at-kartarpur-04.jpg?v=1667876623","\/\/artofpunjab.com\/cdn\/shop\/products\/nanak-at-kartarpur-detail-05.jpg?v=1667876623"],"featured_image":"\/\/artofpunjab.com\/cdn\/shop\/products\/nanak-at-kartarpur-main.jpg?v=1667876558","options":["Choose Print Type","Choose Size"],"media":[{"alt":"Guru Nanak at Kartarpur picture","id":25780472545440,"position":1,"preview_image":{"aspect_ratio":0.723,"height":1107,"width":800,"src":"\/\/artofpunjab.com\/cdn\/shop\/products\/nanak-at-kartarpur-main.jpg?v=1667876558"},"aspect_ratio":0.723,"height":1107,"media_type":"image","src":"\/\/artofpunjab.com\/cdn\/shop\/products\/nanak-at-kartarpur-main.jpg?v=1667876558","width":800},{"alt":"Guru Nanak Dev ji painting","id":25780473135264,"position":2,"preview_image":{"aspect_ratio":1.0,"height":1080,"width":1080,"src":"\/\/artofpunjab.com\/cdn\/shop\/products\/guru-nanak-at-kartarpur-01.jpg?v=1667876570"},"aspect_ratio":1.0,"height":1080,"media_type":"image","src":"\/\/artofpunjab.com\/cdn\/shop\/products\/guru-nanak-at-kartarpur-01.jpg?v=1667876570","width":1080},{"alt":"guru nanak gurpurab","id":25780473168032,"position":3,"preview_image":{"aspect_ratio":1.0,"height":600,"width":600,"src":"\/\/artofpunjab.com\/cdn\/shop\/products\/guru-nanak-at-kartarpur-02.jpg?v=1667876569"},"aspect_ratio":1.0,"height":600,"media_type":"image","src":"\/\/artofpunjab.com\/cdn\/shop\/products\/guru-nanak-at-kartarpur-02.jpg?v=1667876569","width":600},{"alt":"Guru Nanak Dev ji at Kartarpur","id":25780473692320,"position":4,"preview_image":{"aspect_ratio":1.0,"height":600,"width":600,"src":"\/\/artofpunjab.com\/cdn\/shop\/products\/nanak-at-kartarpur-detail-06.jpg?v=1667876623"},"aspect_ratio":1.0,"height":600,"media_type":"image","src":"\/\/artofpunjab.com\/cdn\/shop\/products\/nanak-at-kartarpur-detail-06.jpg?v=1667876623","width":600},{"alt":null,"id":25780473233568,"position":5,"preview_image":{"aspect_ratio":1.0,"height":600,"width":600,"src":"\/\/artofpunjab.com\/cdn\/shop\/products\/guru-nanak-at-kartarpur-04.jpg?v=1667876623"},"aspect_ratio":1.0,"height":600,"media_type":"image","src":"\/\/artofpunjab.com\/cdn\/shop\/products\/guru-nanak-at-kartarpur-04.jpg?v=1667876623","width":600},{"alt":"Artist Kanwar SIngh","id":25780473659552,"position":6,"preview_image":{"aspect_ratio":1.0,"height":600,"width":600,"src":"\/\/artofpunjab.com\/cdn\/shop\/products\/nanak-at-kartarpur-detail-05.jpg?v=1667876623"},"aspect_ratio":1.0,"height":600,"media_type":"image","src":"\/\/artofpunjab.com\/cdn\/shop\/products\/nanak-at-kartarpur-detail-05.jpg?v=1667876623","width":600}],"requires_selling_plan":false,"selling_plan_groups":[],"content":"\u003cp\u003e\u003cspan\u003eThis painting of Guru Nanak at Kartarpur is an artistic attempt to express the divine light manifested by Guru ji in his old age when he attracted many followers to sit alongside him in the wheat fields of Kartarpur. Looking at this art piece, we dwell upon the last days of Guru ji on this earth as he planted the core tenants of Sikhism in the hearts of a community of the faithful who gathered about him. He casts a royal blue shadow, which takes the shape of a warrior wearing a Dastaar and Kalgi. This foreshadows the transformation of their jyot into Guru Gobind Singh ji who would create the Khalsa panth, born out of the soil of Punjab from the seeds Guru Nanak planted generations before.\u003c\/span\u003e\u003cbr\u003e\u003cbr\u003e\u003cspan\u003eTo the left of Guru Nanak, we see the field of golden wheat but to the right it subtly transforms into a landscape of arrows and fire. This is an analogy for the turbulent and transformative times ahead for the land of Punjab, hardships which would engender the spiritual and bodily transformation of the Sikh community into the Khalsa panth. The tree is a metaphor for this community; it grew from the body of the Gurus into five powerful trunks (the panj pyare) and then beyond into countless more spirit born souls, stretching into the eternity of boundless time and the infinite cosmos.\u003c\/span\u003e\u003c\/p\u003e\n\u003cp style=\"text-align: center;\"\u003e________________________________________________________________\u003c\/p\u003e\nSome inspiriting text below taken from the writing of the great professor Puran Singh\n\u003cp\u003e\u003cstrong\u003eNanak and His Wheat Farms at Kartarpur\u003c\/strong\u003e\u003c\/p\u003e\n\u003cp\u003eGuru Nanak started wheat farms at Kartarpur, the town of Kartar (Creator) as he called it. His people came and worked with him in the fields. The Guru took keen delight in sowing wheat, and reaping the golden harvests: he was of the people. Once again his stores were open to them. The bread and water were ready for all at all hours of the day, and crowds came and freely partook of the guru's gifts. All comers were filled from the Guru's treasury of thought and love and power; the diseased and distressed were healed by him. He was an old man then; and he loved to see the crowds of God's disciples coming from the distant Kabul and Central Asia and Assam and Southern India - all the places where he had been in his younger days. In the trackless world of that time, the old Father of his people travelled on foot, singing his Hymns of Nam, and gathering every trace of love. The Afghan and the Biloch, the Turk and the Tartar, the Sufi and the Brahman, the white and dark races, mingled in his great heart. The disciples, both men and women, came from all directions, and took part freely in the song of the Guru. So great was the reverence of his own country for him, that Pir Bahauddin, the great Sufi teacher who counted his followers by thousands, one morning suddenly turned his back on Qaaba (which no Moslem would do), and began bowing, in his Namaz, in the direction of Kartarpur, "Why so?" cried his faithful followers, in alarm. "This morning I see the light of God in this direction, my friends!" said he.\u003c\/p\u003e\n\u003cdiv class=\"grid_3 listed\"\u003e\u003cstrong\u003e\u003c\/strong\u003e\u003c\/div\u003e\n\u003cdiv class=\"clearfix\" data-mce-fragment=\"1\"\u003e\u003c\/div\u003e"}
Regular price
$241.00 USD
Regular price
Sale price
$241.00 USD
Unit price
per
Sale
Sold out
Paintings
All paintings are shipped rolled in a secure mailing tube to ensure safe delivery (frames are not included).  We offer the highest quality fine art prints in three different formats. Our premium product is the limited edition artist hand-signed Premium Canvas. This museum grade canvas looks and feels just like an oil painting and can be displayed without glass. Equally beautiful are our fine art prints on Textured Watercolour paper, selected by the artist for its beautifully textured all natural finish and our Enhanced Matte paper which is a quality economical art paper with a smooth finish.
We are happy to assist you through the framing process and can recommend local frame shops in your areas where we have contacts.  Please email us at contact@artofpunjab.com after placing your order if you have have questions about the framing process or any of our products.
Premium Canvas
Our highest quality product is the Giclee fine art prints on Premium Canvas.  This museum quality print produces vibrant colours and is made to look like an original oil painting. This elegantly textured canvas features a matte non-reflective surface with a bright white point, exceptionally high Dmax and wide colour gamut. Premium Canvas prints are initially offered as part of a Limited Edition series of 100 copies hand-signed by artist Kanwar Singh.
Specifications:
Extra 3 inches of canvas added to all sides to allow for stretching
Cotton fabric textured finish, all nature acid-free canvas
Clear UV protective coating applied to canvas to allow for glass-free framing
395 gsm Weight, 23 mil Thickness, lignin and acid free
Lab tested to last over 200 years without fading
Textured Watercolour Paper
Giclee fine art prints on Textured Watercolour paper is a cotton rag media with luxurious weight that delivers museum quality appearance.  This paper has an extremely-high colour gamut and black density.  Selected by the artist for its quality and the beautiful texture.
Specifications:
Bright Textured Matte

 Finish

All nature acid-free paper
Opacity 98%, ISO Brightness 96%
Lab tested to last over 120 years without fading
Enhanced Matte Paper
Giclee fine art prints on Enhanced Matte Paper is an un-textured bright, white paper which yields highly saturated images for a 'painterly' look.
Specifications:
Bright Textured Matte Finish, all nature acid-free paper
Thickness 10.3 mil, Basis weight 192 gsm
Opacity 94%, ISO brightness 104%
Lab tested to last over 80 years without fading
Gifts Cards
Artofpunjab e-Gift Cards will be delivered by email and will contain a unique code to be used at checkout for its value. These cards offer the unique and specials gift of art for your family and friends. Great for weddings, engagements, birthdays, anniversary, house warmings and more. Your loved ones can select a unique painting of their choice from artist Kanwar Singh's extraordinary collection of over 40 paintings. This truly inspiring gift will last a lifetime.
We offer FREE worldwide shipping on all orders over $100 Canadian dollars.  A flat rate shipping fee is applied to orders under $100 CAD.
Paintings are shipped WORLDWIDE in a secure mailing tube with guaranteed safe delivery (frames are not included).  The creation of all Fine Art prints are overseen by the artist Kanwar Singh to ensure high quality and superb colours.
Order Preparation Time
We require 1 week to prepare your order. This time is used to ensure your print meets our high quality standards. The Giclee fine art printing process we use offers the best colour accuracy for print reproduction and is considered the gold standard of the art print industry. 
For canvas orders, extra time may be required for the application and drying of the UV and scratch resistant coating which will greatly extend the life of the canvas. Most people prefer to frame canvas prints without glass and this provides the necessary protection for glass free framing.
If you require a RUSH delivery for a special occasion or event please email us after placing the order at contact@artofpunjab.com and we will do our very best to accommodate.
We are confident in the quality of our high quality prints and your satisfaction is 100% guaranteed. If for any reason you are not satisfied with your purchase, you may return it within 30 days of receiving the artwork for a full refund on the price of the item. Shipping charges are not refunded.
All prints must be returned to ArtofPunjab directly. Please email us at contact@artofpunjab.com prior to mailing a return to avoid additional duty charges.  Prints must be undamaged and in the original packaging.  If 30 days or more have passed since your purchase, we cannot offer you a refund or an exchange.
Upon receipt of the returned item we will process a refund and a credit will automatically be applied to your original method of payment. Any amounts refunded will not include the cost of shipping.
View full details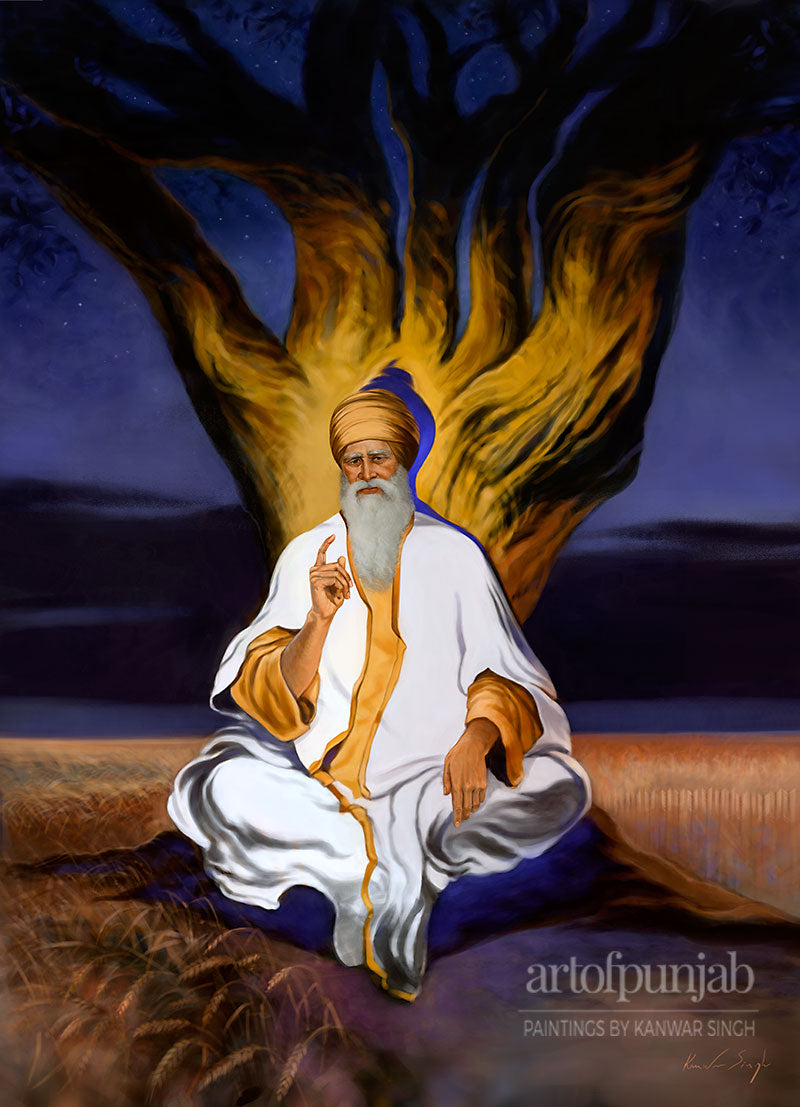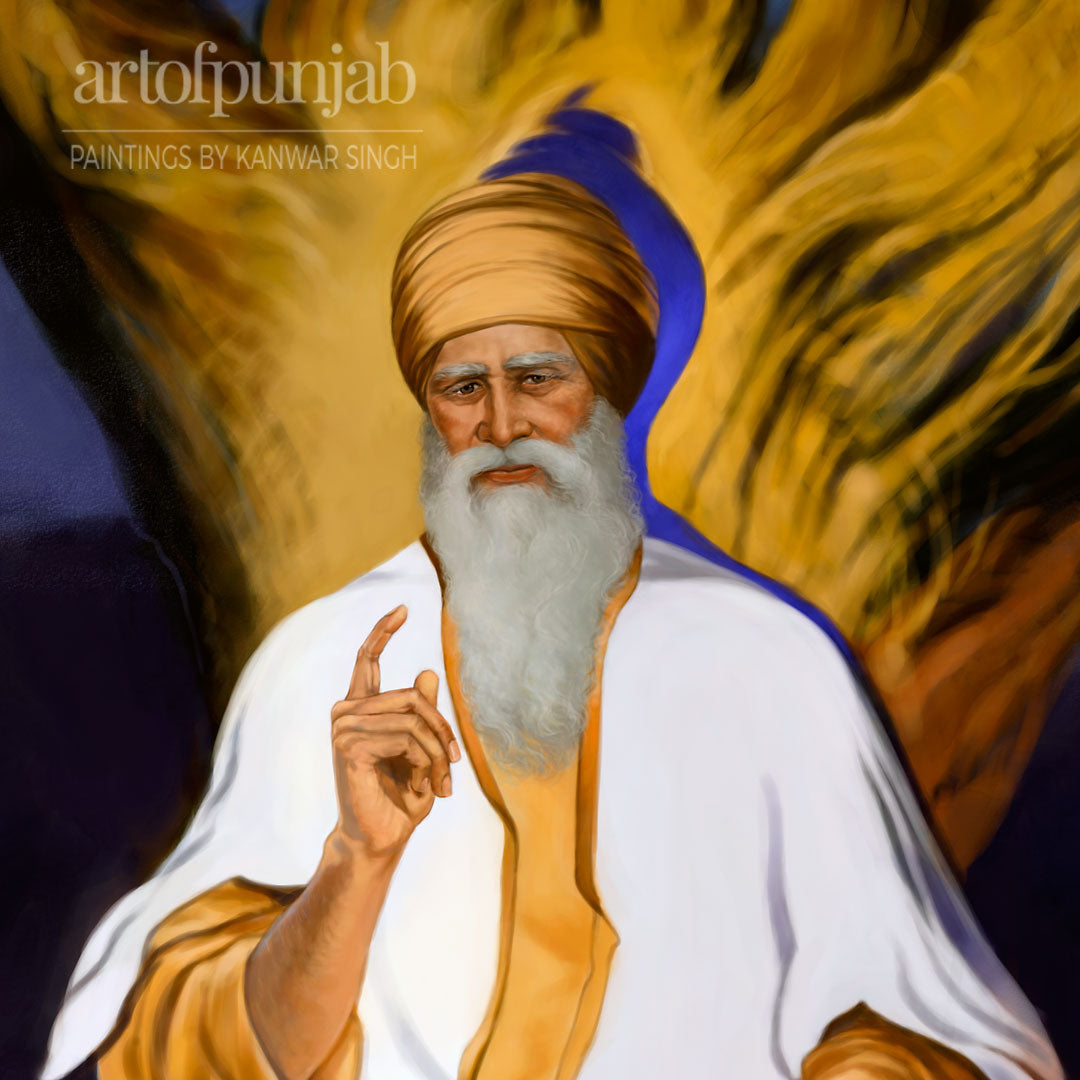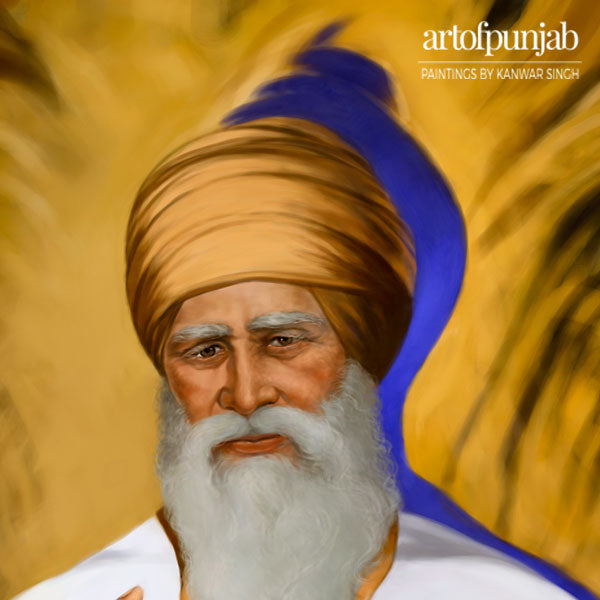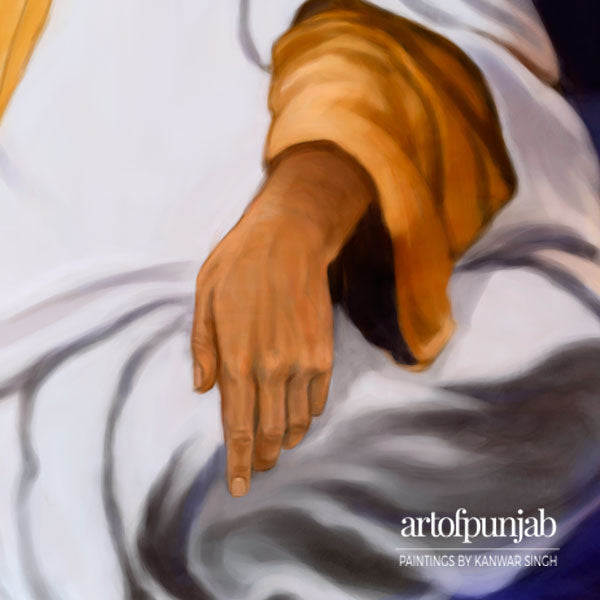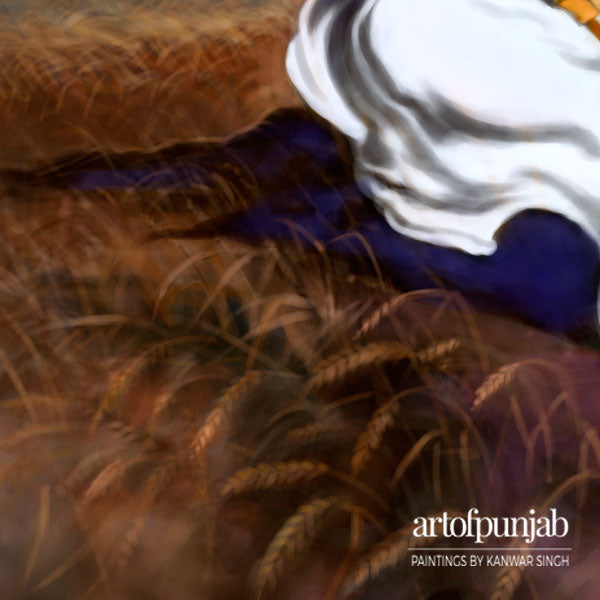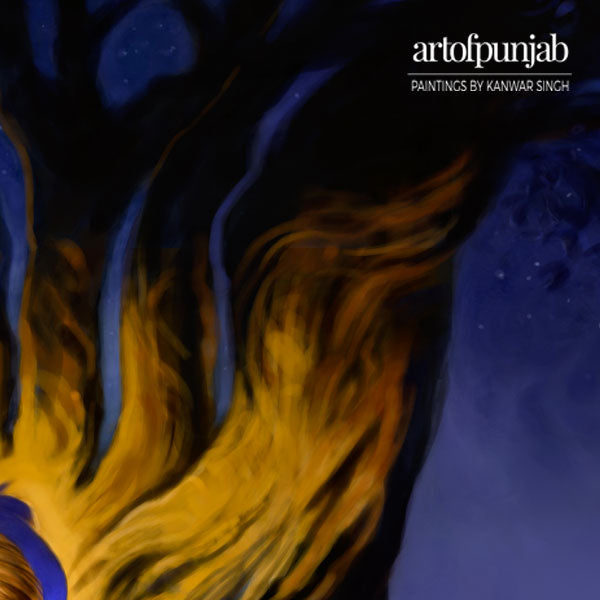 The Story
This painting of Guru Nanak at Kartarpur is an artistic attempt to express the divine light manifested by Guru ji in his old age when he attracted many followers to sit alongside him in the wheat fields of Kartarpur. Looking at this art piece, we dwell upon the last days of Guru ji on this earth as he planted the core tenants of Sikhism in the hearts of a community of the faithful who gathered about him. He casts a royal blue shadow, which takes the shape of a warrior wearing a Dastaar and Kalgi. This foreshadows the transformation of their jyot into Guru Gobind Singh ji who would create the Khalsa panth, born out of the soil of Punjab from the seeds Guru Nanak planted generations before.

To the left of Guru Nanak, we see the field of golden wheat but to the right it subtly transforms into a landscape of arrows and fire. This is an analogy for the turbulent and transformative times ahead for the land of Punjab, hardships which would engender the spiritual and bodily transformation of the Sikh community into the Khalsa panth. The tree is a metaphor for this community; it grew from the body of the Gurus into five powerful trunks (the panj pyare) and then beyond into countless more spirit born souls, stretching into the eternity of boundless time and the infinite cosmos.
________________________________________________________________
Some inspiriting text below taken from the writing of the great professor Puran Singh
Nanak and His Wheat Farms at Kartarpur
Guru Nanak started wheat farms at Kartarpur, the town of Kartar (Creator) as he called it. His people came and worked with him in the fields. The Guru took keen delight in sowing wheat, and reaping the golden harvests: he was of the people. Once again his stores were open to them. The bread and water were ready for all at all hours of the day, and crowds came and freely partook of the guru's gifts. All comers were filled from the Guru's treasury of thought and love and power; the diseased and distressed were healed by him. He was an old man then; and he loved to see the crowds of God's disciples coming from the distant Kabul and Central Asia and Assam and Southern India - all the places where he had been in his younger days. In the trackless world of that time, the old Father of his people travelled on foot, singing his Hymns of Nam, and gathering every trace of love. The Afghan and the Biloch, the Turk and the Tartar, the Sufi and the Brahman, the white and dark races, mingled in his great heart. The disciples, both men and women, came from all directions, and took part freely in the song of the Guru. So great was the reverence of his own country for him, that Pir Bahauddin, the great Sufi teacher who counted his followers by thousands, one morning suddenly turned his back on Qaaba (which no Moslem would do), and began bowing, in his Namaz, in the direction of Kartarpur, "Why so?" cried his faithful followers, in alarm. "This morning I see the light of God in this direction, my friends!" said he.
<!- hello ->