{"id":7225252020384,"title":"Guru Gobind Singh Maharaj","handle":"guru-gobind-singh-maharaj","description":"\u003cp\u003eGuru Gobind Singh ji, the 10th Guru of the Sikhs, was born into this world to protect the righteous saints and to stand against evil tyranny. Under the oppressive mughal occupation of 17th century India, the Sikhs alone remained as a wellspring of freedom and equality. To maintain their freedom and to fulfill their destiny, Guru Gobind Singh knew that the farmers and merchants of Punjab needed to be forged into strong and fearless warriors. In the spring of 1699, Guru Gobind Singh sent a hukamnama to his Sikhs, penned by his own hand, instructing them to come to Anandpur Sahib for the Baisakhi spring celebration. More than eighty thousand people arrived at Anandpur Sahib, cherishing the Guru's personal invitation. Guru Gobind Singh strode out alone from the folds of a tent. He was powerful in his appearance, dressed in beautiful clothes with a mighty sword hanging at his waist. The fire of battle, Bir Ras, charged his every movement. Unsheathing his sword and raising it to the sky, he called out "My sword is thirsty. I want the head of a Sikh!" Nothing could be heard over the vast crowd but the clanging of the horses as they shifted nervously on the side. Leaning forward and searching face to face the Guru boomed in an unforgiving voice. "I need a head! Who is willing to satisfy the calling of my sword! I need one person who will give his life to me!" The Sikhs stood shocked and could not believe what was unfolding before them. But Daya Ram, a shopkeeper from Lahore, moved purposely to the stage. Guru Gobind Singh took him by the arm, and with a fierce glance over his shoulder, he led him into the tent. Moments later, the Guru strode back before the crowd, his sword red with blood. Once again he bellowed, "I need a head! I need the head of a Sikh!"\u003c\/p\u003e\n\u003cp\u003eThose in the front rows look at each other and whispered frantically, pushing with their backs into the crowd. Some thought the Guru had gone mad, and they ran away in fear for their lives. Some hastened to the Guru's mother, begging her to intercede on their behalf. One by one, four more Sikhs – Dharm Das, Mokhan Chand, Sahib Chand and Himmat Rai –came forward to offer their lives to Guru Gobind Singh. Each time the Guru returned alone, asking for the head of another Sikh! After the fifth Sikh disappeared into the tent, a hushed silence fell over the crowd who waited with emotional anticipation. This time, the Guru took a little longer in returning from the tent and when he emerged, he walked slowly and calmly with a bearing of mastery. Behind him walked Panj Piare, the five beloved ones, dressed in beautiful clothes of gold threads and resplendent turbans. Their faces glowed, radiating the light of the Guru himself. With all faces turned towards him, the Guru then spoke to the crowd. "These five beloved Sikhs are the Khalsa. Through the supreme test of faith, even at the risk of their life, they have become pure. You who are present here, and you who come in all the ages to follow, I call you to join the brotherhood of the Khalsa. Through the purity of the Khalsa, the world shall be free and the grip of the tyrants shall be broken." The crowd rose to their feet in cries of joy and victory. Taking a bowl of iron filled with pure water, the Guru knelt and stirred the water with a double-edge sword. Mata Jeeto ji, Guru Gobind Singh's wife, came forward with cakes of sugar wrapped in her chuni. Mataji put the sugar into the water, adding sweetness to the power of the steel. By adding the sugar to the water, the Guru showed to his Sikhs that strength must always be accompanied by depth and sensitivity. The five beloved ones drank this Amrit from the Guru's hands, uttering the new greeting of the Khalsa brotherhood, Waheguru ji ka Khalsa! Waheguru ji ki fateh! "The Khalsa belongs to God, Victory belongs to God". Then, to the amazement of the crowd, the Guru himself knelt before the five Piare and asked them to initiate him also into the Khalsa.\u003c\/p\u003e\n\u003cp\u003eIn a brilliant move of strategy and leadership, Guru Gobind Singh transformed the Sikhs into the fearless and united body of the Khalsa. The Khalsa became a brave and moral fighting force against the tyrannical mughal rulers that occupied the Punjab. They achieved an exalted state of deathlessness, which empowered even a handful of Khalsa to fight effectively against overwhelming numbers. The path of destiny that Guru Gobind Singh set in 1699 is the same path we walk today. The Khalsa lives in the image and light of Guru Gobind Singh, dedicated to upholding righteousness, freedom, and the dignity of mankind. That is the Khalsa way.\u003c\/p\u003e\n\u003cp\u003eStory retold by Shanti Kaur Khalsa\u003c\/p\u003e\n\u003cdiv class=\"grid_3 listed\"\u003e\n\u003cstrong\u003e\u003c\/strong\u003e\u003cbr\u003e\n\u003c\/div\u003e\n\u003cdiv class=\"clearfix\" data-mce-fragment=\"1\"\u003e\u003cbr\u003e\u003c\/div\u003e","published_at":"2022-01-21T20:01:52-05:00","created_at":"2022-01-21T19:58:47-05:00","vendor":"ArtOfPunjabInc","type":"Posters, Prints, \u0026 Visual Artwork","tags":["Sikh art","sikh artist","sikh gift","sikh painting"],"price":5300,"price_min":5300,"price_max":113300,"available":true,"price_varies":true,"compare_at_price":null,"compare_at_price_min":0,"compare_at_price_max":0,"compare_at_price_varies":false,"variants":[{"id":41643553390752,"title":"Artist Signed Premium Canvas (rolled) \/ SMALL 20 W x 30 H inches","option1":"Artist Signed Premium Canvas (rolled)","option2":"SMALL 20 W x 30 H inches","option3":null,"sku":null,"requires_shipping":true,"taxable":true,"featured_image":null,"available":true,"name":"Guru Gobind Singh Maharaj - Artist Signed Premium Canvas (rolled) \/ SMALL 20 W x 30 H inches","public_title":"Artist Signed Premium Canvas (rolled) \/ SMALL 20 W x 30 H inches","options":["Artist Signed Premium Canvas (rolled)","SMALL 20 W x 30 H inches"],"price":24200,"weight":0,"compare_at_price":null,"inventory_management":null,"barcode":null,"requires_selling_plan":false,"selling_plan_allocations":[]},{"id":41643553423520,"title":"Artist Signed Premium Canvas (rolled) \/ MEDIUM 25 W x 38 H inches","option1":"Artist Signed Premium Canvas (rolled)","option2":"MEDIUM 25 W x 38 H inches","option3":null,"sku":null,"requires_shipping":true,"taxable":true,"featured_image":null,"available":true,"name":"Guru Gobind Singh Maharaj - Artist Signed Premium Canvas (rolled) \/ MEDIUM 25 W x 38 H inches","public_title":"Artist Signed Premium Canvas (rolled) \/ MEDIUM 25 W x 38 H inches","options":["Artist Signed Premium Canvas (rolled)","MEDIUM 25 W x 38 H inches"],"price":31800,"weight":0,"compare_at_price":null,"inventory_management":null,"barcode":null,"requires_selling_plan":false,"selling_plan_allocations":[]},{"id":41643553456288,"title":"Artist Signed Premium Canvas (rolled) \/ LARGE 30 W x 45 H inches","option1":"Artist Signed Premium Canvas (rolled)","option2":"LARGE 30 W x 45 H inches","option3":null,"sku":null,"requires_shipping":true,"taxable":true,"featured_image":null,"available":true,"name":"Guru Gobind Singh Maharaj - Artist Signed Premium Canvas (rolled) \/ LARGE 30 W x 45 H inches","public_title":"Artist Signed Premium Canvas (rolled) \/ LARGE 30 W x 45 H inches","options":["Artist Signed Premium Canvas (rolled)","LARGE 30 W x 45 H inches"],"price":40800,"weight":0,"compare_at_price":null,"inventory_management":null,"barcode":null,"requires_selling_plan":false,"selling_plan_allocations":[]},{"id":41643553489056,"title":"Artist Signed Premium Canvas (rolled) \/ GRAND 38 W x 57 H inches","option1":"Artist Signed Premium Canvas (rolled)","option2":"GRAND 38 W x 57 H inches","option3":null,"sku":null,"requires_shipping":true,"taxable":true,"featured_image":null,"available":true,"name":"Guru Gobind Singh Maharaj - Artist Signed Premium Canvas (rolled) \/ GRAND 38 W x 57 H inches","public_title":"Artist Signed Premium Canvas (rolled) \/ GRAND 38 W x 57 H inches","options":["Artist Signed Premium Canvas (rolled)","GRAND 38 W x 57 H inches"],"price":57400,"weight":0,"compare_at_price":null,"inventory_management":null,"barcode":null,"requires_selling_plan":false,"selling_plan_allocations":[]},{"id":41643553521824,"title":"Artist Signed Premium Canvas (rolled) \/ MASSIVE 54 W x 80 H inches","option1":"Artist Signed Premium Canvas (rolled)","option2":"MASSIVE 54 W x 80 H inches","option3":null,"sku":null,"requires_shipping":true,"taxable":true,"featured_image":null,"available":true,"name":"Guru Gobind Singh Maharaj - Artist Signed Premium Canvas (rolled) \/ MASSIVE 54 W x 80 H inches","public_title":"Artist Signed Premium Canvas (rolled) \/ MASSIVE 54 W x 80 H inches","options":["Artist Signed Premium Canvas (rolled)","MASSIVE 54 W x 80 H inches"],"price":113300,"weight":0,"compare_at_price":null,"inventory_management":null,"barcode":null,"requires_selling_plan":false,"selling_plan_allocations":[]},{"id":41643553292448,"title":"Textured Watercolor Print \/ SMALL 20 W x 30 H inches","option1":"Textured Watercolor Print","option2":"SMALL 20 W x 30 H inches","option3":null,"sku":null,"requires_shipping":true,"taxable":true,"featured_image":null,"available":true,"name":"Guru Gobind Singh Maharaj - Textured Watercolor Print \/ SMALL 20 W x 30 H inches","public_title":"Textured Watercolor Print \/ SMALL 20 W x 30 H inches","options":["Textured Watercolor Print","SMALL 20 W x 30 H inches"],"price":13600,"weight":0,"compare_at_price":null,"inventory_management":null,"barcode":null,"requires_selling_plan":false,"selling_plan_allocations":[]},{"id":41643553325216,"title":"Textured Watercolor Print \/ MEDIUM 25 W x 38 H inches","option1":"Textured Watercolor Print","option2":"MEDIUM 25 W x 38 H inches","option3":null,"sku":null,"requires_shipping":true,"taxable":true,"featured_image":null,"available":true,"name":"Guru Gobind Singh Maharaj - Textured Watercolor Print \/ MEDIUM 25 W x 38 H inches","public_title":"Textured Watercolor Print \/ MEDIUM 25 W x 38 H inches","options":["Textured Watercolor Print","MEDIUM 25 W x 38 H inches"],"price":22700,"weight":0,"compare_at_price":null,"inventory_management":null,"barcode":null,"requires_selling_plan":false,"selling_plan_allocations":[]},{"id":41643553357984,"title":"Textured Watercolor Print \/ LARGE 30 W x 45 H inches","option1":"Textured Watercolor Print","option2":"LARGE 30 W x 45 H inches","option3":null,"sku":null,"requires_shipping":true,"taxable":true,"featured_image":null,"available":true,"name":"Guru Gobind Singh Maharaj - Textured Watercolor Print \/ LARGE 30 W x 45 H inches","public_title":"Textured Watercolor Print \/ LARGE 30 W x 45 H inches","options":["Textured Watercolor Print","LARGE 30 W x 45 H inches"],"price":31800,"weight":0,"compare_at_price":null,"inventory_management":null,"barcode":null,"requires_selling_plan":false,"selling_plan_allocations":[]},{"id":41643553259680,"title":"Enhanced Matte Print \/ SMALL 20 W x 30 H inches","option1":"Enhanced Matte Print","option2":"SMALL 20 W x 30 H inches","option3":null,"sku":null,"requires_shipping":true,"taxable":true,"featured_image":null,"available":true,"name":"Guru Gobind Singh Maharaj - Enhanced Matte Print \/ SMALL 20 W x 30 H inches","public_title":"Enhanced Matte Print \/ SMALL 20 W x 30 H inches","options":["Enhanced Matte Print","SMALL 20 W x 30 H inches"],"price":5300,"weight":0,"compare_at_price":null,"inventory_management":null,"barcode":null,"requires_selling_plan":false,"selling_plan_allocations":[]}],"images":["\/\/artofpunjab.com\/cdn\/shop\/products\/Guru-Gobind-Singh-Maharaj-sikh-art-painting.jpg?v=1642813169","\/\/artofpunjab.com\/cdn\/shop\/products\/Guru-Gobind-Singh-Maharaj-sikh-art-picture0.jpg?v=1642813169","\/\/artofpunjab.com\/cdn\/shop\/products\/Guru-Gobind-Singh-Maharaj-sikh-art-picture1.jpg?v=1642813169","\/\/artofpunjab.com\/cdn\/shop\/products\/Guru-Gobind-Singh-Maharaj-sikh-art-picture2.jpg?v=1642813170","\/\/artofpunjab.com\/cdn\/shop\/products\/Guru-Gobind-Singh-Maharaj-sikh-art-picture3.jpg?v=1642813169","\/\/artofpunjab.com\/cdn\/shop\/products\/Guru-Gobind-Singh-Maharaj-sikh-art-picture4.jpg?v=1642813169","\/\/artofpunjab.com\/cdn\/shop\/products\/GuruGobindSinghMaharaj.jpg?v=1654932951"],"featured_image":"\/\/artofpunjab.com\/cdn\/shop\/products\/Guru-Gobind-Singh-Maharaj-sikh-art-painting.jpg?v=1642813169","options":["Choose Print Type","Choose Size"],"media":[{"alt":"Guru Gobind Singh initiated the ceremony of Amrit and transformed the Sikhs into the fearless and united body of the Khalsa. ","id":23835591475360,"position":1,"preview_image":{"aspect_ratio":0.671,"height":700,"width":470,"src":"\/\/artofpunjab.com\/cdn\/shop\/products\/Guru-Gobind-Singh-Maharaj-sikh-art-painting.jpg?v=1642813169"},"aspect_ratio":0.671,"height":700,"media_type":"image","src":"\/\/artofpunjab.com\/cdn\/shop\/products\/Guru-Gobind-Singh-Maharaj-sikh-art-painting.jpg?v=1642813169","width":470},{"alt":"Guru Gobind Singh Picture","id":23835591508128,"position":2,"preview_image":{"aspect_ratio":1.0,"height":600,"width":600,"src":"\/\/artofpunjab.com\/cdn\/shop\/products\/Guru-Gobind-Singh-Maharaj-sikh-art-picture0.jpg?v=1642813169"},"aspect_ratio":1.0,"height":600,"media_type":"image","src":"\/\/artofpunjab.com\/cdn\/shop\/products\/Guru-Gobind-Singh-Maharaj-sikh-art-picture0.jpg?v=1642813169","width":600},{"alt":"Guru Gobind Singh Painting","id":23835591540896,"position":3,"preview_image":{"aspect_ratio":1.0,"height":600,"width":600,"src":"\/\/artofpunjab.com\/cdn\/shop\/products\/Guru-Gobind-Singh-Maharaj-sikh-art-picture1.jpg?v=1642813169"},"aspect_ratio":1.0,"height":600,"media_type":"image","src":"\/\/artofpunjab.com\/cdn\/shop\/products\/Guru-Gobind-Singh-Maharaj-sikh-art-picture1.jpg?v=1642813169","width":600},{"alt":"Guru Gobind Singh and Mata Sahib Kaur","id":23835591573664,"position":4,"preview_image":{"aspect_ratio":1.0,"height":600,"width":600,"src":"\/\/artofpunjab.com\/cdn\/shop\/products\/Guru-Gobind-Singh-Maharaj-sikh-art-picture2.jpg?v=1642813170"},"aspect_ratio":1.0,"height":600,"media_type":"image","src":"\/\/artofpunjab.com\/cdn\/shop\/products\/Guru-Gobind-Singh-Maharaj-sikh-art-picture2.jpg?v=1642813170","width":600},{"alt":null,"id":23835591606432,"position":5,"preview_image":{"aspect_ratio":1.0,"height":600,"width":600,"src":"\/\/artofpunjab.com\/cdn\/shop\/products\/Guru-Gobind-Singh-Maharaj-sikh-art-picture3.jpg?v=1642813169"},"aspect_ratio":1.0,"height":600,"media_type":"image","src":"\/\/artofpunjab.com\/cdn\/shop\/products\/Guru-Gobind-Singh-Maharaj-sikh-art-picture3.jpg?v=1642813169","width":600},{"alt":null,"id":23835591639200,"position":6,"preview_image":{"aspect_ratio":1.0,"height":600,"width":600,"src":"\/\/artofpunjab.com\/cdn\/shop\/products\/Guru-Gobind-Singh-Maharaj-sikh-art-picture4.jpg?v=1642813169"},"aspect_ratio":1.0,"height":600,"media_type":"image","src":"\/\/artofpunjab.com\/cdn\/shop\/products\/Guru-Gobind-Singh-Maharaj-sikh-art-picture4.jpg?v=1642813169","width":600},{"alt":"Guru Gobind Singh Sikh Fine Art Print on Canvas","id":24838152356000,"position":7,"preview_image":{"aspect_ratio":1.0,"height":960,"width":960,"src":"\/\/artofpunjab.com\/cdn\/shop\/products\/GuruGobindSinghMaharaj.jpg?v=1654932951"},"aspect_ratio":1.0,"height":960,"media_type":"image","src":"\/\/artofpunjab.com\/cdn\/shop\/products\/GuruGobindSinghMaharaj.jpg?v=1654932951","width":960}],"requires_selling_plan":false,"selling_plan_groups":[],"content":"\u003cp\u003eGuru Gobind Singh ji, the 10th Guru of the Sikhs, was born into this world to protect the righteous saints and to stand against evil tyranny. Under the oppressive mughal occupation of 17th century India, the Sikhs alone remained as a wellspring of freedom and equality. To maintain their freedom and to fulfill their destiny, Guru Gobind Singh knew that the farmers and merchants of Punjab needed to be forged into strong and fearless warriors. In the spring of 1699, Guru Gobind Singh sent a hukamnama to his Sikhs, penned by his own hand, instructing them to come to Anandpur Sahib for the Baisakhi spring celebration. More than eighty thousand people arrived at Anandpur Sahib, cherishing the Guru's personal invitation. Guru Gobind Singh strode out alone from the folds of a tent. He was powerful in his appearance, dressed in beautiful clothes with a mighty sword hanging at his waist. The fire of battle, Bir Ras, charged his every movement. Unsheathing his sword and raising it to the sky, he called out "My sword is thirsty. I want the head of a Sikh!" Nothing could be heard over the vast crowd but the clanging of the horses as they shifted nervously on the side. Leaning forward and searching face to face the Guru boomed in an unforgiving voice. "I need a head! Who is willing to satisfy the calling of my sword! I need one person who will give his life to me!" The Sikhs stood shocked and could not believe what was unfolding before them. But Daya Ram, a shopkeeper from Lahore, moved purposely to the stage. Guru Gobind Singh took him by the arm, and with a fierce glance over his shoulder, he led him into the tent. Moments later, the Guru strode back before the crowd, his sword red with blood. Once again he bellowed, "I need a head! I need the head of a Sikh!"\u003c\/p\u003e\n\u003cp\u003eThose in the front rows look at each other and whispered frantically, pushing with their backs into the crowd. Some thought the Guru had gone mad, and they ran away in fear for their lives. Some hastened to the Guru's mother, begging her to intercede on their behalf. One by one, four more Sikhs – Dharm Das, Mokhan Chand, Sahib Chand and Himmat Rai –came forward to offer their lives to Guru Gobind Singh. Each time the Guru returned alone, asking for the head of another Sikh! After the fifth Sikh disappeared into the tent, a hushed silence fell over the crowd who waited with emotional anticipation. This time, the Guru took a little longer in returning from the tent and when he emerged, he walked slowly and calmly with a bearing of mastery. Behind him walked Panj Piare, the five beloved ones, dressed in beautiful clothes of gold threads and resplendent turbans. Their faces glowed, radiating the light of the Guru himself. With all faces turned towards him, the Guru then spoke to the crowd. "These five beloved Sikhs are the Khalsa. Through the supreme test of faith, even at the risk of their life, they have become pure. You who are present here, and you who come in all the ages to follow, I call you to join the brotherhood of the Khalsa. Through the purity of the Khalsa, the world shall be free and the grip of the tyrants shall be broken." The crowd rose to their feet in cries of joy and victory. Taking a bowl of iron filled with pure water, the Guru knelt and stirred the water with a double-edge sword. Mata Jeeto ji, Guru Gobind Singh's wife, came forward with cakes of sugar wrapped in her chuni. Mataji put the sugar into the water, adding sweetness to the power of the steel. By adding the sugar to the water, the Guru showed to his Sikhs that strength must always be accompanied by depth and sensitivity. The five beloved ones drank this Amrit from the Guru's hands, uttering the new greeting of the Khalsa brotherhood, Waheguru ji ka Khalsa! Waheguru ji ki fateh! "The Khalsa belongs to God, Victory belongs to God". Then, to the amazement of the crowd, the Guru himself knelt before the five Piare and asked them to initiate him also into the Khalsa.\u003c\/p\u003e\n\u003cp\u003eIn a brilliant move of strategy and leadership, Guru Gobind Singh transformed the Sikhs into the fearless and united body of the Khalsa. The Khalsa became a brave and moral fighting force against the tyrannical mughal rulers that occupied the Punjab. They achieved an exalted state of deathlessness, which empowered even a handful of Khalsa to fight effectively against overwhelming numbers. The path of destiny that Guru Gobind Singh set in 1699 is the same path we walk today. The Khalsa lives in the image and light of Guru Gobind Singh, dedicated to upholding righteousness, freedom, and the dignity of mankind. That is the Khalsa way.\u003c\/p\u003e\n\u003cp\u003eStory retold by Shanti Kaur Khalsa\u003c\/p\u003e\n\u003cdiv class=\"grid_3 listed\"\u003e\n\u003cstrong\u003e\u003c\/strong\u003e\u003cbr\u003e\n\u003c\/div\u003e\n\u003cdiv class=\"clearfix\" data-mce-fragment=\"1\"\u003e\u003cbr\u003e\u003c\/div\u003e"}
Regular price
$242.00 USD
Regular price
Sale price
$242.00 USD
Unit price
per
Sale
Sold out
Paintings
All paintings are shipped rolled in a secure mailing tube to ensure safe delivery (frames are not included).  We offer the highest quality fine art prints in three different formats. Our premium product is the limited edition artist hand-signed Premium Canvas. This museum grade canvas looks and feels just like an oil painting and can be displayed without glass. Equally beautiful are our fine art prints on Textured Watercolour paper, selected by the artist for its beautifully textured all natural finish and our Enhanced Matte paper which is a quality economical art paper with a smooth finish.
We are happy to assist you through the framing process and can recommend local frame shops in your areas where we have contacts.  Please email us at contact@artofpunjab.com after placing your order if you have have questions about the framing process or any of our products.
Premium Canvas
Our highest quality product is the Giclee fine art prints on Premium Canvas.  This museum quality print produces vibrant colours and is made to look like an original oil painting. This elegantly textured canvas features a matte non-reflective surface with a bright white point, exceptionally high Dmax and wide colour gamut. Premium Canvas prints are initially offered as part of a Limited Edition series of 100 copies hand-signed by artist Kanwar Singh.
Specifications:
Extra 3 inches of canvas added to all sides to allow for stretching
Cotton fabric textured finish, all nature acid-free canvas
Clear UV protective coating applied to canvas to allow for glass-free framing
395 gsm Weight, 23 mil Thickness, lignin and acid free
Lab tested to last over 200 years without fading
Textured Watercolour Paper
Giclee fine art prints on Textured Watercolour paper is a cotton rag media with luxurious weight that delivers museum quality appearance.  This paper has an extremely-high colour gamut and black density.  Selected by the artist for its quality and the beautiful texture.
Specifications:
Bright Textured Matte

 Finish

All nature acid-free paper
Opacity 98%, ISO Brightness 96%
Lab tested to last over 120 years without fading
Enhanced Matte Paper
Giclee fine art prints on Enhanced Matte Paper is an un-textured bright, white paper which yields highly saturated images for a 'painterly' look.
Specifications:
Bright Textured Matte Finish, all nature acid-free paper
Thickness 10.3 mil, Basis weight 192 gsm
Opacity 94%, ISO brightness 104%
Lab tested to last over 80 years without fading
Gifts Cards
Artofpunjab e-Gift Cards will be delivered by email and will contain a unique code to be used at checkout for its value. These cards offer the unique and specials gift of art for your family and friends. Great for weddings, engagements, birthdays, anniversary, house warmings and more. Your loved ones can select a unique painting of their choice from artist Kanwar Singh's extraordinary collection of over 40 paintings. This truly inspiring gift will last a lifetime.
We offer FREE worldwide shipping on all orders over $100 Canadian dollars.  A flat rate shipping fee is applied to orders under $100 CAD.
Paintings are shipped WORLDWIDE in a secure mailing tube with guaranteed safe delivery (frames are not included).  The creation of all Fine Art prints are overseen by the artist Kanwar Singh to ensure high quality and superb colours.
Order Preparation Time
We require 1 week to prepare your order. This time is used to ensure your print meets our high quality standards. The Giclee fine art printing process we use offers the best colour accuracy for print reproduction and is considered the gold standard of the art print industry. 
For canvas orders, extra time may be required for the application and drying of the UV and scratch resistant coating which will greatly extend the life of the canvas. Most people prefer to frame canvas prints without glass and this provides the necessary protection for glass free framing.
If you require a RUSH delivery for a special occasion or event please email us after placing the order at contact@artofpunjab.com and we will do our very best to accommodate.
We are confident in the quality of our high quality prints and your satisfaction is 100% guaranteed. If for any reason you are not satisfied with your purchase, you may return it within 30 days of receiving the artwork for a full refund on the price of the item. Shipping charges are not refunded.
All prints must be returned to ArtofPunjab directly. Please email us at contact@artofpunjab.com prior to mailing a return to avoid additional duty charges.  Prints must be undamaged and in the original packaging.  If 30 days or more have passed since your purchase, we cannot offer you a refund or an exchange.
Upon receipt of the returned item we will process a refund and a credit will automatically be applied to your original method of payment. Any amounts refunded will not include the cost of shipping.
View full details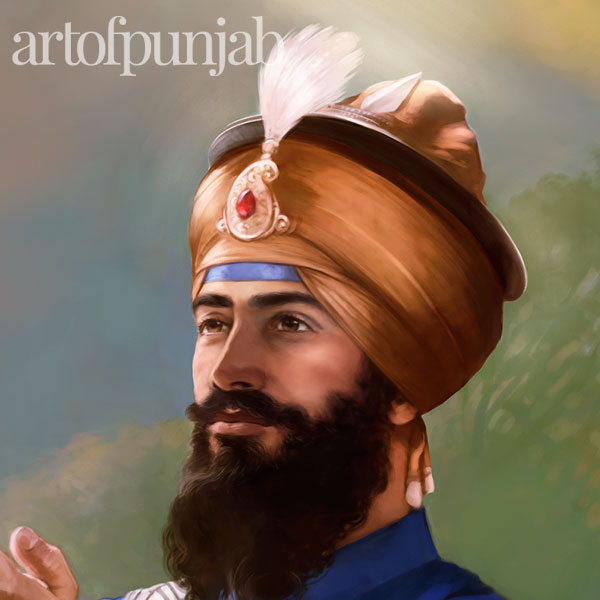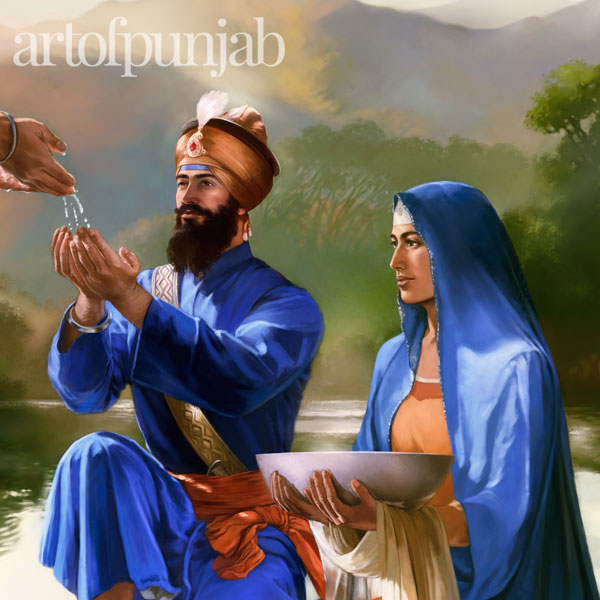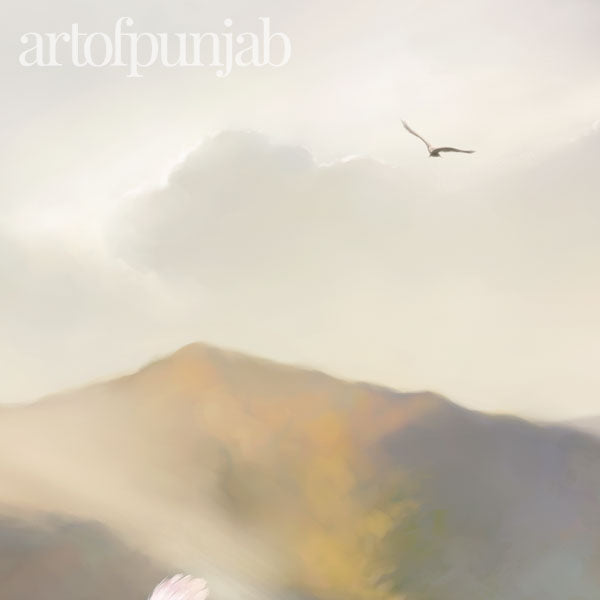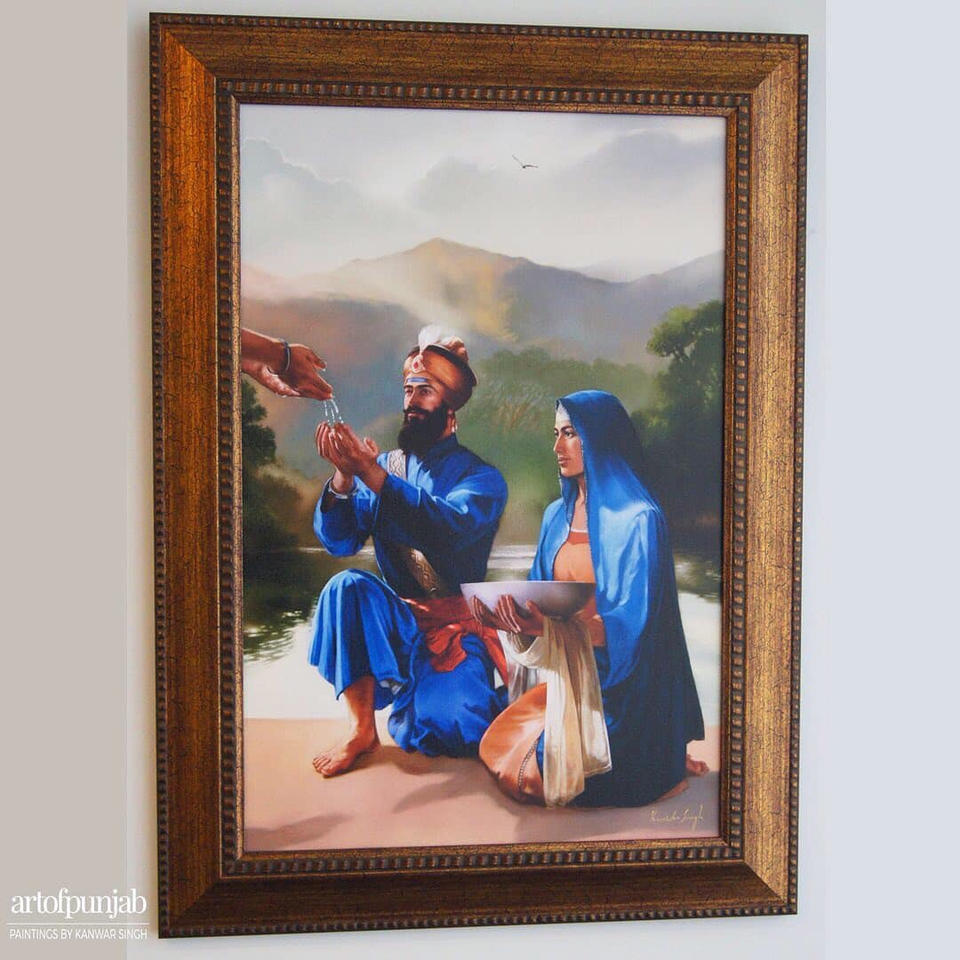 The Story
Guru Gobind Singh ji, the 10th Guru of the Sikhs, was born into this world to protect the righteous saints and to stand against evil tyranny. Under the oppressive mughal occupation of 17th century India, the Sikhs alone remained as a wellspring of freedom and equality. To maintain their freedom and to fulfill their destiny, Guru Gobind Singh knew that the farmers and merchants of Punjab needed to be forged into strong and fearless warriors. In the spring of 1699, Guru Gobind Singh sent a hukamnama to his Sikhs, penned by his own hand, instructing them to come to Anandpur Sahib for the Baisakhi spring celebration. More than eighty thousand people arrived at Anandpur Sahib, cherishing the Guru's personal invitation. Guru Gobind Singh strode out alone from the folds of a tent. He was powerful in his appearance, dressed in beautiful clothes with a mighty sword hanging at his waist. The fire of battle, Bir Ras, charged his every movement. Unsheathing his sword and raising it to the sky, he called out "My sword is thirsty. I want the head of a Sikh!" Nothing could be heard over the vast crowd but the clanging of the horses as they shifted nervously on the side. Leaning forward and searching face to face the Guru boomed in an unforgiving voice. "I need a head! Who is willing to satisfy the calling of my sword! I need one person who will give his life to me!" The Sikhs stood shocked and could not believe what was unfolding before them. But Daya Ram, a shopkeeper from Lahore, moved purposely to the stage. Guru Gobind Singh took him by the arm, and with a fierce glance over his shoulder, he led him into the tent. Moments later, the Guru strode back before the crowd, his sword red with blood. Once again he bellowed, "I need a head! I need the head of a Sikh!"
Those in the front rows look at each other and whispered frantically, pushing with their backs into the crowd. Some thought the Guru had gone mad, and they ran away in fear for their lives. Some hastened to the Guru's mother, begging her to intercede on their behalf. One by one, four more Sikhs – Dharm Das, Mokhan Chand, Sahib Chand and Himmat Rai –came forward to offer their lives to Guru Gobind Singh. Each time the Guru returned alone, asking for the head of another Sikh! After the fifth Sikh disappeared into the tent, a hushed silence fell over the crowd who waited with emotional anticipation. This time, the Guru took a little longer in returning from the tent and when he emerged, he walked slowly and calmly with a bearing of mastery. Behind him walked Panj Piare, the five beloved ones, dressed in beautiful clothes of gold threads and resplendent turbans. Their faces glowed, radiating the light of the Guru himself. With all faces turned towards him, the Guru then spoke to the crowd. "These five beloved Sikhs are the Khalsa. Through the supreme test of faith, even at the risk of their life, they have become pure. You who are present here, and you who come in all the ages to follow, I call you to join the brotherhood of the Khalsa. Through the purity of the Khalsa, the world shall be free and the grip of the tyrants shall be broken." The crowd rose to their feet in cries of joy and victory. Taking a bowl of iron filled with pure water, the Guru knelt and stirred the water with a double-edge sword. Mata Jeeto ji, Guru Gobind Singh's wife, came forward with cakes of sugar wrapped in her chuni. Mataji put the sugar into the water, adding sweetness to the power of the steel. By adding the sugar to the water, the Guru showed to his Sikhs that strength must always be accompanied by depth and sensitivity. The five beloved ones drank this Amrit from the Guru's hands, uttering the new greeting of the Khalsa brotherhood, Waheguru ji ka Khalsa! Waheguru ji ki fateh! "The Khalsa belongs to God, Victory belongs to God". Then, to the amazement of the crowd, the Guru himself knelt before the five Piare and asked them to initiate him also into the Khalsa.
In a brilliant move of strategy and leadership, Guru Gobind Singh transformed the Sikhs into the fearless and united body of the Khalsa. The Khalsa became a brave and moral fighting force against the tyrannical mughal rulers that occupied the Punjab. They achieved an exalted state of deathlessness, which empowered even a handful of Khalsa to fight effectively against overwhelming numbers. The path of destiny that Guru Gobind Singh set in 1699 is the same path we walk today. The Khalsa lives in the image and light of Guru Gobind Singh, dedicated to upholding righteousness, freedom, and the dignity of mankind. That is the Khalsa way.
Story retold by Shanti Kaur Khalsa
<!- hello ->