{"id":6896873013408,"title":"Guru Arjan Dev Ji - Birth of the Adi Granth","handle":"guru-arjan-dev-ji-adi-granth-sikh-art-print","description":"\u003cdiv class=\"print_types\"\u003e\n\u003cdiv class=\"descr\"\u003e\n\u003cdiv class=\"descr\"\u003e\n\u003cp\u003eGuru Arjan Dev Ji, the fifth in the line of Guru Nanak, presided over a time of many great new horizons for the young Sikh faith. Amritsar, which had been founded by his father Guru Ram Das Ji, was becoming a great social, political and religious centre. Large throngs of devotees were drawn to this place by a longing to be with their Guru, their love of Gurbani and to witness the completion of the Harmandir Sahib.\u003c\/p\u003e\n\u003cp\u003eHowever, even in this time of limitless possibilities, the Guru foresaw a great peril to the integrity and sanctity of the Sikh faith, both for the Sikhs of his day and the countless generations yet to be born. All about him he witnessed imposters and false Gurus distorting the sacred hymns of the first four masters. Some, such as Prithi Chand, were further confusing the sangat by composing their own poetry and attributing it to Guru Nanak. The Guru foresaw a time when Sikhs of future generations would not be able to recognize the sacred poetry of his predecessors from these false renditions.\u003cbr\u003eGuru Arjan thus began the Compilation of the Guru Granth Sahib, which he called the Adi Granth – the "primal knot" which would forever secure the sanctity of the Sikh faith. The Guru sent out a call to all Sikhs far and wide to bring forth the poetry which had been composed by the four Gurus. When all the volumes had been collected, he chose a shady spot and sat down with his scribe Bhai Gurdas and carefully selected the genuine works which would be encompassed in the Holy Granth. Guru Arjan himself dictated the banis which Bhai Gurdas then wrote out in Gurmukhi script. Bhai Gurdas was often instructed by Guru Arjan to revise and correct the portion of Adi Granth that he had written during the day.\n\u003c\/p\u003e\nThe Gurus had always desired to establish Sikhism as a casteless and universal creed. Side by side with the verses of the first four Sikh Gurus and his own, Guru Arjan Dev Ji blended the celestial utterances of other enlightened beings from many different walks of life, sects and castes: Sheikh Farid, a Muslim saint; Bhagat Kabir, a Muslim weaver; Bhagat Ravi Das, a shoe maker from Uttar Pradesh; Dhanna, a farmer from Rajastan; Namdev, a calico printer from Maharashtra; Bhikhan, a Sufi saint; Jai Dev, a poet from Bengal; Trilochan, a Brahmin from Maharashtra; Sur Das, a blind poet; Pipa, a king from Uttar Pradesh, and several more. Guru Arjan Dev's own verses are of the highest artistic caliber. More than half of the Siri Guru Granth Sahib is made up of his writings. The Gurumukhi script made it possible for everyone to read all the selections in the Siri Guru Granth Sahib even if they were originally written in Persian or Sanskrit, Arabic, Bengali or some other language or dialect.\n\u003cp\u003eWith the completion of this momentous work, the Guru gave the world a gift such as it had never experienced before, a source of divine living guidance so clear and penetrating that it could uplift the consciousness of a human being within no time. A gift so pure and essential, that it could transcend the boundaries of time and religion and exist beyond personality and human form.\u003c\/p\u003e\n\u003c\/div\u003e\n\u003c\/div\u003e\n\u003c\/div\u003e\n\u003cdiv class=\"descr\"\u003e\n\u003cdiv class=\"print_types\"\u003e\n\u003cdiv class=\"print_types\"\u003e\u003chr\u003e\u003c\/div\u003e\n\u003c\/div\u003e\n\u003c\/div\u003e\n\u003cdiv class=\"grid_3 listed\"\u003e\u003cstrong\u003e\u003c\/strong\u003e\u003c\/div\u003e\n\u003cdiv class=\"clearfix\" data-mce-fragment=\"1\"\u003e\u003c\/div\u003e","published_at":"2021-08-15T12:02:57-04:00","created_at":"2021-08-15T12:01:06-04:00","vendor":"ArtOfPunjabInc","type":"Posters, Prints, \u0026 Visual Artwork","tags":["guru arjan","Sikh art","sikh artist","sikh gift","sikh painting"],"price":5300,"price_min":5300,"price_max":113300,"available":true,"price_varies":true,"compare_at_price":null,"compare_at_price_min":0,"compare_at_price_max":0,"compare_at_price_varies":false,"variants":[{"id":40648596357280,"title":"Artist Signed Premium Canvas (rolled) \/ SMALL 30 W x 20 H inches","option1":"Artist Signed Premium Canvas (rolled)","option2":"SMALL 30 W x 20 H inches","option3":null,"sku":null,"requires_shipping":true,"taxable":true,"featured_image":null,"available":true,"name":"Guru Arjan Dev Ji - Birth of the Adi Granth - Artist Signed Premium Canvas (rolled) \/ SMALL 30 W x 20 H inches","public_title":"Artist Signed Premium Canvas (rolled) \/ SMALL 30 W x 20 H inches","options":["Artist Signed Premium Canvas (rolled)","SMALL 30 W x 20 H inches"],"price":24200,"weight":0,"compare_at_price":null,"inventory_management":null,"barcode":null,"requires_selling_plan":false,"selling_plan_allocations":[]},{"id":40648596390048,"title":"Artist Signed Premium Canvas (rolled) \/ MEDIUM 38 W x 25 H inches","option1":"Artist Signed Premium Canvas (rolled)","option2":"MEDIUM 38 W x 25 H inches","option3":null,"sku":null,"requires_shipping":true,"taxable":true,"featured_image":null,"available":true,"name":"Guru Arjan Dev Ji - Birth of the Adi Granth - Artist Signed Premium Canvas (rolled) \/ MEDIUM 38 W x 25 H inches","public_title":"Artist Signed Premium Canvas (rolled) \/ MEDIUM 38 W x 25 H inches","options":["Artist Signed Premium Canvas (rolled)","MEDIUM 38 W x 25 H inches"],"price":31800,"weight":0,"compare_at_price":null,"inventory_management":null,"barcode":null,"requires_selling_plan":false,"selling_plan_allocations":[]},{"id":40648596422816,"title":"Artist Signed Premium Canvas (rolled) \/ LARGE 45 W x 30 H inches","option1":"Artist Signed Premium Canvas (rolled)","option2":"LARGE 45 W x 30 H inches","option3":null,"sku":null,"requires_shipping":true,"taxable":true,"featured_image":null,"available":true,"name":"Guru Arjan Dev Ji - Birth of the Adi Granth - Artist Signed Premium Canvas (rolled) \/ LARGE 45 W x 30 H inches","public_title":"Artist Signed Premium Canvas (rolled) \/ LARGE 45 W x 30 H inches","options":["Artist Signed Premium Canvas (rolled)","LARGE 45 W x 30 H inches"],"price":40800,"weight":0,"compare_at_price":null,"inventory_management":null,"barcode":null,"requires_selling_plan":false,"selling_plan_allocations":[]},{"id":40648596455584,"title":"Artist Signed Premium Canvas (rolled) \/ GRAND 57 W x 38 H inches","option1":"Artist Signed Premium Canvas (rolled)","option2":"GRAND 57 W x 38 H inches","option3":null,"sku":null,"requires_shipping":true,"taxable":true,"featured_image":null,"available":true,"name":"Guru Arjan Dev Ji - Birth of the Adi Granth - Artist Signed Premium Canvas (rolled) \/ GRAND 57 W x 38 H inches","public_title":"Artist Signed Premium Canvas (rolled) \/ GRAND 57 W x 38 H inches","options":["Artist Signed Premium Canvas (rolled)","GRAND 57 W x 38 H inches"],"price":57400,"weight":0,"compare_at_price":null,"inventory_management":null,"barcode":null,"requires_selling_plan":false,"selling_plan_allocations":[]},{"id":40648596488352,"title":"Artist Signed Premium Canvas (rolled) \/ MASSIVE 80 W x 54 H inches","option1":"Artist Signed Premium Canvas (rolled)","option2":"MASSIVE 80 W x 54 H inches","option3":null,"sku":null,"requires_shipping":true,"taxable":true,"featured_image":null,"available":true,"name":"Guru Arjan Dev Ji - Birth of the Adi Granth - Artist Signed Premium Canvas (rolled) \/ MASSIVE 80 W x 54 H inches","public_title":"Artist Signed Premium Canvas (rolled) \/ MASSIVE 80 W x 54 H inches","options":["Artist Signed Premium Canvas (rolled)","MASSIVE 80 W x 54 H inches"],"price":113300,"weight":0,"compare_at_price":null,"inventory_management":null,"barcode":null,"requires_selling_plan":false,"selling_plan_allocations":[]},{"id":40648596226208,"title":"Textured Watercolor Print \/ SMALL 30 W x 20 H inches","option1":"Textured Watercolor Print","option2":"SMALL 30 W x 20 H inches","option3":null,"sku":null,"requires_shipping":true,"taxable":true,"featured_image":null,"available":true,"name":"Guru Arjan Dev Ji - Birth of the Adi Granth - Textured Watercolor Print \/ SMALL 30 W x 20 H inches","public_title":"Textured Watercolor Print \/ SMALL 30 W x 20 H inches","options":["Textured Watercolor Print","SMALL 30 W x 20 H inches"],"price":12100,"weight":0,"compare_at_price":null,"inventory_management":null,"barcode":null,"requires_selling_plan":false,"selling_plan_allocations":[]},{"id":40648596291744,"title":"Textured Watercolor Print \/ MEDIUM 38 W x 25 H inches","option1":"Textured Watercolor Print","option2":"MEDIUM 38 W x 25 H inches","option3":null,"sku":null,"requires_shipping":true,"taxable":true,"featured_image":null,"available":true,"name":"Guru Arjan Dev Ji - Birth of the Adi Granth - Textured Watercolor Print \/ MEDIUM 38 W x 25 H inches","public_title":"Textured Watercolor Print \/ MEDIUM 38 W x 25 H inches","options":["Textured Watercolor Print","MEDIUM 38 W x 25 H inches"],"price":22700,"weight":0,"compare_at_price":null,"inventory_management":null,"barcode":null,"requires_selling_plan":false,"selling_plan_allocations":[]},{"id":40648596324512,"title":"Textured Watercolor Print \/ LARGE 45 W x 30 H inches","option1":"Textured Watercolor Print","option2":"LARGE 45 W x 30 H inches","option3":null,"sku":null,"requires_shipping":true,"taxable":true,"featured_image":null,"available":true,"name":"Guru Arjan Dev Ji - Birth of the Adi Granth - Textured Watercolor Print \/ LARGE 45 W x 30 H inches","public_title":"Textured Watercolor Print \/ LARGE 45 W x 30 H inches","options":["Textured Watercolor Print","LARGE 45 W x 30 H inches"],"price":31800,"weight":0,"compare_at_price":null,"inventory_management":null,"barcode":null,"requires_selling_plan":false,"selling_plan_allocations":[]},{"id":40648596193440,"title":"Enhanced Matte Print \/ SMALL 30 W x 20 H inches","option1":"Enhanced Matte Print","option2":"SMALL 30 W x 20 H inches","option3":null,"sku":null,"requires_shipping":true,"taxable":true,"featured_image":null,"available":true,"name":"Guru Arjan Dev Ji - Birth of the Adi Granth - Enhanced Matte Print \/ SMALL 30 W x 20 H inches","public_title":"Enhanced Matte Print \/ SMALL 30 W x 20 H inches","options":["Enhanced Matte Print","SMALL 30 W x 20 H inches"],"price":5300,"weight":0,"compare_at_price":null,"inventory_management":null,"barcode":null,"requires_selling_plan":false,"selling_plan_allocations":[]}],"images":["\/\/artofpunjab.com\/cdn\/shop\/products\/guru-argun-full.jpg?v=1649535755","\/\/artofpunjab.com\/cdn\/shop\/products\/guru_arjun_dev_ji_Sikh_art_painting_picture1.jpg?v=1649535755","\/\/artofpunjab.com\/cdn\/shop\/products\/guru_arjun_dev_ji_Sikh_art_portrait_picture4.jpg?v=1649535755","\/\/artofpunjab.com\/cdn\/shop\/products\/guru_arjun_dev_ji_bhai-gurdas_Sikh_art_painting_picture2.jpg?v=1649535755","\/\/artofpunjab.com\/cdn\/shop\/products\/guru_arjun_dev_ji_gurbani_Sikh_art_portrait_picture5.jpg?v=1649535755","\/\/artofpunjab.com\/cdn\/shop\/products\/guru_arjun_dev_ji_harimandir_Sikh_art_painting_picture3.jpg?v=1649535755","\/\/artofpunjab.com\/cdn\/shop\/products\/GuruArjanDevJiframed.jpg?v=1654821212"],"featured_image":"\/\/artofpunjab.com\/cdn\/shop\/products\/guru-argun-full.jpg?v=1649535755","options":["Choose Print Type","Choose Size"],"media":[{"alt":"Guru Arjan Dev ji - Sikh history painting by artist Kanwar Singh","id":24432034021536,"position":1,"preview_image":{"aspect_ratio":1.528,"height":600,"width":917,"src":"\/\/artofpunjab.com\/cdn\/shop\/products\/guru-argun-full.jpg?v=1649535755"},"aspect_ratio":1.528,"height":600,"media_type":"image","src":"\/\/artofpunjab.com\/cdn\/shop\/products\/guru-argun-full.jpg?v=1649535755","width":917},{"alt":null,"id":22206413308064,"position":2,"preview_image":{"aspect_ratio":1.0,"height":600,"width":600,"src":"\/\/artofpunjab.com\/cdn\/shop\/products\/guru_arjun_dev_ji_Sikh_art_painting_picture1.jpg?v=1649535755"},"aspect_ratio":1.0,"height":600,"media_type":"image","src":"\/\/artofpunjab.com\/cdn\/shop\/products\/guru_arjun_dev_ji_Sikh_art_painting_picture1.jpg?v=1649535755","width":600},{"alt":null,"id":22206413340832,"position":3,"preview_image":{"aspect_ratio":1.0,"height":600,"width":600,"src":"\/\/artofpunjab.com\/cdn\/shop\/products\/guru_arjun_dev_ji_Sikh_art_portrait_picture4.jpg?v=1649535755"},"aspect_ratio":1.0,"height":600,"media_type":"image","src":"\/\/artofpunjab.com\/cdn\/shop\/products\/guru_arjun_dev_ji_Sikh_art_portrait_picture4.jpg?v=1649535755","width":600},{"alt":"Bhai Gurdas Sikh history painting by Kanwar Singh","id":22206413373600,"position":4,"preview_image":{"aspect_ratio":1.0,"height":600,"width":600,"src":"\/\/artofpunjab.com\/cdn\/shop\/products\/guru_arjun_dev_ji_bhai-gurdas_Sikh_art_painting_picture2.jpg?v=1649535755"},"aspect_ratio":1.0,"height":600,"media_type":"image","src":"\/\/artofpunjab.com\/cdn\/shop\/products\/guru_arjun_dev_ji_bhai-gurdas_Sikh_art_painting_picture2.jpg?v=1649535755","width":600},{"alt":null,"id":22206413406368,"position":5,"preview_image":{"aspect_ratio":1.0,"height":600,"width":600,"src":"\/\/artofpunjab.com\/cdn\/shop\/products\/guru_arjun_dev_ji_gurbani_Sikh_art_portrait_picture5.jpg?v=1649535755"},"aspect_ratio":1.0,"height":600,"media_type":"image","src":"\/\/artofpunjab.com\/cdn\/shop\/products\/guru_arjun_dev_ji_gurbani_Sikh_art_portrait_picture5.jpg?v=1649535755","width":600},{"alt":null,"id":22206413439136,"position":6,"preview_image":{"aspect_ratio":1.0,"height":600,"width":600,"src":"\/\/artofpunjab.com\/cdn\/shop\/products\/guru_arjun_dev_ji_harimandir_Sikh_art_painting_picture3.jpg?v=1649535755"},"aspect_ratio":1.0,"height":600,"media_type":"image","src":"\/\/artofpunjab.com\/cdn\/shop\/products\/guru_arjun_dev_ji_harimandir_Sikh_art_painting_picture3.jpg?v=1649535755","width":600},{"alt":null,"id":24832181239968,"position":7,"preview_image":{"aspect_ratio":1.0,"height":600,"width":600,"src":"\/\/artofpunjab.com\/cdn\/shop\/products\/GuruArjanDevJiframed.jpg?v=1654821212"},"aspect_ratio":1.0,"height":600,"media_type":"image","src":"\/\/artofpunjab.com\/cdn\/shop\/products\/GuruArjanDevJiframed.jpg?v=1654821212","width":600}],"requires_selling_plan":false,"selling_plan_groups":[],"content":"\u003cdiv class=\"print_types\"\u003e\n\u003cdiv class=\"descr\"\u003e\n\u003cdiv class=\"descr\"\u003e\n\u003cp\u003eGuru Arjan Dev Ji, the fifth in the line of Guru Nanak, presided over a time of many great new horizons for the young Sikh faith. Amritsar, which had been founded by his father Guru Ram Das Ji, was becoming a great social, political and religious centre. Large throngs of devotees were drawn to this place by a longing to be with their Guru, their love of Gurbani and to witness the completion of the Harmandir Sahib.\u003c\/p\u003e\n\u003cp\u003eHowever, even in this time of limitless possibilities, the Guru foresaw a great peril to the integrity and sanctity of the Sikh faith, both for the Sikhs of his day and the countless generations yet to be born. All about him he witnessed imposters and false Gurus distorting the sacred hymns of the first four masters. Some, such as Prithi Chand, were further confusing the sangat by composing their own poetry and attributing it to Guru Nanak. The Guru foresaw a time when Sikhs of future generations would not be able to recognize the sacred poetry of his predecessors from these false renditions.\u003cbr\u003eGuru Arjan thus began the Compilation of the Guru Granth Sahib, which he called the Adi Granth – the "primal knot" which would forever secure the sanctity of the Sikh faith. The Guru sent out a call to all Sikhs far and wide to bring forth the poetry which had been composed by the four Gurus. When all the volumes had been collected, he chose a shady spot and sat down with his scribe Bhai Gurdas and carefully selected the genuine works which would be encompassed in the Holy Granth. Guru Arjan himself dictated the banis which Bhai Gurdas then wrote out in Gurmukhi script. Bhai Gurdas was often instructed by Guru Arjan to revise and correct the portion of Adi Granth that he had written during the day.\n\u003c\/p\u003e\nThe Gurus had always desired to establish Sikhism as a casteless and universal creed. Side by side with the verses of the first four Sikh Gurus and his own, Guru Arjan Dev Ji blended the celestial utterances of other enlightened beings from many different walks of life, sects and castes: Sheikh Farid, a Muslim saint; Bhagat Kabir, a Muslim weaver; Bhagat Ravi Das, a shoe maker from Uttar Pradesh; Dhanna, a farmer from Rajastan; Namdev, a calico printer from Maharashtra; Bhikhan, a Sufi saint; Jai Dev, a poet from Bengal; Trilochan, a Brahmin from Maharashtra; Sur Das, a blind poet; Pipa, a king from Uttar Pradesh, and several more. Guru Arjan Dev's own verses are of the highest artistic caliber. More than half of the Siri Guru Granth Sahib is made up of his writings. The Gurumukhi script made it possible for everyone to read all the selections in the Siri Guru Granth Sahib even if they were originally written in Persian or Sanskrit, Arabic, Bengali or some other language or dialect.\n\u003cp\u003eWith the completion of this momentous work, the Guru gave the world a gift such as it had never experienced before, a source of divine living guidance so clear and penetrating that it could uplift the consciousness of a human being within no time. A gift so pure and essential, that it could transcend the boundaries of time and religion and exist beyond personality and human form.\u003c\/p\u003e\n\u003c\/div\u003e\n\u003c\/div\u003e\n\u003c\/div\u003e\n\u003cdiv class=\"descr\"\u003e\n\u003cdiv class=\"print_types\"\u003e\n\u003cdiv class=\"print_types\"\u003e\u003chr\u003e\u003c\/div\u003e\n\u003c\/div\u003e\n\u003c\/div\u003e\n\u003cdiv class=\"grid_3 listed\"\u003e\u003cstrong\u003e\u003c\/strong\u003e\u003c\/div\u003e\n\u003cdiv class=\"clearfix\" data-mce-fragment=\"1\"\u003e\u003c\/div\u003e"}
Regular price
$242.00 USD
Regular price
Sale price
$242.00 USD
Unit price
per
Sale
Sold out
Paintings
All paintings are shipped rolled in a secure mailing tube to ensure safe delivery (frames are not included).  We offer the highest quality fine art prints in three different formats. Our premium product is the limited edition artist hand-signed Premium Canvas. This museum grade canvas looks and feels just like an oil painting and can be displayed without glass. Equally beautiful are our fine art prints on Textured Watercolour paper, selected by the artist for its beautifully textured all natural finish and our Enhanced Matte paper which is a quality economical art paper with a smooth finish.
We are happy to assist you through the framing process and can recommend local frame shops in your areas where we have contacts.  Please email us at contact@artofpunjab.com after placing your order if you have have questions about the framing process or any of our products.
Premium Canvas
Our highest quality product is the Giclee fine art prints on Premium Canvas.  This museum quality print produces vibrant colours and is made to look like an original oil painting. This elegantly textured canvas features a matte non-reflective surface with a bright white point, exceptionally high Dmax and wide colour gamut. Premium Canvas prints are initially offered as part of a Limited Edition series of 100 copies hand-signed by artist Kanwar Singh.
Specifications:
Extra 3 inches of canvas added to all sides to allow for stretching
Cotton fabric textured finish, all nature acid-free canvas
Clear UV protective coating applied to canvas to allow for glass-free framing
395 gsm Weight, 23 mil Thickness, lignin and acid free
Lab tested to last over 200 years without fading
Textured Watercolour Paper
Giclee fine art prints on Textured Watercolour paper is a cotton rag media with luxurious weight that delivers museum quality appearance.  This paper has an extremely-high colour gamut and black density.  Selected by the artist for its quality and the beautiful texture.
Specifications:
Bright Textured Matte

 Finish

All nature acid-free paper
Opacity 98%, ISO Brightness 96%
Lab tested to last over 120 years without fading
Enhanced Matte Paper
Giclee fine art prints on Enhanced Matte Paper is an un-textured bright, white paper which yields highly saturated images for a 'painterly' look.
Specifications:
Bright Textured Matte Finish, all nature acid-free paper
Thickness 10.3 mil, Basis weight 192 gsm
Opacity 94%, ISO brightness 104%
Lab tested to last over 80 years without fading
Gifts Cards
Artofpunjab e-Gift Cards will be delivered by email and will contain a unique code to be used at checkout for its value. These cards offer the unique and specials gift of art for your family and friends. Great for weddings, engagements, birthdays, anniversary, house warmings and more. Your loved ones can select a unique painting of their choice from artist Kanwar Singh's extraordinary collection of over 40 paintings. This truly inspiring gift will last a lifetime.
We offer FREE worldwide shipping on all orders over $100 Canadian dollars.  A flat rate shipping fee is applied to orders under $100 CAD.
Paintings are shipped WORLDWIDE in a secure mailing tube with guaranteed safe delivery (frames are not included).  The creation of all Fine Art prints are overseen by the artist Kanwar Singh to ensure high quality and superb colours.
Order Preparation Time
We require 1 week to prepare your order. This time is used to ensure your print meets our high quality standards. The Giclee fine art printing process we use offers the best colour accuracy for print reproduction and is considered the gold standard of the art print industry. 
For canvas orders, extra time may be required for the application and drying of the UV and scratch resistant coating which will greatly extend the life of the canvas. Most people prefer to frame canvas prints without glass and this provides the necessary protection for glass free framing.
If you require a RUSH delivery for a special occasion or event please email us after placing the order at contact@artofpunjab.com and we will do our very best to accommodate.
We are confident in the quality of our high quality prints and your satisfaction is 100% guaranteed. If for any reason you are not satisfied with your purchase, you may return it within 30 days of receiving the artwork for a full refund on the price of the item. Shipping charges are not refunded.
All prints must be returned to ArtofPunjab directly. Please email us at contact@artofpunjab.com prior to mailing a return to avoid additional duty charges.  Prints must be undamaged and in the original packaging.  If 30 days or more have passed since your purchase, we cannot offer you a refund or an exchange.
Upon receipt of the returned item we will process a refund and a credit will automatically be applied to your original method of payment. Any amounts refunded will not include the cost of shipping.
View full details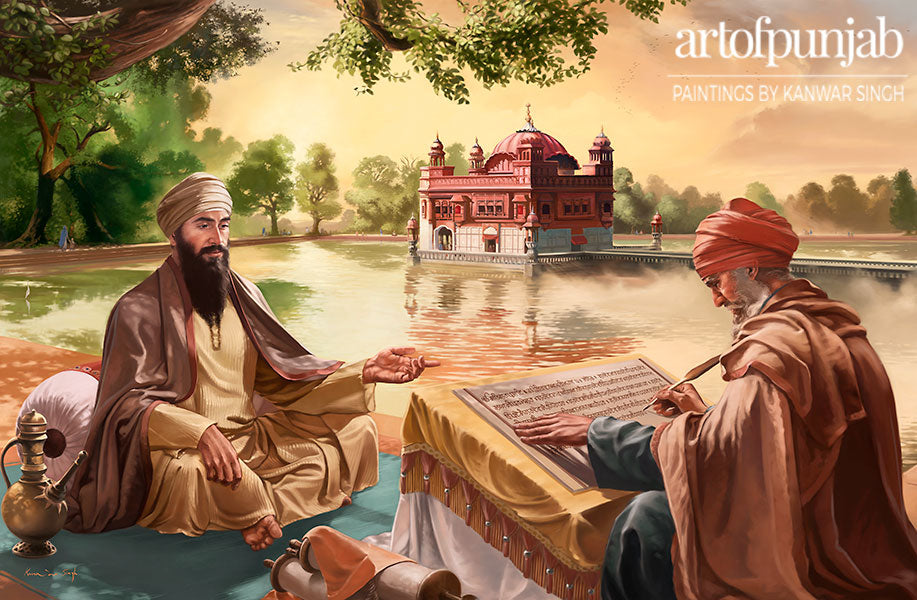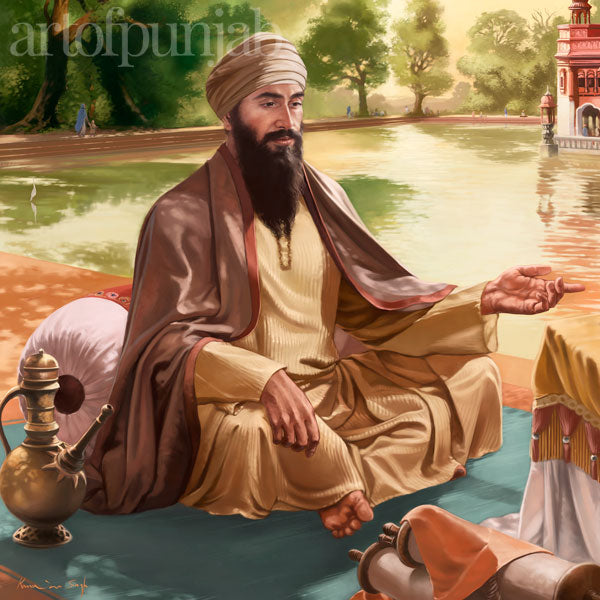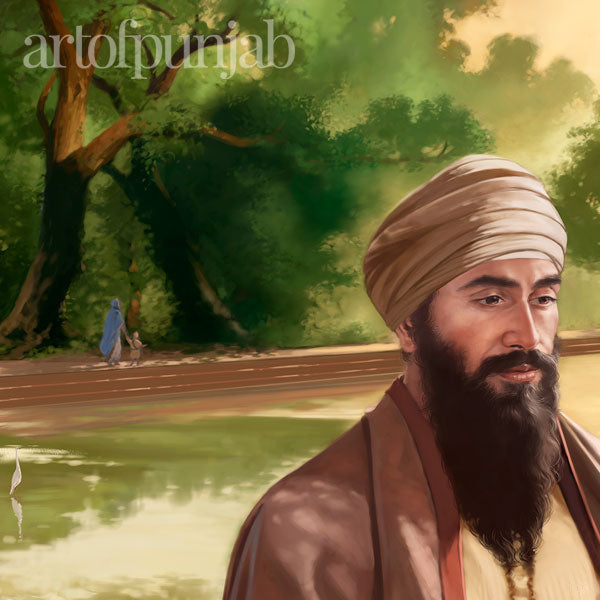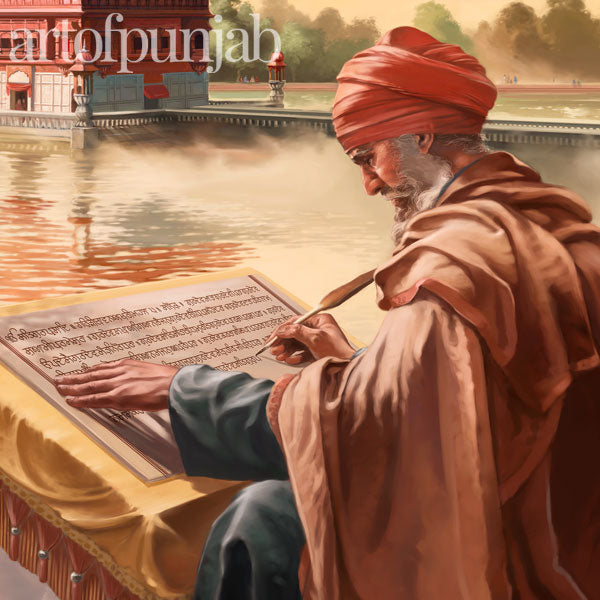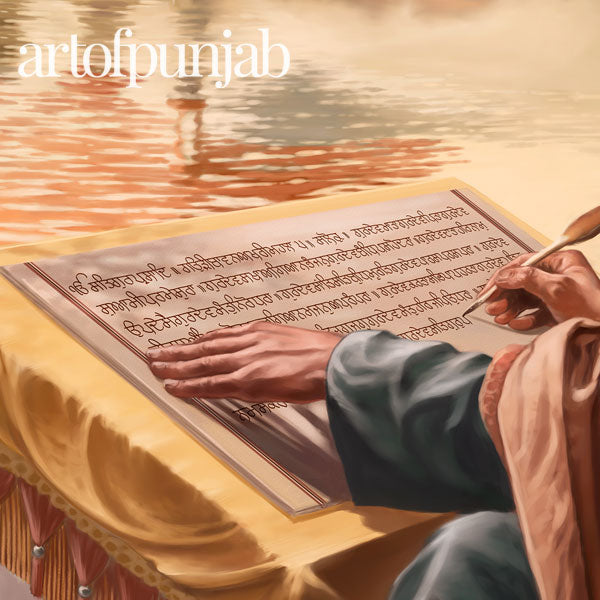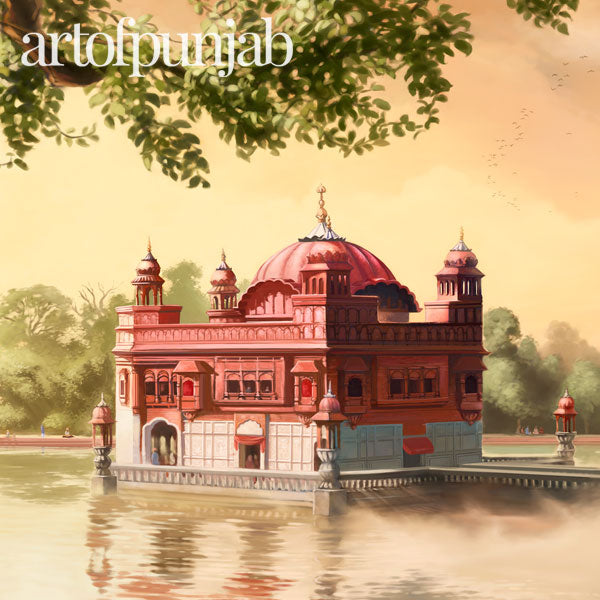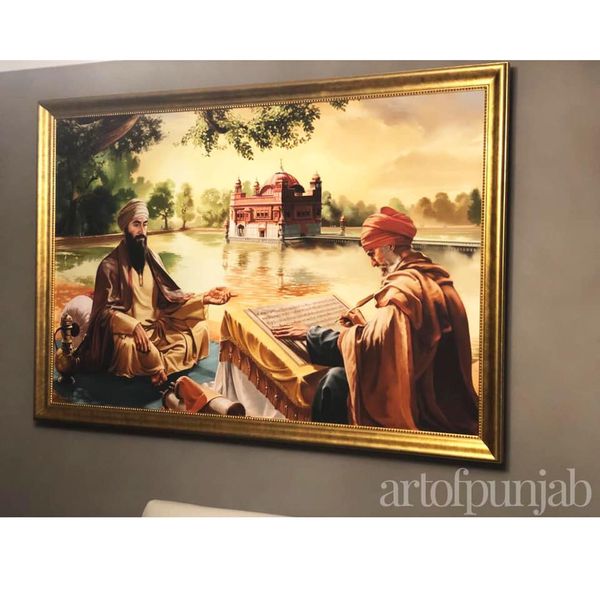 The Story
Guru Arjan Dev Ji, the fifth in the line of Guru Nanak, presided over a time of many great new horizons for the young Sikh faith. Amritsar, which had been founded by his father Guru Ram Das Ji, was becoming a great social, political and religious centre. Large throngs of devotees were drawn to this place by a longing to be with their Guru, their love of Gurbani and to witness the completion of the Harmandir Sahib.
However, even in this time of limitless possibilities, the Guru foresaw a great peril to the integrity and sanctity of the Sikh faith, both for the Sikhs of his day and the countless generations yet to be born. All about him he witnessed imposters and false Gurus distorting the sacred hymns of the first four masters. Some, such as Prithi Chand, were further confusing the sangat by composing their own poetry and attributing it to Guru Nanak. The Guru foresaw a time when Sikhs of future generations would not be able to recognize the sacred poetry of his predecessors from these false renditions.
Guru Arjan thus began the Compilation of the Guru Granth Sahib, which he called the Adi Granth – the "primal knot" which would forever secure the sanctity of the Sikh faith. The Guru sent out a call to all Sikhs far and wide to bring forth the poetry which had been composed by the four Gurus. When all the volumes had been collected, he chose a shady spot and sat down with his scribe Bhai Gurdas and carefully selected the genuine works which would be encompassed in the Holy Granth. Guru Arjan himself dictated the banis which Bhai Gurdas then wrote out in Gurmukhi script. Bhai Gurdas was often instructed by Guru Arjan to revise and correct the portion of Adi Granth that he had written during the day.
The Gurus had always desired to establish Sikhism as a casteless and universal creed. Side by side with the verses of the first four Sikh Gurus and his own, Guru Arjan Dev Ji blended the celestial utterances of other enlightened beings from many different walks of life, sects and castes: Sheikh Farid, a Muslim saint; Bhagat Kabir, a Muslim weaver; Bhagat Ravi Das, a shoe maker from Uttar Pradesh; Dhanna, a farmer from Rajastan; Namdev, a calico printer from Maharashtra; Bhikhan, a Sufi saint; Jai Dev, a poet from Bengal; Trilochan, a Brahmin from Maharashtra; Sur Das, a blind poet; Pipa, a king from Uttar Pradesh, and several more. Guru Arjan Dev's own verses are of the highest artistic caliber. More than half of the Siri Guru Granth Sahib is made up of his writings. The Gurumukhi script made it possible for everyone to read all the selections in the Siri Guru Granth Sahib even if they were originally written in Persian or Sanskrit, Arabic, Bengali or some other language or dialect.
With the completion of this momentous work, the Guru gave the world a gift such as it had never experienced before, a source of divine living guidance so clear and penetrating that it could uplift the consciousness of a human being within no time. A gift so pure and essential, that it could transcend the boundaries of time and religion and exist beyond personality and human form.
<!- hello ->