{"id":6756954734752,"title":"Baba Ajit Singh – The Khalsa Charge","handle":"baba-ajit-singh-sikh-art-print","description":"\u003cp\u003e\u003cmeta charset=\"utf-8\"\u003eThe Story\u003c\/p\u003e\n\u003cp\u003eSahibzada Ajit Singh Ji The eldest son of the tenth Master, Guru Gobind Singh Ji. In the prolonged siege of Anandpur in 1705, Sahibzada Ajit Singh displayed his qualities of courage and steadfastness. When, at last, Anandpur was vacated on the night of 5-6 December 1704, he was given command of the rearguard. As the besiegers, violating their solemn promises for a safe conduct to the evacuees, attacked the column, he stoutly engaged them on a hill feature called Shahi Tibbi until relieved by Bhai Ude Singh. Sahibzada Ajit Singh crossed the Sarsa, then in spate, along with his father, his younger brother, Jujhar Singh, and some fifty Sikhs. Further reduced in numbers by casualties at the hands of a pursuing troop from Ropar, the column reached Chamkaur in the evening of 6 December 1705, and took up position in a garhi, a highwalled fortified haveli (house). The attackers, their numbers since swelled by reinforcements from Malerkotia, Sirhind and from among the local Ranghars and Gujjars, soon caught up with them and threw a tight ring around Chamkaur. An unequal but grim battle commenced with the sunrise on 7 December 1705 in the words of Guru Gobind Singh's Zafarnama, a mere forty defying a hundred thousand (lakh). The besieged, after they had exhausted the meagre stock of ammunition and arrows, made sallies in batches of five each to engage the encircling host with sword and spear. Sahibzada Ajit Singh led one of the sallies and laid down his life fighting in the thick of the battle. He was 18 years old at the time of his supreme sacrifice for his faith. Gurdwara Qatalgarh now marks the spot where he fell, followed by Sahibzada Jujhar Singh, who led the next sally.\u003c\/p\u003e\n\u003cdiv class=\"grid_3 listed\"\u003e\u003cstrong\u003e\u003c\/strong\u003e\u003c\/div\u003e\n\u003cdiv data-mce-fragment=\"1\" class=\"clearfix\"\u003e\u003c\/div\u003e","published_at":"2021-06-10T13:39:52-04:00","created_at":"2021-06-10T13:39:51-04:00","vendor":"ArtOfPunjabInc","type":"Posters, Prints, \u0026 Visual Artwork","tags":["baba ajit singh","guru painting","Sikh art","sikh artist","sikh gift","sikh painting"],"price":5300,"price_min":5300,"price_max":112700,"available":true,"price_varies":true,"compare_at_price":null,"compare_at_price_min":0,"compare_at_price_max":0,"compare_at_price_varies":false,"variants":[{"id":40294214402208,"title":"Artist Signed Premium Canvas (rolled) \/ SMALL 35 W x 20 H inches","option1":"Artist Signed Premium Canvas (rolled)","option2":"SMALL 35 W x 20 H inches","option3":null,"sku":"","requires_shipping":true,"taxable":true,"featured_image":null,"available":true,"name":"Baba Ajit Singh – The Khalsa Charge - Artist Signed Premium Canvas (rolled) \/ SMALL 35 W x 20 H inches","public_title":"Artist Signed Premium Canvas (rolled) \/ SMALL 35 W x 20 H inches","options":["Artist Signed Premium Canvas (rolled)","SMALL 35 W x 20 H inches"],"price":24100,"weight":0,"compare_at_price":null,"inventory_management":null,"barcode":"","requires_selling_plan":false,"selling_plan_allocations":[]},{"id":40294214434976,"title":"Artist Signed Premium Canvas (rolled) \/ MEDIUM 44 W x 25 H inches","option1":"Artist Signed Premium Canvas (rolled)","option2":"MEDIUM 44 W x 25 H inches","option3":null,"sku":"","requires_shipping":true,"taxable":true,"featured_image":null,"available":true,"name":"Baba Ajit Singh – The Khalsa Charge - Artist Signed Premium Canvas (rolled) \/ MEDIUM 44 W x 25 H inches","public_title":"Artist Signed Premium Canvas (rolled) \/ MEDIUM 44 W x 25 H inches","options":["Artist Signed Premium Canvas (rolled)","MEDIUM 44 W x 25 H inches"],"price":31600,"weight":0,"compare_at_price":null,"inventory_management":null,"barcode":"","requires_selling_plan":false,"selling_plan_allocations":[]},{"id":40294214467744,"title":"Artist Signed Premium Canvas (rolled) \/ LARGE 53 W x 30 H inches","option1":"Artist Signed Premium Canvas (rolled)","option2":"LARGE 53 W x 30 H inches","option3":null,"sku":"","requires_shipping":true,"taxable":true,"featured_image":null,"available":true,"name":"Baba Ajit Singh – The Khalsa Charge - Artist Signed Premium Canvas (rolled) \/ LARGE 53 W x 30 H inches","public_title":"Artist Signed Premium Canvas (rolled) \/ LARGE 53 W x 30 H inches","options":["Artist Signed Premium Canvas (rolled)","LARGE 53 W x 30 H inches"],"price":40600,"weight":0,"compare_at_price":null,"inventory_management":null,"barcode":"","requires_selling_plan":false,"selling_plan_allocations":[]},{"id":40294214500512,"title":"Artist Signed Premium Canvas (rolled) \/ GRAND 67 W x 38 H inches","option1":"Artist Signed Premium Canvas (rolled)","option2":"GRAND 67 W x 38 H inches","option3":null,"sku":"","requires_shipping":true,"taxable":true,"featured_image":null,"available":true,"name":"Baba Ajit Singh – The Khalsa Charge - Artist Signed Premium Canvas (rolled) \/ GRAND 67 W x 38 H inches","public_title":"Artist Signed Premium Canvas (rolled) \/ GRAND 67 W x 38 H inches","options":["Artist Signed Premium Canvas (rolled)","GRAND 67 W x 38 H inches"],"price":57100,"weight":0,"compare_at_price":null,"inventory_management":null,"barcode":"","requires_selling_plan":false,"selling_plan_allocations":[]},{"id":40294214533280,"title":"Artist Signed Premium Canvas (rolled) \/ MASSIVE 96 W x 54 H inches","option1":"Artist Signed Premium Canvas (rolled)","option2":"MASSIVE 96 W x 54 H inches","option3":null,"sku":"","requires_shipping":true,"taxable":true,"featured_image":null,"available":true,"name":"Baba Ajit Singh – The Khalsa Charge - Artist Signed Premium Canvas (rolled) \/ MASSIVE 96 W x 54 H inches","public_title":"Artist Signed Premium Canvas (rolled) \/ MASSIVE 96 W x 54 H inches","options":["Artist Signed Premium Canvas (rolled)","MASSIVE 96 W x 54 H inches"],"price":112700,"weight":0,"compare_at_price":null,"inventory_management":null,"barcode":"","requires_selling_plan":false,"selling_plan_allocations":[]},{"id":40294214303904,"title":"Textured Watercolor Print \/ SMALL 35 W x 20 H inches","option1":"Textured Watercolor Print","option2":"SMALL 35 W x 20 H inches","option3":null,"sku":"","requires_shipping":true,"taxable":true,"featured_image":null,"available":true,"name":"Baba Ajit Singh – The Khalsa Charge - Textured Watercolor Print \/ SMALL 35 W x 20 H inches","public_title":"Textured Watercolor Print \/ SMALL 35 W x 20 H inches","options":["Textured Watercolor Print","SMALL 35 W x 20 H inches"],"price":13600,"weight":0,"compare_at_price":null,"inventory_management":null,"barcode":"","requires_selling_plan":false,"selling_plan_allocations":[]},{"id":40294214336672,"title":"Textured Watercolor Print \/ MEDIUM 44 W x 25 H inches","option1":"Textured Watercolor Print","option2":"MEDIUM 44 W x 25 H inches","option3":null,"sku":"","requires_shipping":true,"taxable":true,"featured_image":null,"available":true,"name":"Baba Ajit Singh – The Khalsa Charge - Textured Watercolor Print \/ MEDIUM 44 W x 25 H inches","public_title":"Textured Watercolor Print \/ MEDIUM 44 W x 25 H inches","options":["Textured Watercolor Print","MEDIUM 44 W x 25 H inches"],"price":22600,"weight":0,"compare_at_price":null,"inventory_management":null,"barcode":"","requires_selling_plan":false,"selling_plan_allocations":[]},{"id":40294214369440,"title":"Textured Watercolor Print \/ LARGE 53 W x 30 H inches","option1":"Textured Watercolor Print","option2":"LARGE 53 W x 30 H inches","option3":null,"sku":"","requires_shipping":true,"taxable":true,"featured_image":null,"available":true,"name":"Baba Ajit Singh – The Khalsa Charge - Textured Watercolor Print \/ LARGE 53 W x 30 H inches","public_title":"Textured Watercolor Print \/ LARGE 53 W x 30 H inches","options":["Textured Watercolor Print","LARGE 53 W x 30 H inches"],"price":31600,"weight":0,"compare_at_price":null,"inventory_management":null,"barcode":"","requires_selling_plan":false,"selling_plan_allocations":[]},{"id":40294214271136,"title":"Enhanced Matte Print \/ SMALL 35 W x 20 H inches","option1":"Enhanced Matte Print","option2":"SMALL 35 W x 20 H inches","option3":null,"sku":"","requires_shipping":true,"taxable":true,"featured_image":null,"available":true,"name":"Baba Ajit Singh – The Khalsa Charge - Enhanced Matte Print \/ SMALL 35 W x 20 H inches","public_title":"Enhanced Matte Print \/ SMALL 35 W x 20 H inches","options":["Enhanced Matte Print","SMALL 35 W x 20 H inches"],"price":5300,"weight":0,"compare_at_price":null,"inventory_management":null,"barcode":"","requires_selling_plan":false,"selling_plan_allocations":[]}],"images":["\/\/artofpunjab.com\/cdn\/shop\/products\/babaAjitsingh.jpg?v=1623346793","\/\/artofpunjab.com\/cdn\/shop\/products\/baba-ajit-singh-khalsa-picture0.jpg?v=1642719055","\/\/artofpunjab.com\/cdn\/shop\/products\/baba-ajit-singh-khalsa-picture1.jpg?v=1642719055","\/\/artofpunjab.com\/cdn\/shop\/products\/baba-ajit-singh-khalsa-picture2.jpg?v=1642719055","\/\/artofpunjab.com\/cdn\/shop\/products\/baba-ajit-singh-khalsa-picture3.jpg?v=1642719055","\/\/artofpunjab.com\/cdn\/shop\/products\/baba-ajit-singh-khalsa-picture4.jpg?v=1642719055","\/\/artofpunjab.com\/cdn\/shop\/products\/baba-ajit-singh-the-khalsa-charge.jpg?v=1654937217"],"featured_image":"\/\/artofpunjab.com\/cdn\/shop\/products\/babaAjitsingh.jpg?v=1623346793","options":["Choose Print Type","Choose Size"],"media":[{"alt":"Sahibzada Ajit Singh Ji the eldest son of Guru Gobind Singh Ji at the battle of Chamkaur. Sikh warrior painting by artist Kanwar Singh","id":21499614429344,"position":1,"preview_image":{"aspect_ratio":1.778,"height":2160,"width":3840,"src":"\/\/artofpunjab.com\/cdn\/shop\/products\/babaAjitsingh.jpg?v=1623346793"},"aspect_ratio":1.778,"height":2160,"media_type":"image","src":"\/\/artofpunjab.com\/cdn\/shop\/products\/babaAjitsingh.jpg?v=1623346793","width":3840},{"alt":"Sahibzada Ajit Singh Sikh warrior painting by artist Kanwar Singh","id":23829136113824,"position":2,"preview_image":{"aspect_ratio":1.0,"height":600,"width":600,"src":"\/\/artofpunjab.com\/cdn\/shop\/products\/baba-ajit-singh-khalsa-picture0.jpg?v=1642719055"},"aspect_ratio":1.0,"height":600,"media_type":"image","src":"\/\/artofpunjab.com\/cdn\/shop\/products\/baba-ajit-singh-khalsa-picture0.jpg?v=1642719055","width":600},{"alt":"baba ajit singh ji","id":23829136146592,"position":3,"preview_image":{"aspect_ratio":1.0,"height":600,"width":600,"src":"\/\/artofpunjab.com\/cdn\/shop\/products\/baba-ajit-singh-khalsa-picture1.jpg?v=1642719055"},"aspect_ratio":1.0,"height":600,"media_type":"image","src":"\/\/artofpunjab.com\/cdn\/shop\/products\/baba-ajit-singh-khalsa-picture1.jpg?v=1642719055","width":600},{"alt":"battle of chamkaur","id":23829136179360,"position":4,"preview_image":{"aspect_ratio":1.0,"height":600,"width":600,"src":"\/\/artofpunjab.com\/cdn\/shop\/products\/baba-ajit-singh-khalsa-picture2.jpg?v=1642719055"},"aspect_ratio":1.0,"height":600,"media_type":"image","src":"\/\/artofpunjab.com\/cdn\/shop\/products\/baba-ajit-singh-khalsa-picture2.jpg?v=1642719055","width":600},{"alt":"battle of chamkaur sikh history","id":23829136212128,"position":5,"preview_image":{"aspect_ratio":1.0,"height":600,"width":600,"src":"\/\/artofpunjab.com\/cdn\/shop\/products\/baba-ajit-singh-khalsa-picture3.jpg?v=1642719055"},"aspect_ratio":1.0,"height":600,"media_type":"image","src":"\/\/artofpunjab.com\/cdn\/shop\/products\/baba-ajit-singh-khalsa-picture3.jpg?v=1642719055","width":600},{"alt":"sikh art picture","id":23829136244896,"position":6,"preview_image":{"aspect_ratio":1.0,"height":600,"width":600,"src":"\/\/artofpunjab.com\/cdn\/shop\/products\/baba-ajit-singh-khalsa-picture4.jpg?v=1642719055"},"aspect_ratio":1.0,"height":600,"media_type":"image","src":"\/\/artofpunjab.com\/cdn\/shop\/products\/baba-ajit-singh-khalsa-picture4.jpg?v=1642719055","width":600},{"alt":"baba ajit singh son of guru gobind singh","id":24838403588256,"position":7,"preview_image":{"aspect_ratio":0.8,"height":1600,"width":1280,"src":"\/\/artofpunjab.com\/cdn\/shop\/products\/baba-ajit-singh-the-khalsa-charge.jpg?v=1654937217"},"aspect_ratio":0.8,"height":1600,"media_type":"image","src":"\/\/artofpunjab.com\/cdn\/shop\/products\/baba-ajit-singh-the-khalsa-charge.jpg?v=1654937217","width":1280}],"requires_selling_plan":false,"selling_plan_groups":[],"content":"\u003cp\u003e\u003cmeta charset=\"utf-8\"\u003eThe Story\u003c\/p\u003e\n\u003cp\u003eSahibzada Ajit Singh Ji The eldest son of the tenth Master, Guru Gobind Singh Ji. In the prolonged siege of Anandpur in 1705, Sahibzada Ajit Singh displayed his qualities of courage and steadfastness. When, at last, Anandpur was vacated on the night of 5-6 December 1704, he was given command of the rearguard. As the besiegers, violating their solemn promises for a safe conduct to the evacuees, attacked the column, he stoutly engaged them on a hill feature called Shahi Tibbi until relieved by Bhai Ude Singh. Sahibzada Ajit Singh crossed the Sarsa, then in spate, along with his father, his younger brother, Jujhar Singh, and some fifty Sikhs. Further reduced in numbers by casualties at the hands of a pursuing troop from Ropar, the column reached Chamkaur in the evening of 6 December 1705, and took up position in a garhi, a highwalled fortified haveli (house). The attackers, their numbers since swelled by reinforcements from Malerkotia, Sirhind and from among the local Ranghars and Gujjars, soon caught up with them and threw a tight ring around Chamkaur. An unequal but grim battle commenced with the sunrise on 7 December 1705 in the words of Guru Gobind Singh's Zafarnama, a mere forty defying a hundred thousand (lakh). The besieged, after they had exhausted the meagre stock of ammunition and arrows, made sallies in batches of five each to engage the encircling host with sword and spear. Sahibzada Ajit Singh led one of the sallies and laid down his life fighting in the thick of the battle. He was 18 years old at the time of his supreme sacrifice for his faith. Gurdwara Qatalgarh now marks the spot where he fell, followed by Sahibzada Jujhar Singh, who led the next sally.\u003c\/p\u003e\n\u003cdiv class=\"grid_3 listed\"\u003e\u003cstrong\u003e\u003c\/strong\u003e\u003c\/div\u003e\n\u003cdiv data-mce-fragment=\"1\" class=\"clearfix\"\u003e\u003c\/div\u003e"}
Regular price
$241.00 USD
Regular price
Sale price
$241.00 USD
Unit price
per
Sale
Sold out
Paintings
All paintings are shipped rolled in a secure mailing tube to ensure safe delivery (frames are not included).  We offer the highest quality fine art prints in three different formats. Our premium product is the limited edition artist hand-signed Premium Canvas. This museum grade canvas looks and feels just like an oil painting and can be displayed without glass. Equally beautiful are our fine art prints on Textured Watercolour paper, selected by the artist for its beautifully textured all natural finish and our Enhanced Matte paper which is a quality economical art paper with a smooth finish.
We are happy to assist you through the framing process and can recommend local frame shops in your areas where we have contacts.  Please email us at contact@artofpunjab.com after placing your order if you have have questions about the framing process or any of our products.
Premium Canvas
Our highest quality product is the Giclee fine art prints on Premium Canvas.  This museum quality print produces vibrant colours and is made to look like an original oil painting. This elegantly textured canvas features a matte non-reflective surface with a bright white point, exceptionally high Dmax and wide colour gamut. Premium Canvas prints are initially offered as part of a Limited Edition series of 100 copies hand-signed by artist Kanwar Singh.
Specifications:
Extra 3 inches of canvas added to all sides to allow for stretching
Cotton fabric textured finish, all nature acid-free canvas
Clear UV protective coating applied to canvas to allow for glass-free framing
395 gsm Weight, 23 mil Thickness, lignin and acid free
Lab tested to last over 200 years without fading
Textured Watercolour Paper
Giclee fine art prints on Textured Watercolour paper is a cotton rag media with luxurious weight that delivers museum quality appearance.  This paper has an extremely-high colour gamut and black density.  Selected by the artist for its quality and the beautiful texture.
Specifications:
Bright Textured Matte

 Finish

All nature acid-free paper
Opacity 98%, ISO Brightness 96%
Lab tested to last over 120 years without fading
Enhanced Matte Paper
Giclee fine art prints on Enhanced Matte Paper is an un-textured bright, white paper which yields highly saturated images for a 'painterly' look.
Specifications:
Bright Textured Matte Finish, all nature acid-free paper
Thickness 10.3 mil, Basis weight 192 gsm
Opacity 94%, ISO brightness 104%
Lab tested to last over 80 years without fading
Gifts Cards
Artofpunjab e-Gift Cards will be delivered by email and will contain a unique code to be used at checkout for its value. These cards offer the unique and specials gift of art for your family and friends. Great for weddings, engagements, birthdays, anniversary, house warmings and more. Your loved ones can select a unique painting of their choice from artist Kanwar Singh's extraordinary collection of over 40 paintings. This truly inspiring gift will last a lifetime.
We offer FREE worldwide shipping on all orders over $100 Canadian dollars.  A flat rate shipping fee is applied to orders under $100 CAD.
Paintings are shipped WORLDWIDE in a secure mailing tube with guaranteed safe delivery (frames are not included).  The creation of all Fine Art prints are overseen by the artist Kanwar Singh to ensure high quality and superb colours.
Order Preparation Time
We require 1 week to prepare your order. This time is used to ensure your print meets our high quality standards. The Giclee fine art printing process we use offers the best colour accuracy for print reproduction and is considered the gold standard of the art print industry. 
For canvas orders, extra time may be required for the application and drying of the UV and scratch resistant coating which will greatly extend the life of the canvas. Most people prefer to frame canvas prints without glass and this provides the necessary protection for glass free framing.
If you require a RUSH delivery for a special occasion or event please email us after placing the order at contact@artofpunjab.com and we will do our very best to accommodate.
We are confident in the quality of our high quality prints and your satisfaction is 100% guaranteed. If for any reason you are not satisfied with your purchase, you may return it within 30 days of receiving the artwork for a full refund on the price of the item. Shipping charges are not refunded.
All prints must be returned to ArtofPunjab directly. Please email us at contact@artofpunjab.com prior to mailing a return to avoid additional duty charges.  Prints must be undamaged and in the original packaging.  If 30 days or more have passed since your purchase, we cannot offer you a refund or an exchange.
Upon receipt of the returned item we will process a refund and a credit will automatically be applied to your original method of payment. Any amounts refunded will not include the cost of shipping.
View full details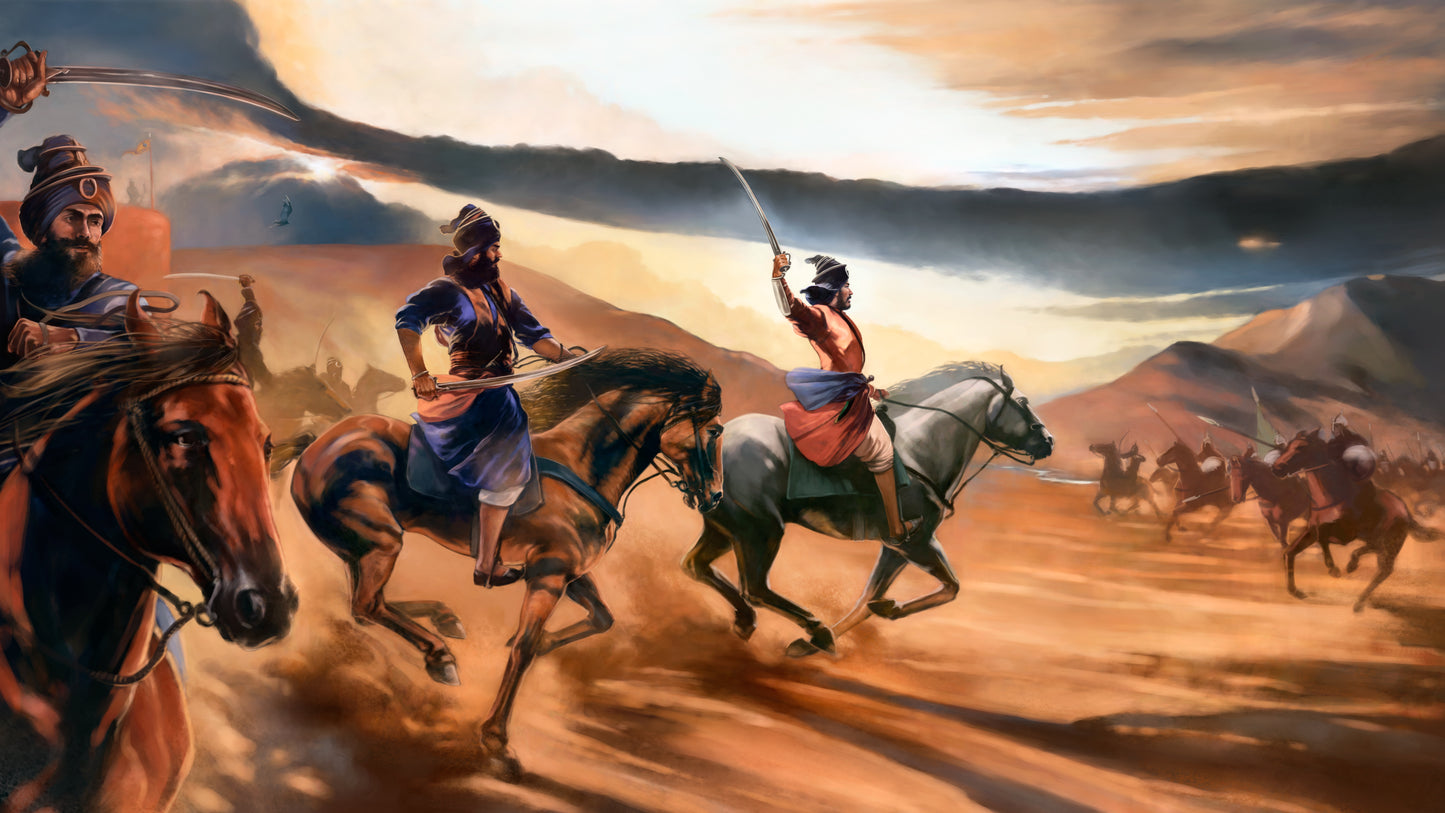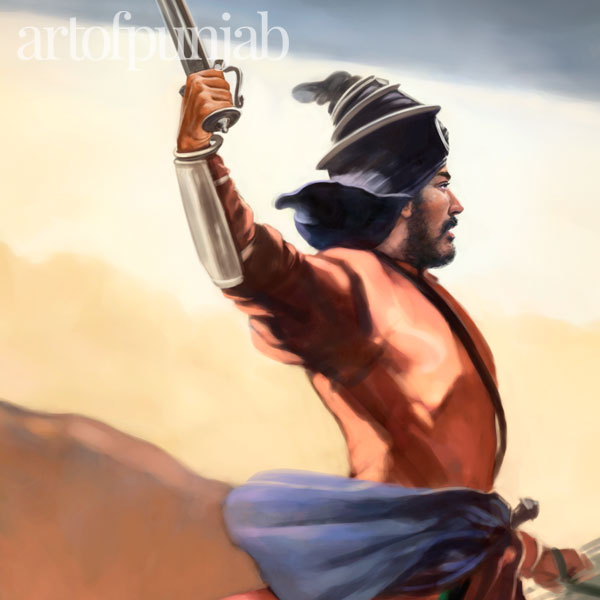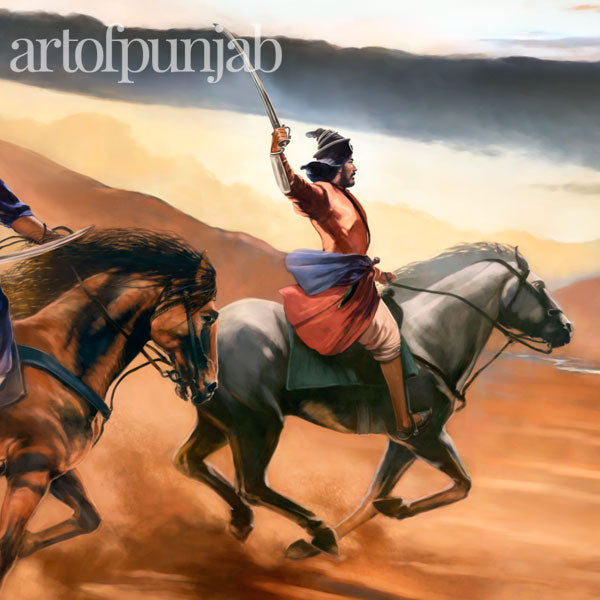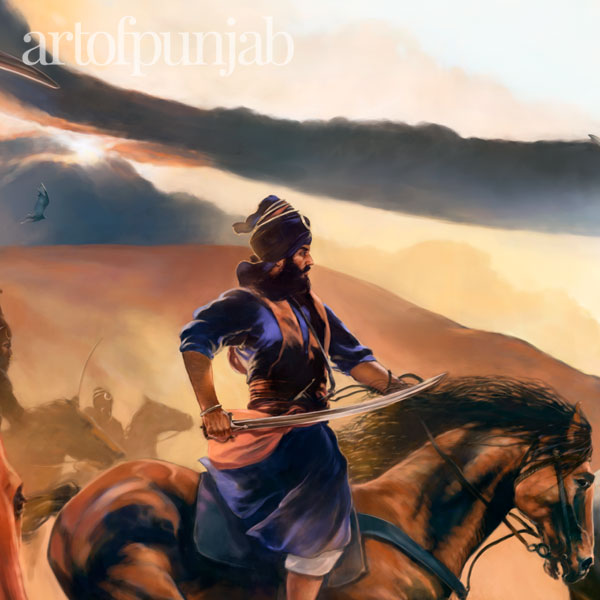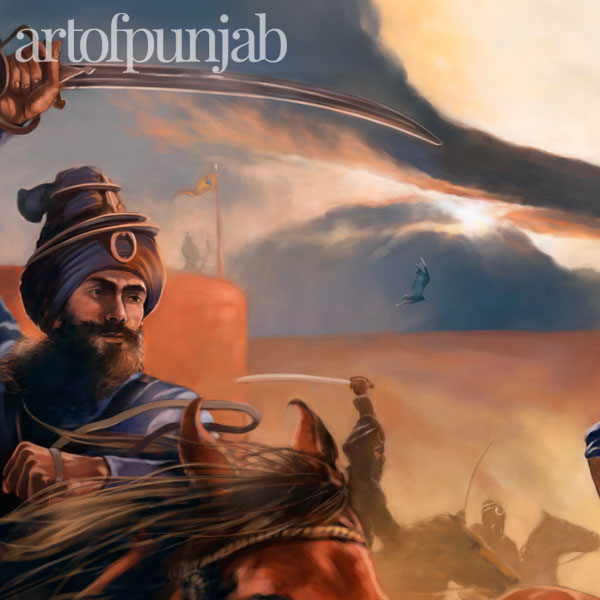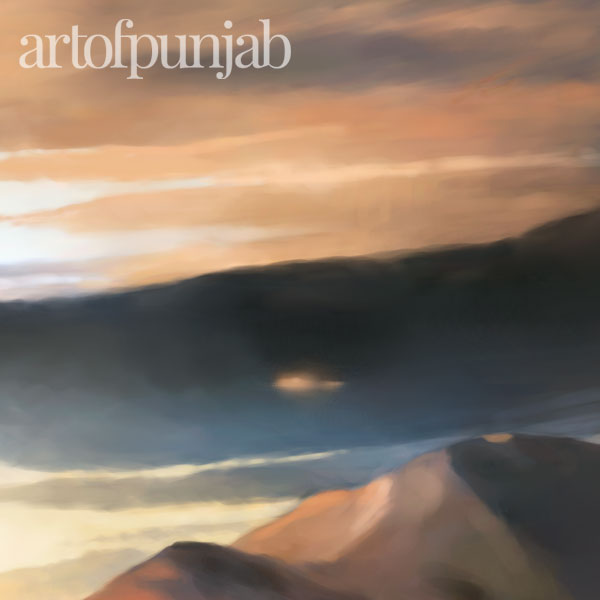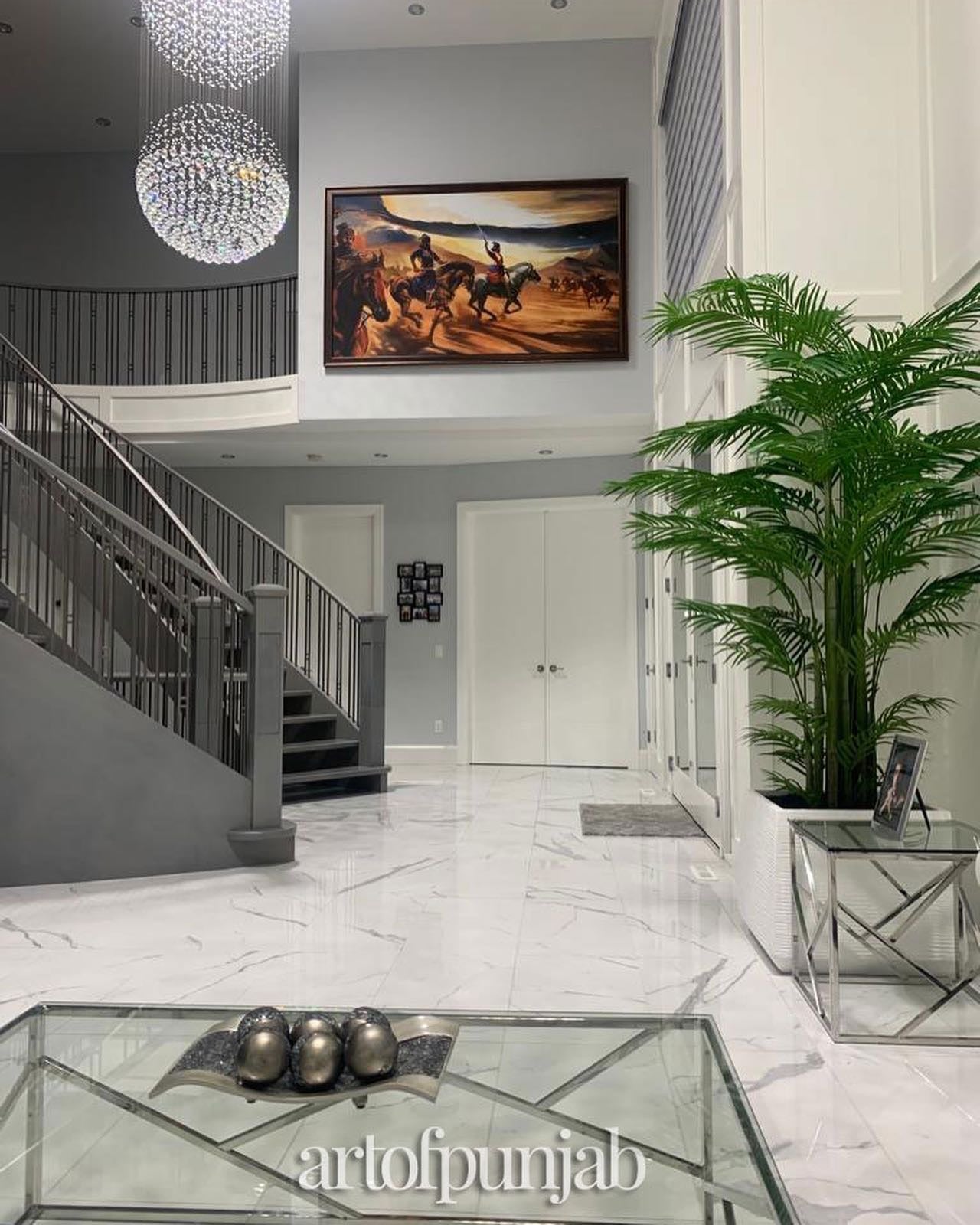 The Story
The Story
Sahibzada Ajit Singh Ji The eldest son of the tenth Master, Guru Gobind Singh Ji. In the prolonged siege of Anandpur in 1705, Sahibzada Ajit Singh displayed his qualities of courage and steadfastness. When, at last, Anandpur was vacated on the night of 5-6 December 1704, he was given command of the rearguard. As the besiegers, violating their solemn promises for a safe conduct to the evacuees, attacked the column, he stoutly engaged them on a hill feature called Shahi Tibbi until relieved by Bhai Ude Singh. Sahibzada Ajit Singh crossed the Sarsa, then in spate, along with his father, his younger brother, Jujhar Singh, and some fifty Sikhs. Further reduced in numbers by casualties at the hands of a pursuing troop from Ropar, the column reached Chamkaur in the evening of 6 December 1705, and took up position in a garhi, a highwalled fortified haveli (house). The attackers, their numbers since swelled by reinforcements from Malerkotia, Sirhind and from among the local Ranghars and Gujjars, soon caught up with them and threw a tight ring around Chamkaur. An unequal but grim battle commenced with the sunrise on 7 December 1705 in the words of Guru Gobind Singh's Zafarnama, a mere forty defying a hundred thousand (lakh). The besieged, after they had exhausted the meagre stock of ammunition and arrows, made sallies in batches of five each to engage the encircling host with sword and spear. Sahibzada Ajit Singh led one of the sallies and laid down his life fighting in the thick of the battle. He was 18 years old at the time of his supreme sacrifice for his faith. Gurdwara Qatalgarh now marks the spot where he fell, followed by Sahibzada Jujhar Singh, who led the next sally.
<!- hello ->