{"id":6905392300192,"title":"Sri Akal Takhat Sahib – Throne of the Almighty","handle":"sri-akal-takhat-sahib-throne-of-the-almighty","description":"\u003cmeta charset=\"utf-8\"\u003e\n\u003cp data-mce-fragment=\"1\"\u003e\u003cspan data-mce-fragment=\"1\"\u003eThis painting illustrates what Sri Akal Takhat sahib, the central legacy of Guru Hargobind sahib our sixth Guru, means to the Sikh quam.  The artwork weaves the stories and imagery we relate to Guru Hargobind sahib, such as Bandhi Chhor and Miri Piri to capture the essential nature of our eternal bond to the Akal Takhat as central institution of Sikhism.\u003c\/span\u003e\u003c\/p\u003e\n\u003cp data-mce-fragment=\"1\"\u003e\u003cspan data-mce-fragment=\"1\"\u003e \u003c\/span\u003e\u003c\/p\u003e\n\u003cp data-mce-fragment=\"1\"\u003e\u003cspan data-mce-fragment=\"1\"\u003eAfter the martyrdom of Guru Arjun dev ji, Guru Hargobind became the sixth Guru of the Sikhs at age eleven years old.  He was imprisoned for several years by the Mughal emperor at Gwalior fort, but upon his release he insisted that 52 Rajas, who had also been falsely imprisoned, be freed alongside him.  The emperor decreed that all the Rajas who could hold on to the Guru's robe could follow him to freedom.  Guru Hargobind Sahib secretly had a special robe sowed with many long tassels extending out, so that each the Rajas could hold onto him and thus follow him to freedom.  Sikhs celebrate this event annually as Bandhi Chhor Diwas (prisoner release day) but the story also holds a deeper metaphor for our lives today.  It is only by embracing our Guru, in the form of Siri Guru Granth sahib ji, that we can find a way out of the darkness which confines our spiritual selves. The Guru can become our Bandhi Chhor, bringing us from darkness to light, from ignorance to wisdom because when we clasp the hem of Guru sahib, we are bestowed the strength to liberate ourselves from oppression of mind, body and soul.\u003c\/span\u003e\u003c\/p\u003e\n\u003cp data-mce-fragment=\"1\"\u003e\u003cspan data-mce-fragment=\"1\"\u003e \u003c\/span\u003e\u003c\/p\u003e\n\u003cp data-mce-fragment=\"1\"\u003e\u003cspan data-mce-fragment=\"1\"\u003eGuru Hargobind sahib, returned to Amritsar on the night of Diwali and Bandhi Chhor was joyously celebrated by the entire Sikh sangat as they had been separated from their Guru for three long years. Guru Hargobind then set upon building the Akal Takhat with his own hands, initially as a simple stone platform, from which he governed the political affairs of the Sikhs.  He deliberately built the Akal Takhat higher than the Mughal throne in Delhi to assert the growing political sovereignty of the Sikh people, and accepted gifts of horses and arms to build the Sikh army.  His grandson, Sri Guru Gobind Singh ji would solidify this spiritual and political union into the form of the Khalsa where Sikhs after receiving amrit, became sovereign unto themselves, dressing as kings to cast off the oppressors who sought to rule them body or mind.  In the times that followed, tyrant after tyrant has unleashed destruction upon the Akal Takhat and Harimandir sahib because they are the most visible symbols of the spiritual and political revolution bestowed by the Gurus to strengthen the Sikhs.\u003c\/span\u003e\u003c\/p\u003e\n\u003cp data-mce-fragment=\"1\"\u003e\u003cspan data-mce-fragment=\"1\"\u003e \u003c\/span\u003e\u003c\/p\u003e\n\u003cp data-mce-fragment=\"1\"\u003e\u003cspan data-mce-fragment=\"1\"\u003eThrough the Akal Takhat, Guru Hargobind sahib permanently implanted the concept of Miri Piri, in that Sikhs had to be masters of both their spiritual and temporal selves.  Guru sahib always wore two kirpans from the day he assumed the Guruship and thus the Akal Takhat always flies two Nishaans (Sikh flags) to emphasise this central doctrine.  The natural insistence for self determination by Sikhs through Akal Takhat sahib has created the necessity for Sikhs to stand in defiance of invaders and tyrants from the time of Ahmed Shah Abdali to the modern day.  Cohorts of Sikh martyrs from Bhai Mani Singh and Baba Deep Singh onwards have given their heads for the defence of the Akal Takhat and the Guru's insistence upon self governance on all matters concerning the Sikh quam.  The Akal Takhat stands to remind Sikhs of their duty to not only defend and uphold their faith but to assemble for Sarbat Khalsa and fight tyranny whenever it arises.  \u003c\/span\u003e\u003c\/p\u003e\n\u003cp data-mce-fragment=\"1\"\u003e\u003cspan data-mce-fragment=\"1\"\u003eIn this painting, the visualization of blood transforming into flower petals is a reminder that liberation can be found through sacrifice, when the cause is just.  Countless shaheeds throughout our history teach us, that with the grace of the Guru and the willingness to bow ones heads in sacrifice, a transformation in the very depths of our being can be experienced.  This perfect union of Miri Piri, the inseparable connection between Sri Harimandir Sahib and Sri Akal Takhat sahib is shown in the painting as two interwoven energies.  Within their merger we see the khanda and the bata which represents the formation of the Khalsa panth and creation of a new type of being, the saint soldier.\u003c\/span\u003e\u003c\/p\u003e\n\u003cbr data-mce-fragment=\"1\"\u003e","published_at":"2021-08-18T17:39:59-04:00","created_at":"2021-08-18T17:39:07-04:00","vendor":"ArtOfPunjabInc","type":"Posters, Prints, \u0026 Visual Artwork","tags":["Sikh art","sikh artist","sikh gift","sikh painting"],"price":5300,"price_min":5300,"price_max":113300,"available":true,"price_varies":true,"compare_at_price":null,"compare_at_price_min":0,"compare_at_price_max":0,"compare_at_price_varies":false,"variants":[{"id":40674865971360,"title":"Artist Signed Premium Canvas (rolled) \/ SMALL 20 W x 30 H inches","option1":"Artist Signed Premium Canvas (rolled)","option2":"SMALL 20 W x 30 H inches","option3":null,"sku":null,"requires_shipping":true,"taxable":true,"featured_image":null,"available":true,"name":"Sri Akal Takhat Sahib – Throne of the Almighty - Artist Signed Premium Canvas (rolled) \/ SMALL 20 W x 30 H inches","public_title":"Artist Signed Premium Canvas (rolled) \/ SMALL 20 W x 30 H inches","options":["Artist Signed Premium Canvas (rolled)","SMALL 20 W x 30 H inches"],"price":24200,"weight":0,"compare_at_price":null,"inventory_management":null,"barcode":null,"requires_selling_plan":false,"selling_plan_allocations":[]},{"id":40674866004128,"title":"Artist Signed Premium Canvas (rolled) \/ MEDIUM 25 W x 38 H inches","option1":"Artist Signed Premium Canvas (rolled)","option2":"MEDIUM 25 W x 38 H inches","option3":null,"sku":null,"requires_shipping":true,"taxable":true,"featured_image":null,"available":true,"name":"Sri Akal Takhat Sahib – Throne of the Almighty - Artist Signed Premium Canvas (rolled) \/ MEDIUM 25 W x 38 H inches","public_title":"Artist Signed Premium Canvas (rolled) \/ MEDIUM 25 W x 38 H inches","options":["Artist Signed Premium Canvas (rolled)","MEDIUM 25 W x 38 H inches"],"price":31800,"weight":0,"compare_at_price":null,"inventory_management":null,"barcode":null,"requires_selling_plan":false,"selling_plan_allocations":[]},{"id":40674866036896,"title":"Artist Signed Premium Canvas (rolled) \/ LARGE 30 W x 45 H inches","option1":"Artist Signed Premium Canvas (rolled)","option2":"LARGE 30 W x 45 H inches","option3":null,"sku":null,"requires_shipping":true,"taxable":true,"featured_image":null,"available":true,"name":"Sri Akal Takhat Sahib – Throne of the Almighty - Artist Signed Premium Canvas (rolled) \/ LARGE 30 W x 45 H inches","public_title":"Artist Signed Premium Canvas (rolled) \/ LARGE 30 W x 45 H inches","options":["Artist Signed Premium Canvas (rolled)","LARGE 30 W x 45 H inches"],"price":40800,"weight":0,"compare_at_price":null,"inventory_management":null,"barcode":null,"requires_selling_plan":false,"selling_plan_allocations":[]},{"id":40674866069664,"title":"Artist Signed Premium Canvas (rolled) \/ GRAND 38 W x 57 H inches","option1":"Artist Signed Premium Canvas (rolled)","option2":"GRAND 38 W x 57 H inches","option3":null,"sku":null,"requires_shipping":true,"taxable":true,"featured_image":null,"available":true,"name":"Sri Akal Takhat Sahib – Throne of the Almighty - Artist Signed Premium Canvas (rolled) \/ GRAND 38 W x 57 H inches","public_title":"Artist Signed Premium Canvas (rolled) \/ GRAND 38 W x 57 H inches","options":["Artist Signed Premium Canvas (rolled)","GRAND 38 W x 57 H inches"],"price":57400,"weight":0,"compare_at_price":null,"inventory_management":null,"barcode":null,"requires_selling_plan":false,"selling_plan_allocations":[]},{"id":40674866102432,"title":"Artist Signed Premium Canvas (rolled) \/ MASSIVE 54 W x 80 H inches","option1":"Artist Signed Premium Canvas (rolled)","option2":"MASSIVE 54 W x 80 H inches","option3":null,"sku":null,"requires_shipping":true,"taxable":true,"featured_image":null,"available":true,"name":"Sri Akal Takhat Sahib – Throne of the Almighty - Artist Signed Premium Canvas (rolled) \/ MASSIVE 54 W x 80 H inches","public_title":"Artist Signed Premium Canvas (rolled) \/ MASSIVE 54 W x 80 H inches","options":["Artist Signed Premium Canvas (rolled)","MASSIVE 54 W x 80 H inches"],"price":113300,"weight":0,"compare_at_price":null,"inventory_management":null,"barcode":null,"requires_selling_plan":false,"selling_plan_allocations":[]},{"id":40674865840288,"title":"Enhanced Matte Print \/ SMALL 20 W x 30 H inches","option1":"Enhanced Matte Print","option2":"SMALL 20 W x 30 H inches","option3":null,"sku":null,"requires_shipping":true,"taxable":true,"featured_image":null,"available":true,"name":"Sri Akal Takhat Sahib – Throne of the Almighty - Enhanced Matte Print \/ SMALL 20 W x 30 H inches","public_title":"Enhanced Matte Print \/ SMALL 20 W x 30 H inches","options":["Enhanced Matte Print","SMALL 20 W x 30 H inches"],"price":5300,"weight":0,"compare_at_price":null,"inventory_management":null,"barcode":null,"requires_selling_plan":false,"selling_plan_allocations":[]},{"id":40674865873056,"title":"Textured Watercolor Print \/ SMALL 20 W x 30 H inches","option1":"Textured Watercolor Print","option2":"SMALL 20 W x 30 H inches","option3":null,"sku":null,"requires_shipping":true,"taxable":true,"featured_image":null,"available":true,"name":"Sri Akal Takhat Sahib – Throne of the Almighty - Textured Watercolor Print \/ SMALL 20 W x 30 H inches","public_title":"Textured Watercolor Print \/ SMALL 20 W x 30 H inches","options":["Textured Watercolor Print","SMALL 20 W x 30 H inches"],"price":13600,"weight":0,"compare_at_price":null,"inventory_management":null,"barcode":null,"requires_selling_plan":false,"selling_plan_allocations":[]},{"id":40674865905824,"title":"Textured Watercolor Print \/ MEDIUM 25 W x 38 H inches","option1":"Textured Watercolor Print","option2":"MEDIUM 25 W x 38 H inches","option3":null,"sku":null,"requires_shipping":true,"taxable":true,"featured_image":null,"available":true,"name":"Sri Akal Takhat Sahib – Throne of the Almighty - Textured Watercolor Print \/ MEDIUM 25 W x 38 H inches","public_title":"Textured Watercolor Print \/ MEDIUM 25 W x 38 H inches","options":["Textured Watercolor Print","MEDIUM 25 W x 38 H inches"],"price":22700,"weight":0,"compare_at_price":null,"inventory_management":null,"barcode":null,"requires_selling_plan":false,"selling_plan_allocations":[]},{"id":40674865938592,"title":"Textured Watercolor Print \/ LARGE 30 W x 45 H inches","option1":"Textured Watercolor Print","option2":"LARGE 30 W x 45 H inches","option3":null,"sku":null,"requires_shipping":true,"taxable":true,"featured_image":null,"available":true,"name":"Sri Akal Takhat Sahib – Throne of the Almighty - Textured Watercolor Print \/ LARGE 30 W x 45 H inches","public_title":"Textured Watercolor Print \/ LARGE 30 W x 45 H inches","options":["Textured Watercolor Print","LARGE 30 W x 45 H inches"],"price":31800,"weight":0,"compare_at_price":null,"inventory_management":null,"barcode":null,"requires_selling_plan":false,"selling_plan_allocations":[]}],"images":["\/\/artofpunjab.com\/cdn\/shop\/products\/sri-Akal-Takhat-painting.jpg?v=1629322764","\/\/artofpunjab.com\/cdn\/shop\/products\/sri-Akal-Takhat-picture1.jpg?v=1629322764","\/\/artofpunjab.com\/cdn\/shop\/products\/sri-Akal-Takhat-picture2.jpg?v=1629322764","\/\/artofpunjab.com\/cdn\/shop\/products\/sri-Akal-Takhat-picture3.jpg?v=1629322764","\/\/artofpunjab.com\/cdn\/shop\/products\/sri-Akal-Takhat-picture4.jpg?v=1629322764","\/\/artofpunjab.com\/cdn\/shop\/products\/sri-Akal-Takhat-picture5.jpg?v=1629322765","\/\/artofpunjab.com\/cdn\/shop\/products\/sri-Akal-Takhat-picture6.jpg?v=1629322765","\/\/artofpunjab.com\/cdn\/shop\/products\/Akal-Takhat-Sikh-Art-Kanwar-Singh.jpg?v=1682197034"],"featured_image":"\/\/artofpunjab.com\/cdn\/shop\/products\/sri-Akal-Takhat-painting.jpg?v=1629322764","options":["Choose Print Type","Choose Size"],"media":[{"alt":"Sri Akal Takhat sikh history painting by artist Kanwar Singh","id":22248098300064,"position":1,"preview_image":{"aspect_ratio":0.701,"height":700,"width":491,"src":"\/\/artofpunjab.com\/cdn\/shop\/products\/sri-Akal-Takhat-painting.jpg?v=1629322764"},"aspect_ratio":0.701,"height":700,"media_type":"image","src":"\/\/artofpunjab.com\/cdn\/shop\/products\/sri-Akal-Takhat-painting.jpg?v=1629322764","width":491},{"alt":"akal takhat sahib","id":22248098332832,"position":2,"preview_image":{"aspect_ratio":1.0,"height":600,"width":600,"src":"\/\/artofpunjab.com\/cdn\/shop\/products\/sri-Akal-Takhat-picture1.jpg?v=1629322764"},"aspect_ratio":1.0,"height":600,"media_type":"image","src":"\/\/artofpunjab.com\/cdn\/shop\/products\/sri-Akal-Takhat-picture1.jpg?v=1629322764","width":600},{"alt":null,"id":22248098365600,"position":3,"preview_image":{"aspect_ratio":1.0,"height":600,"width":600,"src":"\/\/artofpunjab.com\/cdn\/shop\/products\/sri-Akal-Takhat-picture2.jpg?v=1629322764"},"aspect_ratio":1.0,"height":600,"media_type":"image","src":"\/\/artofpunjab.com\/cdn\/shop\/products\/sri-Akal-Takhat-picture2.jpg?v=1629322764","width":600},{"alt":null,"id":22248098398368,"position":4,"preview_image":{"aspect_ratio":1.0,"height":600,"width":600,"src":"\/\/artofpunjab.com\/cdn\/shop\/products\/sri-Akal-Takhat-picture3.jpg?v=1629322764"},"aspect_ratio":1.0,"height":600,"media_type":"image","src":"\/\/artofpunjab.com\/cdn\/shop\/products\/sri-Akal-Takhat-picture3.jpg?v=1629322764","width":600},{"alt":"miri piri","id":22248098431136,"position":5,"preview_image":{"aspect_ratio":1.0,"height":600,"width":600,"src":"\/\/artofpunjab.com\/cdn\/shop\/products\/sri-Akal-Takhat-picture4.jpg?v=1629322764"},"aspect_ratio":1.0,"height":600,"media_type":"image","src":"\/\/artofpunjab.com\/cdn\/shop\/products\/sri-Akal-Takhat-picture4.jpg?v=1629322764","width":600},{"alt":"akal takhat golden temple 1984 photos","id":22248098463904,"position":6,"preview_image":{"aspect_ratio":1.0,"height":600,"width":600,"src":"\/\/artofpunjab.com\/cdn\/shop\/products\/sri-Akal-Takhat-picture5.jpg?v=1629322765"},"aspect_ratio":1.0,"height":600,"media_type":"image","src":"\/\/artofpunjab.com\/cdn\/shop\/products\/sri-Akal-Takhat-picture5.jpg?v=1629322765","width":600},{"alt":null,"id":22248098496672,"position":7,"preview_image":{"aspect_ratio":1.0,"height":600,"width":600,"src":"\/\/artofpunjab.com\/cdn\/shop\/products\/sri-Akal-Takhat-picture6.jpg?v=1629322765"},"aspect_ratio":1.0,"height":600,"media_type":"image","src":"\/\/artofpunjab.com\/cdn\/shop\/products\/sri-Akal-Takhat-picture6.jpg?v=1629322765","width":600},{"alt":null,"id":27344930570400,"position":8,"preview_image":{"aspect_ratio":0.75,"height":3621,"width":2716,"src":"\/\/artofpunjab.com\/cdn\/shop\/products\/Akal-Takhat-Sikh-Art-Kanwar-Singh.jpg?v=1682197034"},"aspect_ratio":0.75,"height":3621,"media_type":"image","src":"\/\/artofpunjab.com\/cdn\/shop\/products\/Akal-Takhat-Sikh-Art-Kanwar-Singh.jpg?v=1682197034","width":2716}],"requires_selling_plan":false,"selling_plan_groups":[],"content":"\u003cmeta charset=\"utf-8\"\u003e\n\u003cp data-mce-fragment=\"1\"\u003e\u003cspan data-mce-fragment=\"1\"\u003eThis painting illustrates what Sri Akal Takhat sahib, the central legacy of Guru Hargobind sahib our sixth Guru, means to the Sikh quam.  The artwork weaves the stories and imagery we relate to Guru Hargobind sahib, such as Bandhi Chhor and Miri Piri to capture the essential nature of our eternal bond to the Akal Takhat as central institution of Sikhism.\u003c\/span\u003e\u003c\/p\u003e\n\u003cp data-mce-fragment=\"1\"\u003e\u003cspan data-mce-fragment=\"1\"\u003e \u003c\/span\u003e\u003c\/p\u003e\n\u003cp data-mce-fragment=\"1\"\u003e\u003cspan data-mce-fragment=\"1\"\u003eAfter the martyrdom of Guru Arjun dev ji, Guru Hargobind became the sixth Guru of the Sikhs at age eleven years old.  He was imprisoned for several years by the Mughal emperor at Gwalior fort, but upon his release he insisted that 52 Rajas, who had also been falsely imprisoned, be freed alongside him.  The emperor decreed that all the Rajas who could hold on to the Guru's robe could follow him to freedom.  Guru Hargobind Sahib secretly had a special robe sowed with many long tassels extending out, so that each the Rajas could hold onto him and thus follow him to freedom.  Sikhs celebrate this event annually as Bandhi Chhor Diwas (prisoner release day) but the story also holds a deeper metaphor for our lives today.  It is only by embracing our Guru, in the form of Siri Guru Granth sahib ji, that we can find a way out of the darkness which confines our spiritual selves. The Guru can become our Bandhi Chhor, bringing us from darkness to light, from ignorance to wisdom because when we clasp the hem of Guru sahib, we are bestowed the strength to liberate ourselves from oppression of mind, body and soul.\u003c\/span\u003e\u003c\/p\u003e\n\u003cp data-mce-fragment=\"1\"\u003e\u003cspan data-mce-fragment=\"1\"\u003e \u003c\/span\u003e\u003c\/p\u003e\n\u003cp data-mce-fragment=\"1\"\u003e\u003cspan data-mce-fragment=\"1\"\u003eGuru Hargobind sahib, returned to Amritsar on the night of Diwali and Bandhi Chhor was joyously celebrated by the entire Sikh sangat as they had been separated from their Guru for three long years. Guru Hargobind then set upon building the Akal Takhat with his own hands, initially as a simple stone platform, from which he governed the political affairs of the Sikhs.  He deliberately built the Akal Takhat higher than the Mughal throne in Delhi to assert the growing political sovereignty of the Sikh people, and accepted gifts of horses and arms to build the Sikh army.  His grandson, Sri Guru Gobind Singh ji would solidify this spiritual and political union into the form of the Khalsa where Sikhs after receiving amrit, became sovereign unto themselves, dressing as kings to cast off the oppressors who sought to rule them body or mind.  In the times that followed, tyrant after tyrant has unleashed destruction upon the Akal Takhat and Harimandir sahib because they are the most visible symbols of the spiritual and political revolution bestowed by the Gurus to strengthen the Sikhs.\u003c\/span\u003e\u003c\/p\u003e\n\u003cp data-mce-fragment=\"1\"\u003e\u003cspan data-mce-fragment=\"1\"\u003e \u003c\/span\u003e\u003c\/p\u003e\n\u003cp data-mce-fragment=\"1\"\u003e\u003cspan data-mce-fragment=\"1\"\u003eThrough the Akal Takhat, Guru Hargobind sahib permanently implanted the concept of Miri Piri, in that Sikhs had to be masters of both their spiritual and temporal selves.  Guru sahib always wore two kirpans from the day he assumed the Guruship and thus the Akal Takhat always flies two Nishaans (Sikh flags) to emphasise this central doctrine.  The natural insistence for self determination by Sikhs through Akal Takhat sahib has created the necessity for Sikhs to stand in defiance of invaders and tyrants from the time of Ahmed Shah Abdali to the modern day.  Cohorts of Sikh martyrs from Bhai Mani Singh and Baba Deep Singh onwards have given their heads for the defence of the Akal Takhat and the Guru's insistence upon self governance on all matters concerning the Sikh quam.  The Akal Takhat stands to remind Sikhs of their duty to not only defend and uphold their faith but to assemble for Sarbat Khalsa and fight tyranny whenever it arises.  \u003c\/span\u003e\u003c\/p\u003e\n\u003cp data-mce-fragment=\"1\"\u003e\u003cspan data-mce-fragment=\"1\"\u003eIn this painting, the visualization of blood transforming into flower petals is a reminder that liberation can be found through sacrifice, when the cause is just.  Countless shaheeds throughout our history teach us, that with the grace of the Guru and the willingness to bow ones heads in sacrifice, a transformation in the very depths of our being can be experienced.  This perfect union of Miri Piri, the inseparable connection between Sri Harimandir Sahib and Sri Akal Takhat sahib is shown in the painting as two interwoven energies.  Within their merger we see the khanda and the bata which represents the formation of the Khalsa panth and creation of a new type of being, the saint soldier.\u003c\/span\u003e\u003c\/p\u003e\n\u003cbr data-mce-fragment=\"1\"\u003e"}
Regular price
$242.00 USD
Regular price
Sale price
$242.00 USD
Unit price
per
Sale
Sold out
Paintings
All paintings are shipped rolled in a secure mailing tube to ensure safe delivery (frames are not included).  We offer the highest quality fine art prints in three different formats. Our premium product is the limited edition artist hand-signed Premium Canvas. This museum grade canvas looks and feels just like an oil painting and can be displayed without glass. Equally beautiful are our fine art prints on Textured Watercolour paper, selected by the artist for its beautifully textured all natural finish and our Enhanced Matte paper which is a quality economical art paper with a smooth finish.
We are happy to assist you through the framing process and can recommend local frame shops in your areas where we have contacts.  Please email us at contact@artofpunjab.com after placing your order if you have have questions about the framing process or any of our products.
Premium Canvas
Our highest quality product is the Giclee fine art prints on Premium Canvas.  This museum quality print produces vibrant colours and is made to look like an original oil painting. This elegantly textured canvas features a matte non-reflective surface with a bright white point, exceptionally high Dmax and wide colour gamut. Premium Canvas prints are initially offered as part of a Limited Edition series of 100 copies hand-signed by artist Kanwar Singh.
Specifications:
Extra 3 inches of canvas added to all sides to allow for stretching
Cotton fabric textured finish, all nature acid-free canvas
Clear UV protective coating applied to canvas to allow for glass-free framing
395 gsm Weight, 23 mil Thickness, lignin and acid free
Lab tested to last over 200 years without fading
Textured Watercolour Paper
Giclee fine art prints on Textured Watercolour paper is a cotton rag media with luxurious weight that delivers museum quality appearance.  This paper has an extremely-high colour gamut and black density.  Selected by the artist for its quality and the beautiful texture.
Specifications:
Bright Textured Matte

 Finish

All nature acid-free paper
Opacity 98%, ISO Brightness 96%
Lab tested to last over 120 years without fading
Enhanced Matte Paper
Giclee fine art prints on Enhanced Matte Paper is an un-textured bright, white paper which yields highly saturated images for a 'painterly' look.
Specifications:
Bright Textured Matte Finish, all nature acid-free paper
Thickness 10.3 mil, Basis weight 192 gsm
Opacity 94%, ISO brightness 104%
Lab tested to last over 80 years without fading
Gifts Cards
Artofpunjab e-Gift Cards will be delivered by email and will contain a unique code to be used at checkout for its value. These cards offer the unique and specials gift of art for your family and friends. Great for weddings, engagements, birthdays, anniversary, house warmings and more. Your loved ones can select a unique painting of their choice from artist Kanwar Singh's extraordinary collection of over 40 paintings. This truly inspiring gift will last a lifetime.
We offer FREE worldwide shipping on all orders over $100 Canadian dollars.  A flat rate shipping fee is applied to orders under $100 CAD.
Paintings are shipped WORLDWIDE in a secure mailing tube with guaranteed safe delivery (frames are not included).  The creation of all Fine Art prints are overseen by the artist Kanwar Singh to ensure high quality and superb colours.
Order Preparation Time
We require 1 week to prepare your order. This time is used to ensure your print meets our high quality standards. The Giclee fine art printing process we use offers the best colour accuracy for print reproduction and is considered the gold standard of the art print industry. 
For canvas orders, extra time may be required for the application and drying of the UV and scratch resistant coating which will greatly extend the life of the canvas. Most people prefer to frame canvas prints without glass and this provides the necessary protection for glass free framing.
If you require a RUSH delivery for a special occasion or event please email us after placing the order at contact@artofpunjab.com and we will do our very best to accommodate.
We are confident in the quality of our high quality prints and your satisfaction is 100% guaranteed. If for any reason you are not satisfied with your purchase, you may return it within 30 days of receiving the artwork for a full refund on the price of the item. Shipping charges are not refunded.
All prints must be returned to ArtofPunjab directly. Please email us at contact@artofpunjab.com prior to mailing a return to avoid additional duty charges.  Prints must be undamaged and in the original packaging.  If 30 days or more have passed since your purchase, we cannot offer you a refund or an exchange.
Upon receipt of the returned item we will process a refund and a credit will automatically be applied to your original method of payment. Any amounts refunded will not include the cost of shipping.
View full details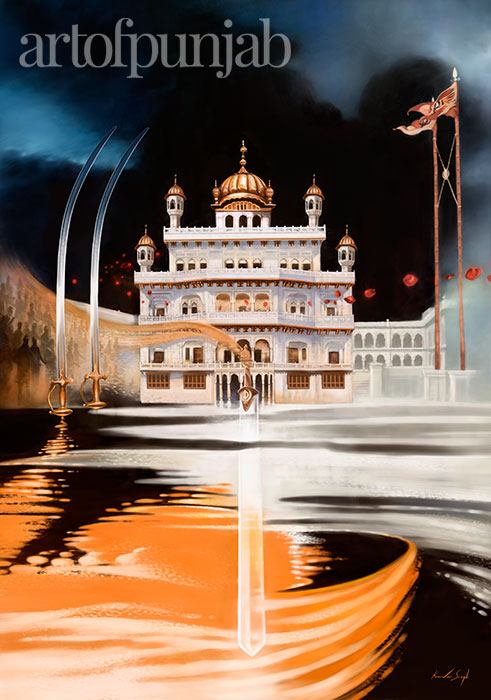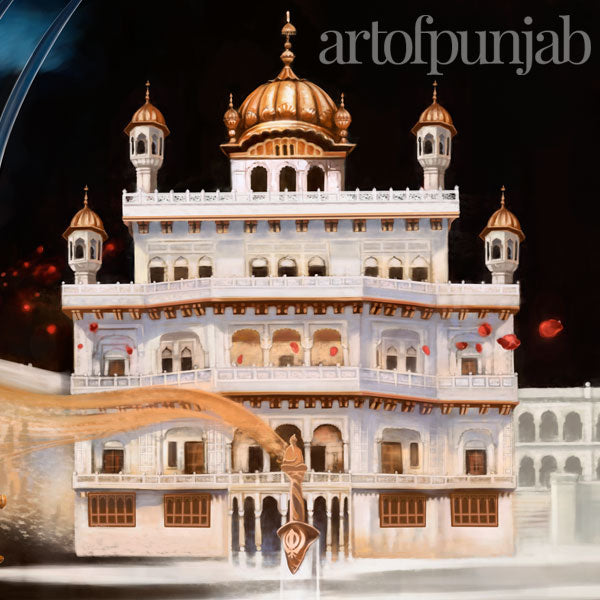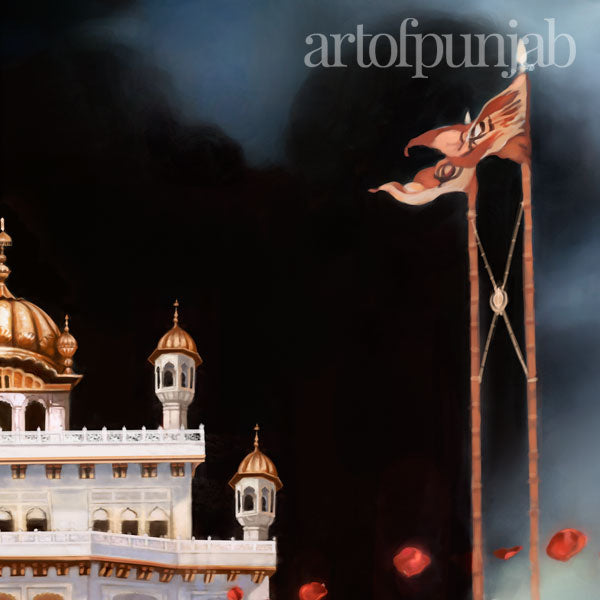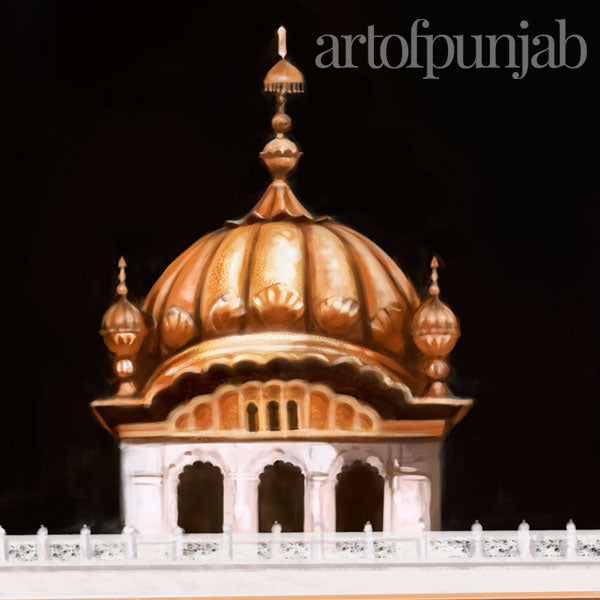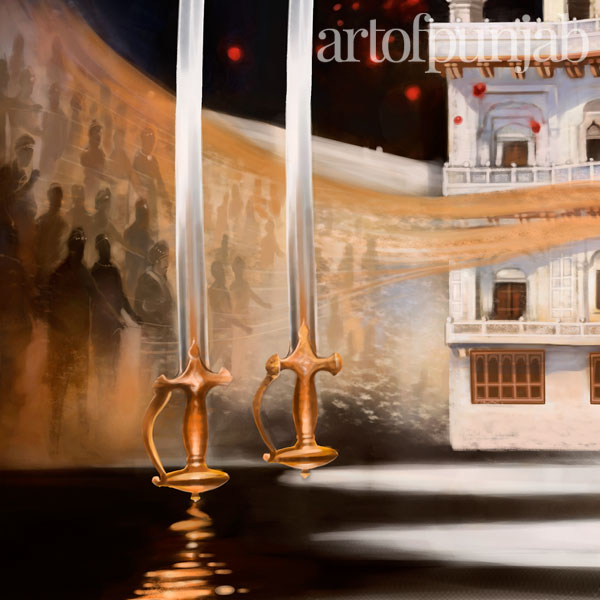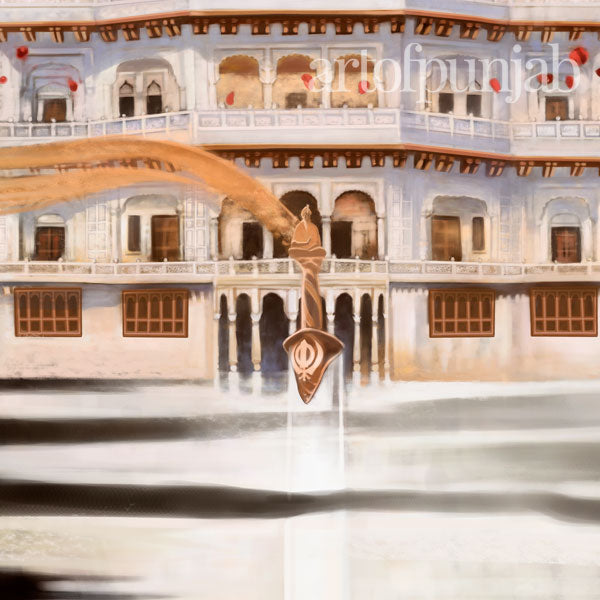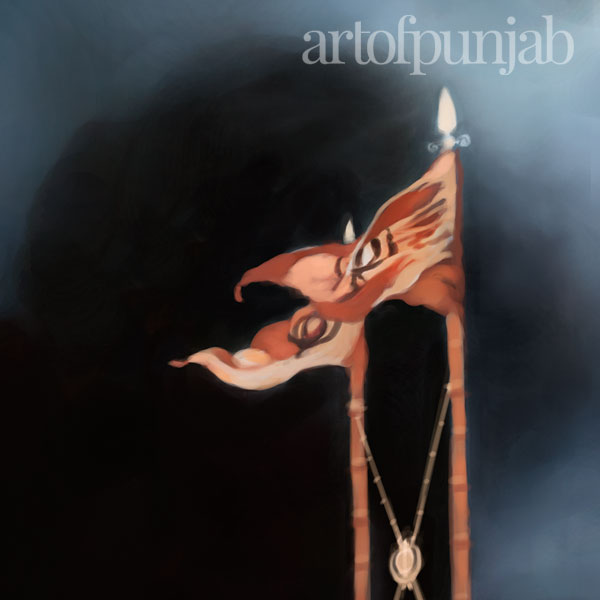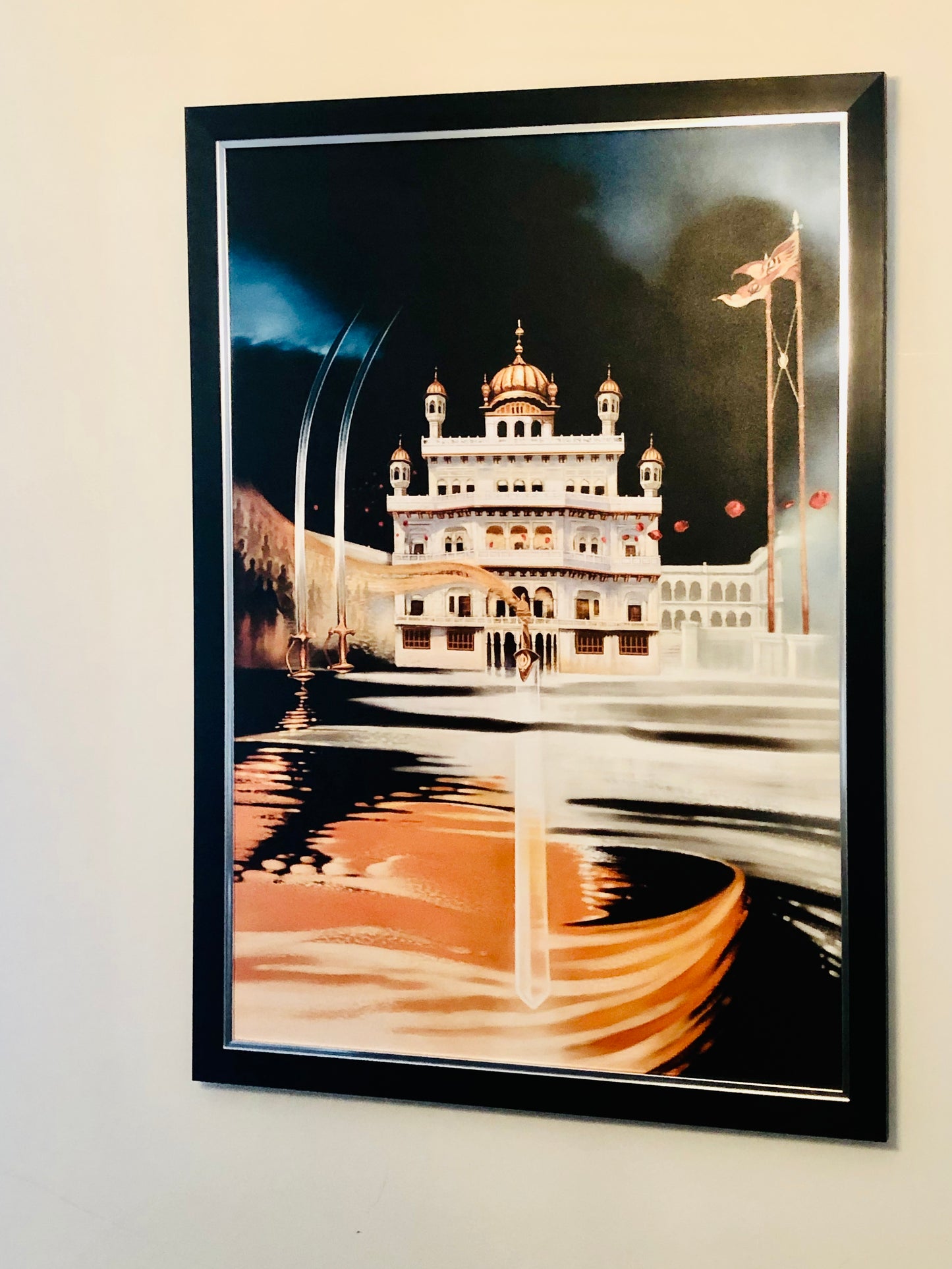 The Story
This painting illustrates what Sri Akal Takhat sahib, the central legacy of Guru Hargobind sahib our sixth Guru, means to the Sikh quam.  The artwork weaves the stories and imagery we relate to Guru Hargobind sahib, such as Bandhi Chhor and Miri Piri to capture the essential nature of our eternal bond to the Akal Takhat as central institution of Sikhism.
After the martyrdom of Guru Arjun dev ji, Guru Hargobind became the sixth Guru of the Sikhs at age eleven years old.  He was imprisoned for several years by the Mughal emperor at Gwalior fort, but upon his release he insisted that 52 Rajas, who had also been falsely imprisoned, be freed alongside him.  The emperor decreed that all the Rajas who could hold on to the Guru's robe could follow him to freedom.  Guru Hargobind Sahib secretly had a special robe sowed with many long tassels extending out, so that each the Rajas could hold onto him and thus follow him to freedom.  Sikhs celebrate this event annually as Bandhi Chhor Diwas (prisoner release day) but the story also holds a deeper metaphor for our lives today.  It is only by embracing our Guru, in the form of Siri Guru Granth sahib ji, that we can find a way out of the darkness which confines our spiritual selves. The Guru can become our Bandhi Chhor, bringing us from darkness to light, from ignorance to wisdom because when we clasp the hem of Guru sahib, we are bestowed the strength to liberate ourselves from oppression of mind, body and soul.
Guru Hargobind sahib, returned to Amritsar on the night of Diwali and Bandhi Chhor was joyously celebrated by the entire Sikh sangat as they had been separated from their Guru for three long years. Guru Hargobind then set upon building the Akal Takhat with his own hands, initially as a simple stone platform, from which he governed the political affairs of the Sikhs.  He deliberately built the Akal Takhat higher than the Mughal throne in Delhi to assert the growing political sovereignty of the Sikh people, and accepted gifts of horses and arms to build the Sikh army.  His grandson, Sri Guru Gobind Singh ji would solidify this spiritual and political union into the form of the Khalsa where Sikhs after receiving amrit, became sovereign unto themselves, dressing as kings to cast off the oppressors who sought to rule them body or mind.  In the times that followed, tyrant after tyrant has unleashed destruction upon the Akal Takhat and Harimandir sahib because they are the most visible symbols of the spiritual and political revolution bestowed by the Gurus to strengthen the Sikhs.
Through the Akal Takhat, Guru Hargobind sahib permanently implanted the concept of Miri Piri, in that Sikhs had to be masters of both their spiritual and temporal selves.  Guru sahib always wore two kirpans from the day he assumed the Guruship and thus the Akal Takhat always flies two Nishaans (Sikh flags) to emphasise this central doctrine.  The natural insistence for self determination by Sikhs through Akal Takhat sahib has created the necessity for Sikhs to stand in defiance of invaders and tyrants from the time of Ahmed Shah Abdali to the modern day.  Cohorts of Sikh martyrs from Bhai Mani Singh and Baba Deep Singh onwards have given their heads for the defence of the Akal Takhat and the Guru's insistence upon self governance on all matters concerning the Sikh quam.  The Akal Takhat stands to remind Sikhs of their duty to not only defend and uphold their faith but to assemble for Sarbat Khalsa and fight tyranny whenever it arises. 
In this painting, the visualization of blood transforming into flower petals is a reminder that liberation can be found through sacrifice, when the cause is just.  Countless shaheeds throughout our history teach us, that with the grace of the Guru and the willingness to bow ones heads in sacrifice, a transformation in the very depths of our being can be experienced.  This perfect union of Miri Piri, the inseparable connection between Sri Harimandir Sahib and Sri Akal Takhat sahib is shown in the painting as two interwoven energies.  Within their merger we see the khanda and the bata which represents the formation of the Khalsa panth and creation of a new type of being, the saint soldier.
<!- hello ->