{"id":7227078574240,"title":"Baba Deep Singh Shaheed","handle":"baba-deep-singh-shaheed-sikh-art-prints","description":"\u003cp\u003e \u003c\/p\u003e\n\u003cp\u003eBaba Deep Singh ji is one of the most honored martyrs known to Sikh history and his life is intimately woven with the tenth master, Guru Gobind Singh ji. He belonged to the order of Akali Nihungs whose origins are ascribed to Guru Gobind Singh in the aftermath of his severest battles with the Mughal Empire. The account is reminiscent of the establishment of the Khalsa in 1699. While halted at Damdama in Bhatinda district of southern Punjab in 1706, a Sikh lamented to the Guru that there were no more true Sikhs left as they all now worshipped power alone. The Guru set out to disprove this notion by asking those Singhs present for five heads to be 'fed' to the tutelary goddess of war, Chandi (i.e. to let themselves be decapitated by the Guru's sword). Five Singhs promptly offered themselves and were duly honoured with the honorific of 'shaheed' for their willingness to be sacrificed. Among the five was a warrior named Deep Singh (1682-1757).*\u003c\/p\u003e\n\u003cp\u003eToday Baba Deep Singh is remembered by Sikhs as a noted warrior and scholar who pledged to wrest Amritsar from the hands of an Afghan garrison in 1757. The Afgans, under the conqueror Ahmad Shah Durani had invaded India numerous times to plunder the massive wealth of its cities and take captive men, women and children in the tens of thousands to be sold as slaves in Kabul. However, on their return journey through the Punjab, the Sikhs would attack and harass the invading army, take back the wealth and free scores of captives. Akali Nihungs were often at the forefront of these attacks and these warriors of the 'shaheed' or martyr battalions were always the first to enter the battlefield but the last to leave it. The Afgans took revenge on the Sikhs by attacking their spiritual heart, the Harimandir Sahib. They destroyed Harimandir Sahib with a barrage of artillery and as a final act of contempt, filled the holy tank with blood and animal carcasses.\u003c\/p\u003e\n\u003cp\u003eThe news of the desecration of the Sikh's holiest place soon reached Baba Deep Singh Ji who, at age 75 years old, emerged from scholastic retirement and declared to the congregation at Damdama Sahib that he intended to expel the Afghan garrison besieging the temple and rebuild it. He took a vow before the assembled sangat not to come back alive without fulfilling this mission and performed Ardas, promising to reach to Sri Harimander Sahib: "Sir jaave ta jaave, mera Sikhi sidhak na jaave" (If my head is severed, let it be, but don't severe my Sikh way of life)". In defiance of the Afgans, he announced that the coming Diwali festival would be celebrated at Amritsar. Five hundred men came forward to go with him and as he went from village to village, many more Sikhs joined him. By the time they reached Tarn Taaran, their numbers had swelled to several thousand. Then Baba Ji drew a line on the ground with his khanda, and beseeched only those who were willing to fight and die to cross it. All the assembled Sikhs crossed this line eagerly. Baba Deep Singh Ji then recited the Shabad: "Jo to praym khaylan ka chaao, sir dhar tale galee mayree aao." (Those who wish to play the game of love, come to me with your head in your palm). "It maarag pair dhareejai, sir deejai kaan na keejai." (If you wish your feet to travel this path, don't delay in accepting to give your head). His companions were eager to win martyrdom in this sacred cause so they bathed in the pool at Tarn Taaran and offered prayers. They put on the dress of bridegrooms, tied festal ribbons called ganas on their wrists and sprinkled saffron on their robes. Thus dressed, they marched forth to wed Princess Death.\u003c\/p\u003e\n\u003cp\u003eWhen news of Baba Deep Singh Ji's intentions reached the Afgan General, he immediately mobilized an army of 20,000 men and proceeded towards Tarn Taran. Baba Deep Singh Ji and the Sikh shaheedi army intercepted the Afghan forces near the village of Gohalwar, about five miles from Amritsar. At this point, there was a bloody clash between both sides. Baba Deep Singh Ji fought with his 18-ser khanda (weighing about 32 lbs). Each Sikh fought with such great valor and courage that the enemy was near defeat. However, in the midst of the battle, a large contingent of reinforcements arrived for the Afgan side, turning the odds against the Sikhs. Despite this, the Sikhs lead by Baba Deep Singh Ji, continued fighting tirelessly and advancing towards Amritsar. During the pitched battle, Baba Deep Singh ji received a mortal wound to his neck that would have severed the head of an ordinary man. Upon seeing this scene, a young Sikh warrior called out to Baba Ji, reminding him of his vow to reach Sri Harimandir Sahib. Baba Deep Singh Ji stood back up, supported his head on his left palm and, holding his khanda upright in his right hand, continued fighting and moving towards Sri Harimandir Sahib. Upon seeing the sight of Baba Deep Singh, most of the men in the Afgan army lost heart and began to flee. Baba Deep Singh Ji was able to continue fighting and reached Sri Harimander Sahib, where he bowed his head at the prakarma and died a martyr. Baba Deep Singh Ji's shaheedi inspired the Sikhs to continue to fight against oppression for many years and even today, his life serves as an example for all Sikhs on how to live and die with dignity. He acknowledged neither bodily comfort nor pain, living and dying as a true martyr. In the true Akali Nihung spirit of old, Baba Deep Singh was a tenaciously chaste man of divine contemplation and penance, and was given to charity. Though a true warrior, he remained absorbed in deep contemplation. Where there was battle to be fought, he was not held back for fear of death. Where the Khalsa community faced its greatest danger, he placed his body at the very front. Wherever the battle was, he was to be found in its vanguard, with standard in hand, beating the war drum, he was always the first to engage the enemy.*\u003c\/p\u003e\n\u003cp\u003e*source – Warrior Saints – Four Centuries of Military History Vol.1 by Amandeep Singh Madra \u0026amp; Parmjit Singh\u003c\/p\u003e\n\u003cdiv class=\"grid_3 listed\"\u003e\u003cstrong\u003e\u003c\/strong\u003e\u003c\/div\u003e\n\u003cdiv data-mce-fragment=\"1\" class=\"clearfix\"\u003e\u003c\/div\u003e","published_at":"2022-01-22T17:22:26-05:00","created_at":"2022-01-22T17:21:53-05:00","vendor":"ArtOfPunjabInc","type":"Posters, Prints, \u0026 Visual Artwork","tags":["Sikh art","sikh artist","sikh gift","sikh painting"],"price":5300,"price_min":5300,"price_max":112700,"available":true,"price_varies":true,"compare_at_price":null,"compare_at_price_min":0,"compare_at_price_max":0,"compare_at_price_varies":false,"variants":[{"id":41649827741856,"title":"Artist Signed Premium Canvas (rolled) \/ SMALL 20 W x 30 H inches","option1":"Artist Signed Premium Canvas (rolled)","option2":"SMALL 20 W x 30 H inches","option3":null,"sku":null,"requires_shipping":true,"taxable":true,"featured_image":null,"available":true,"name":"Baba Deep Singh Shaheed - Artist Signed Premium Canvas (rolled) \/ SMALL 20 W x 30 H inches","public_title":"Artist Signed Premium Canvas (rolled) \/ SMALL 20 W x 30 H inches","options":["Artist Signed Premium Canvas (rolled)","SMALL 20 W x 30 H inches"],"price":24100,"weight":0,"compare_at_price":null,"inventory_management":null,"barcode":null,"requires_selling_plan":false,"selling_plan_allocations":[]},{"id":41649827807392,"title":"Artist Signed Premium Canvas (rolled) \/ MEDIUM 25 W x 38 H inches","option1":"Artist Signed Premium Canvas (rolled)","option2":"MEDIUM 25 W x 38 H inches","option3":null,"sku":null,"requires_shipping":true,"taxable":true,"featured_image":null,"available":true,"name":"Baba Deep Singh Shaheed - Artist Signed Premium Canvas (rolled) \/ MEDIUM 25 W x 38 H inches","public_title":"Artist Signed Premium Canvas (rolled) \/ MEDIUM 25 W x 38 H inches","options":["Artist Signed Premium Canvas (rolled)","MEDIUM 25 W x 38 H inches"],"price":31600,"weight":0,"compare_at_price":null,"inventory_management":null,"barcode":null,"requires_selling_plan":false,"selling_plan_allocations":[]},{"id":41649827872928,"title":"Artist Signed Premium Canvas (rolled) \/ LARGE 30 W x 45 H inches","option1":"Artist Signed Premium Canvas (rolled)","option2":"LARGE 30 W x 45 H inches","option3":null,"sku":null,"requires_shipping":true,"taxable":true,"featured_image":null,"available":true,"name":"Baba Deep Singh Shaheed - Artist Signed Premium Canvas (rolled) \/ LARGE 30 W x 45 H inches","public_title":"Artist Signed Premium Canvas (rolled) \/ LARGE 30 W x 45 H inches","options":["Artist Signed Premium Canvas (rolled)","LARGE 30 W x 45 H inches"],"price":40600,"weight":0,"compare_at_price":null,"inventory_management":null,"barcode":null,"requires_selling_plan":false,"selling_plan_allocations":[]},{"id":41649827971232,"title":"Artist Signed Premium Canvas (rolled) \/ GRAND 38 W x 57 H inches","option1":"Artist Signed Premium Canvas (rolled)","option2":"GRAND 38 W x 57 H inches","option3":null,"sku":null,"requires_shipping":true,"taxable":true,"featured_image":null,"available":true,"name":"Baba Deep Singh Shaheed - Artist Signed Premium Canvas (rolled) \/ GRAND 38 W x 57 H inches","public_title":"Artist Signed Premium Canvas (rolled) \/ GRAND 38 W x 57 H inches","options":["Artist Signed Premium Canvas (rolled)","GRAND 38 W x 57 H inches"],"price":57100,"weight":0,"compare_at_price":null,"inventory_management":null,"barcode":null,"requires_selling_plan":false,"selling_plan_allocations":[]},{"id":41649828036768,"title":"Artist Signed Premium Canvas (rolled) \/ MASSIVE 54 W x 80 H inches","option1":"Artist Signed Premium Canvas (rolled)","option2":"MASSIVE 54 W x 80 H inches","option3":null,"sku":null,"requires_shipping":true,"taxable":true,"featured_image":null,"available":true,"name":"Baba Deep Singh Shaheed - Artist Signed Premium Canvas (rolled) \/ MASSIVE 54 W x 80 H inches","public_title":"Artist Signed Premium Canvas (rolled) \/ MASSIVE 54 W x 80 H inches","options":["Artist Signed Premium Canvas (rolled)","MASSIVE 54 W x 80 H inches"],"price":112700,"weight":0,"compare_at_price":null,"inventory_management":null,"barcode":null,"requires_selling_plan":false,"selling_plan_allocations":[]},{"id":41649827545248,"title":"Textured Watercolor Print \/ SMALL 20 W x 30 H inches","option1":"Textured Watercolor Print","option2":"SMALL 20 W x 30 H inches","option3":null,"sku":null,"requires_shipping":true,"taxable":true,"featured_image":null,"available":true,"name":"Baba Deep Singh Shaheed - Textured Watercolor Print \/ SMALL 20 W x 30 H inches","public_title":"Textured Watercolor Print \/ SMALL 20 W x 30 H inches","options":["Textured Watercolor Print","SMALL 20 W x 30 H inches"],"price":13600,"weight":0,"compare_at_price":null,"inventory_management":null,"barcode":null,"requires_selling_plan":false,"selling_plan_allocations":[]},{"id":41649827610784,"title":"Textured Watercolor Print \/ MEDIUM 25 W x 38 H inches","option1":"Textured Watercolor Print","option2":"MEDIUM 25 W x 38 H inches","option3":null,"sku":null,"requires_shipping":true,"taxable":true,"featured_image":null,"available":true,"name":"Baba Deep Singh Shaheed - Textured Watercolor Print \/ MEDIUM 25 W x 38 H inches","public_title":"Textured Watercolor Print \/ MEDIUM 25 W x 38 H inches","options":["Textured Watercolor Print","MEDIUM 25 W x 38 H inches"],"price":22600,"weight":0,"compare_at_price":null,"inventory_management":null,"barcode":null,"requires_selling_plan":false,"selling_plan_allocations":[]},{"id":41649827676320,"title":"Textured Watercolor Print \/ LARGE 30 W x 45 H inches","option1":"Textured Watercolor Print","option2":"LARGE 30 W x 45 H inches","option3":null,"sku":null,"requires_shipping":true,"taxable":true,"featured_image":null,"available":true,"name":"Baba Deep Singh Shaheed - Textured Watercolor Print \/ LARGE 30 W x 45 H inches","public_title":"Textured Watercolor Print \/ LARGE 30 W x 45 H inches","options":["Textured Watercolor Print","LARGE 30 W x 45 H inches"],"price":31600,"weight":0,"compare_at_price":null,"inventory_management":null,"barcode":null,"requires_selling_plan":false,"selling_plan_allocations":[]},{"id":41649827446944,"title":"Enhanced Matte Print \/ SMALL 20 W x 30 H inches","option1":"Enhanced Matte Print","option2":"SMALL 20 W x 30 H inches","option3":null,"sku":null,"requires_shipping":true,"taxable":true,"featured_image":null,"available":true,"name":"Baba Deep Singh Shaheed - Enhanced Matte Print \/ SMALL 20 W x 30 H inches","public_title":"Enhanced Matte Print \/ SMALL 20 W x 30 H inches","options":["Enhanced Matte Print","SMALL 20 W x 30 H inches"],"price":5300,"weight":0,"compare_at_price":null,"inventory_management":null,"barcode":null,"requires_selling_plan":false,"selling_plan_allocations":[]}],"images":["\/\/artofpunjab.com\/cdn\/shop\/products\/deep-singh-sikh-painting.jpg?v=1642890161","\/\/artofpunjab.com\/cdn\/shop\/products\/baba-deep-singh-portrait.jpg?v=1642890169","\/\/artofpunjab.com\/cdn\/shop\/products\/baba-deep-singh-portrait1.jpg?v=1642890171","\/\/artofpunjab.com\/cdn\/shop\/products\/deep-singh-sikh-painting4.jpg?v=1642890184","\/\/artofpunjab.com\/cdn\/shop\/products\/baba-deep-singh-portrait2.jpg?v=1642890184","\/\/artofpunjab.com\/cdn\/shop\/products\/deep-singh-sikh-painting5.jpg?v=1642890179"],"featured_image":"\/\/artofpunjab.com\/cdn\/shop\/products\/deep-singh-sikh-painting.jpg?v=1642890161","options":["Choose Print Type","Choose Size"],"media":[{"alt":"Baba Deep Singh Shaheed Sikh Art ","id":23840462176416,"position":1,"preview_image":{"aspect_ratio":0.674,"height":700,"width":472,"src":"\/\/artofpunjab.com\/cdn\/shop\/products\/deep-singh-sikh-painting.jpg?v=1642890161"},"aspect_ratio":0.674,"height":700,"media_type":"image","src":"\/\/artofpunjab.com\/cdn\/shop\/products\/deep-singh-sikh-painting.jpg?v=1642890161","width":472},{"alt":"Baba Deep Singh","id":23840462504096,"position":2,"preview_image":{"aspect_ratio":1.0,"height":600,"width":600,"src":"\/\/artofpunjab.com\/cdn\/shop\/products\/baba-deep-singh-portrait.jpg?v=1642890169"},"aspect_ratio":1.0,"height":600,"media_type":"image","src":"\/\/artofpunjab.com\/cdn\/shop\/products\/baba-deep-singh-portrait.jpg?v=1642890169","width":600},{"alt":"Sikh Warrior Art Baba Deep Singh","id":23840462536864,"position":3,"preview_image":{"aspect_ratio":1.0,"height":600,"width":600,"src":"\/\/artofpunjab.com\/cdn\/shop\/products\/baba-deep-singh-portrait1.jpg?v=1642890171"},"aspect_ratio":1.0,"height":600,"media_type":"image","src":"\/\/artofpunjab.com\/cdn\/shop\/products\/baba-deep-singh-portrait1.jpg?v=1642890171","width":600},{"alt":null,"id":23840463061152,"position":4,"preview_image":{"aspect_ratio":1.0,"height":600,"width":600,"src":"\/\/artofpunjab.com\/cdn\/shop\/products\/deep-singh-sikh-painting4.jpg?v=1642890184"},"aspect_ratio":1.0,"height":600,"media_type":"image","src":"\/\/artofpunjab.com\/cdn\/shop\/products\/deep-singh-sikh-painting4.jpg?v=1642890184","width":600},{"alt":"Sarbat Khalsa","id":23840462700704,"position":5,"preview_image":{"aspect_ratio":1.0,"height":600,"width":600,"src":"\/\/artofpunjab.com\/cdn\/shop\/products\/baba-deep-singh-portrait2.jpg?v=1642890184"},"aspect_ratio":1.0,"height":600,"media_type":"image","src":"\/\/artofpunjab.com\/cdn\/shop\/products\/baba-deep-singh-portrait2.jpg?v=1642890184","width":600},{"alt":null,"id":23840463192224,"position":6,"preview_image":{"aspect_ratio":1.0,"height":600,"width":600,"src":"\/\/artofpunjab.com\/cdn\/shop\/products\/deep-singh-sikh-painting5.jpg?v=1642890179"},"aspect_ratio":1.0,"height":600,"media_type":"image","src":"\/\/artofpunjab.com\/cdn\/shop\/products\/deep-singh-sikh-painting5.jpg?v=1642890179","width":600}],"requires_selling_plan":false,"selling_plan_groups":[],"content":"\u003cp\u003e \u003c\/p\u003e\n\u003cp\u003eBaba Deep Singh ji is one of the most honored martyrs known to Sikh history and his life is intimately woven with the tenth master, Guru Gobind Singh ji. He belonged to the order of Akali Nihungs whose origins are ascribed to Guru Gobind Singh in the aftermath of his severest battles with the Mughal Empire. The account is reminiscent of the establishment of the Khalsa in 1699. While halted at Damdama in Bhatinda district of southern Punjab in 1706, a Sikh lamented to the Guru that there were no more true Sikhs left as they all now worshipped power alone. The Guru set out to disprove this notion by asking those Singhs present for five heads to be 'fed' to the tutelary goddess of war, Chandi (i.e. to let themselves be decapitated by the Guru's sword). Five Singhs promptly offered themselves and were duly honoured with the honorific of 'shaheed' for their willingness to be sacrificed. Among the five was a warrior named Deep Singh (1682-1757).*\u003c\/p\u003e\n\u003cp\u003eToday Baba Deep Singh is remembered by Sikhs as a noted warrior and scholar who pledged to wrest Amritsar from the hands of an Afghan garrison in 1757. The Afgans, under the conqueror Ahmad Shah Durani had invaded India numerous times to plunder the massive wealth of its cities and take captive men, women and children in the tens of thousands to be sold as slaves in Kabul. However, on their return journey through the Punjab, the Sikhs would attack and harass the invading army, take back the wealth and free scores of captives. Akali Nihungs were often at the forefront of these attacks and these warriors of the 'shaheed' or martyr battalions were always the first to enter the battlefield but the last to leave it. The Afgans took revenge on the Sikhs by attacking their spiritual heart, the Harimandir Sahib. They destroyed Harimandir Sahib with a barrage of artillery and as a final act of contempt, filled the holy tank with blood and animal carcasses.\u003c\/p\u003e\n\u003cp\u003eThe news of the desecration of the Sikh's holiest place soon reached Baba Deep Singh Ji who, at age 75 years old, emerged from scholastic retirement and declared to the congregation at Damdama Sahib that he intended to expel the Afghan garrison besieging the temple and rebuild it. He took a vow before the assembled sangat not to come back alive without fulfilling this mission and performed Ardas, promising to reach to Sri Harimander Sahib: "Sir jaave ta jaave, mera Sikhi sidhak na jaave" (If my head is severed, let it be, but don't severe my Sikh way of life)". In defiance of the Afgans, he announced that the coming Diwali festival would be celebrated at Amritsar. Five hundred men came forward to go with him and as he went from village to village, many more Sikhs joined him. By the time they reached Tarn Taaran, their numbers had swelled to several thousand. Then Baba Ji drew a line on the ground with his khanda, and beseeched only those who were willing to fight and die to cross it. All the assembled Sikhs crossed this line eagerly. Baba Deep Singh Ji then recited the Shabad: "Jo to praym khaylan ka chaao, sir dhar tale galee mayree aao." (Those who wish to play the game of love, come to me with your head in your palm). "It maarag pair dhareejai, sir deejai kaan na keejai." (If you wish your feet to travel this path, don't delay in accepting to give your head). His companions were eager to win martyrdom in this sacred cause so they bathed in the pool at Tarn Taaran and offered prayers. They put on the dress of bridegrooms, tied festal ribbons called ganas on their wrists and sprinkled saffron on their robes. Thus dressed, they marched forth to wed Princess Death.\u003c\/p\u003e\n\u003cp\u003eWhen news of Baba Deep Singh Ji's intentions reached the Afgan General, he immediately mobilized an army of 20,000 men and proceeded towards Tarn Taran. Baba Deep Singh Ji and the Sikh shaheedi army intercepted the Afghan forces near the village of Gohalwar, about five miles from Amritsar. At this point, there was a bloody clash between both sides. Baba Deep Singh Ji fought with his 18-ser khanda (weighing about 32 lbs). Each Sikh fought with such great valor and courage that the enemy was near defeat. However, in the midst of the battle, a large contingent of reinforcements arrived for the Afgan side, turning the odds against the Sikhs. Despite this, the Sikhs lead by Baba Deep Singh Ji, continued fighting tirelessly and advancing towards Amritsar. During the pitched battle, Baba Deep Singh ji received a mortal wound to his neck that would have severed the head of an ordinary man. Upon seeing this scene, a young Sikh warrior called out to Baba Ji, reminding him of his vow to reach Sri Harimandir Sahib. Baba Deep Singh Ji stood back up, supported his head on his left palm and, holding his khanda upright in his right hand, continued fighting and moving towards Sri Harimandir Sahib. Upon seeing the sight of Baba Deep Singh, most of the men in the Afgan army lost heart and began to flee. Baba Deep Singh Ji was able to continue fighting and reached Sri Harimander Sahib, where he bowed his head at the prakarma and died a martyr. Baba Deep Singh Ji's shaheedi inspired the Sikhs to continue to fight against oppression for many years and even today, his life serves as an example for all Sikhs on how to live and die with dignity. He acknowledged neither bodily comfort nor pain, living and dying as a true martyr. In the true Akali Nihung spirit of old, Baba Deep Singh was a tenaciously chaste man of divine contemplation and penance, and was given to charity. Though a true warrior, he remained absorbed in deep contemplation. Where there was battle to be fought, he was not held back for fear of death. Where the Khalsa community faced its greatest danger, he placed his body at the very front. Wherever the battle was, he was to be found in its vanguard, with standard in hand, beating the war drum, he was always the first to engage the enemy.*\u003c\/p\u003e\n\u003cp\u003e*source – Warrior Saints – Four Centuries of Military History Vol.1 by Amandeep Singh Madra \u0026amp; Parmjit Singh\u003c\/p\u003e\n\u003cdiv class=\"grid_3 listed\"\u003e\u003cstrong\u003e\u003c\/strong\u003e\u003c\/div\u003e\n\u003cdiv data-mce-fragment=\"1\" class=\"clearfix\"\u003e\u003c\/div\u003e"}
Regular price
$241.00 USD
Regular price
Sale price
$241.00 USD
Unit price
per
Sale
Sold out
Paintings
All paintings are shipped rolled in a secure mailing tube to ensure safe delivery (frames are not included).  We offer the highest quality fine art prints in three different formats. Our premium product is the limited edition artist hand-signed Premium Canvas. This museum grade canvas looks and feels just like an oil painting and can be displayed without glass. Equally beautiful are our fine art prints on Textured Watercolour paper, selected by the artist for its beautifully textured all natural finish and our Enhanced Matte paper which is a quality economical art paper with a smooth finish.
We are happy to assist you through the framing process and can recommend local frame shops in your areas where we have contacts.  Please email us at contact@artofpunjab.com after placing your order if you have have questions about the framing process or any of our products.
Premium Canvas
Our highest quality product is the Giclee fine art prints on Premium Canvas.  This museum quality print produces vibrant colours and is made to look like an original oil painting. This elegantly textured canvas features a matte non-reflective surface with a bright white point, exceptionally high Dmax and wide colour gamut. Premium Canvas prints are initially offered as part of a Limited Edition series of 100 copies hand-signed by artist Kanwar Singh.
Specifications:
Extra 3 inches of canvas added to all sides to allow for stretching
Cotton fabric textured finish, all nature acid-free canvas
Clear UV protective coating applied to canvas to allow for glass-free framing
395 gsm Weight, 23 mil Thickness, lignin and acid free
Lab tested to last over 200 years without fading
Textured Watercolour Paper
Giclee fine art prints on Textured Watercolour paper is a cotton rag media with luxurious weight that delivers museum quality appearance.  This paper has an extremely-high colour gamut and black density.  Selected by the artist for its quality and the beautiful texture.
Specifications:
Bright Textured Matte

 Finish

All nature acid-free paper
Opacity 98%, ISO Brightness 96%
Lab tested to last over 120 years without fading
Enhanced Matte Paper
Giclee fine art prints on Enhanced Matte Paper is an un-textured bright, white paper which yields highly saturated images for a 'painterly' look.
Specifications:
Bright Textured Matte Finish, all nature acid-free paper
Thickness 10.3 mil, Basis weight 192 gsm
Opacity 94%, ISO brightness 104%
Lab tested to last over 80 years without fading
Gifts Cards
Artofpunjab e-Gift Cards will be delivered by email and will contain a unique code to be used at checkout for its value. These cards offer the unique and specials gift of art for your family and friends. Great for weddings, engagements, birthdays, anniversary, house warmings and more. Your loved ones can select a unique painting of their choice from artist Kanwar Singh's extraordinary collection of over 40 paintings. This truly inspiring gift will last a lifetime.
We offer FREE worldwide shipping on all orders over $100 Canadian dollars.  A flat rate shipping fee is applied to orders under $100 CAD.
Paintings are shipped WORLDWIDE in a secure mailing tube with guaranteed safe delivery (frames are not included).  The creation of all Fine Art prints are overseen by the artist Kanwar Singh to ensure high quality and superb colours.
Order Preparation Time
We require 1 week to prepare your order. This time is used to ensure your print meets our high quality standards. The Giclee fine art printing process we use offers the best colour accuracy for print reproduction and is considered the gold standard of the art print industry. 
For canvas orders, extra time may be required for the application and drying of the UV and scratch resistant coating which will greatly extend the life of the canvas. Most people prefer to frame canvas prints without glass and this provides the necessary protection for glass free framing.
If you require a RUSH delivery for a special occasion or event please email us after placing the order at contact@artofpunjab.com and we will do our very best to accommodate.
We are confident in the quality of our high quality prints and your satisfaction is 100% guaranteed. If for any reason you are not satisfied with your purchase, you may return it within 30 days of receiving the artwork for a full refund on the price of the item. Shipping charges are not refunded.
All prints must be returned to ArtofPunjab directly. Please email us at contact@artofpunjab.com prior to mailing a return to avoid additional duty charges.  Prints must be undamaged and in the original packaging.  If 30 days or more have passed since your purchase, we cannot offer you a refund or an exchange.
Upon receipt of the returned item we will process a refund and a credit will automatically be applied to your original method of payment. Any amounts refunded will not include the cost of shipping.
View full details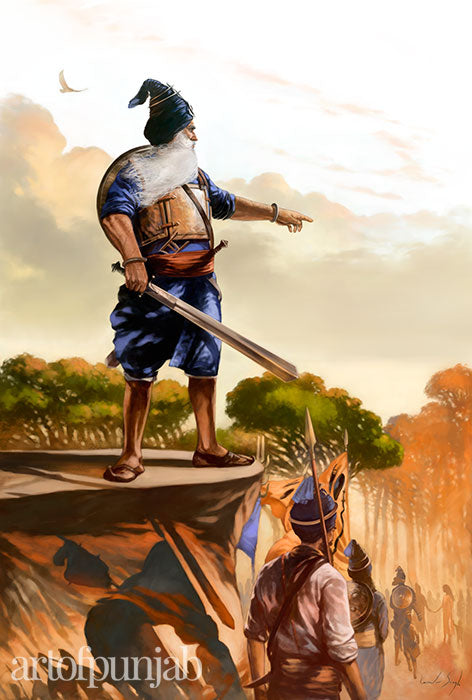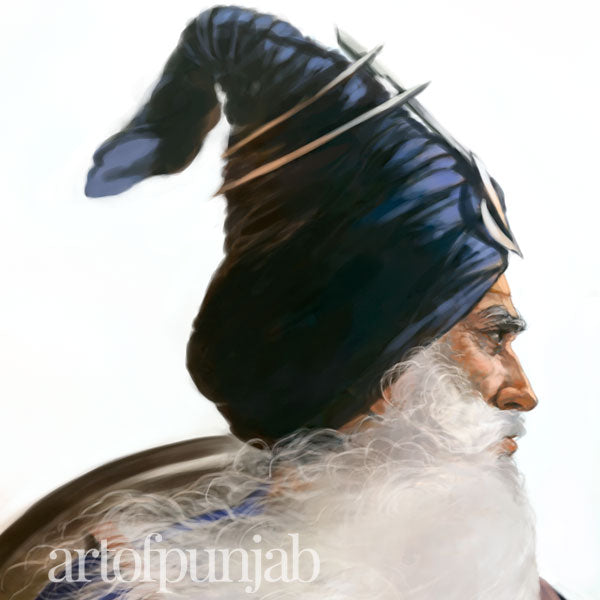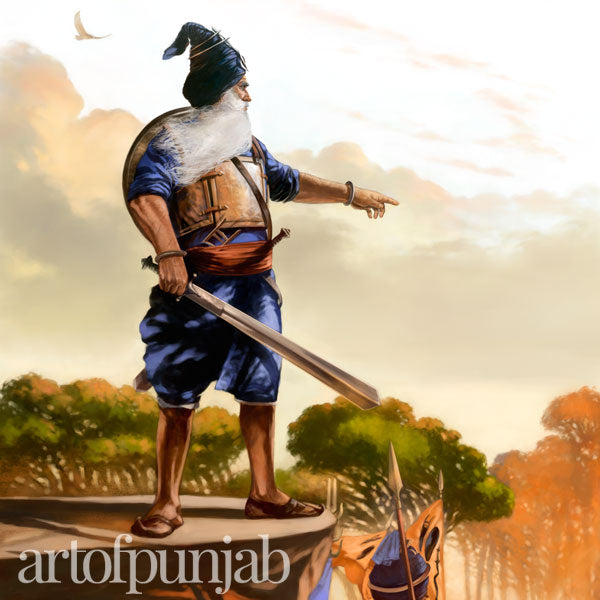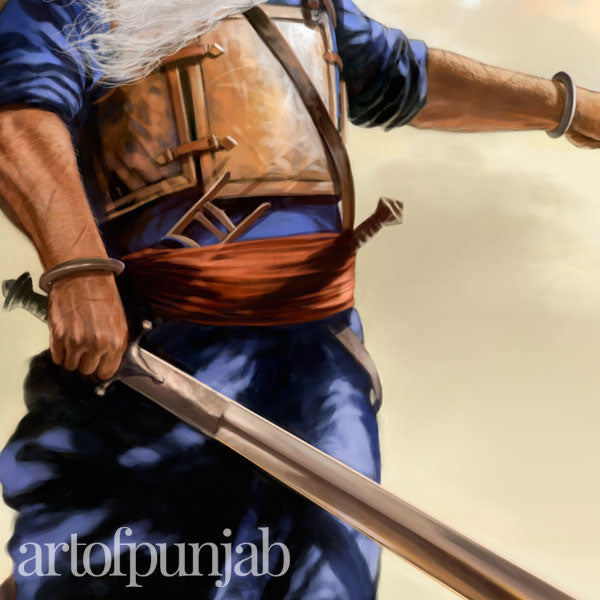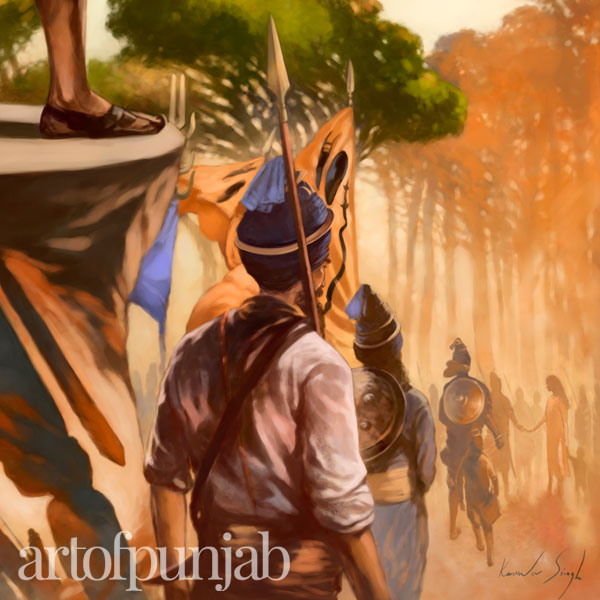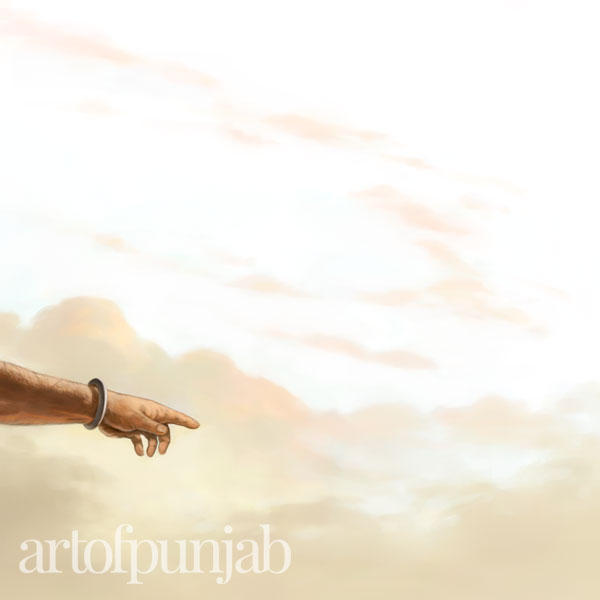 The Story
Baba Deep Singh ji is one of the most honored martyrs known to Sikh history and his life is intimately woven with the tenth master, Guru Gobind Singh ji. He belonged to the order of Akali Nihungs whose origins are ascribed to Guru Gobind Singh in the aftermath of his severest battles with the Mughal Empire. The account is reminiscent of the establishment of the Khalsa in 1699. While halted at Damdama in Bhatinda district of southern Punjab in 1706, a Sikh lamented to the Guru that there were no more true Sikhs left as they all now worshipped power alone. The Guru set out to disprove this notion by asking those Singhs present for five heads to be 'fed' to the tutelary goddess of war, Chandi (i.e. to let themselves be decapitated by the Guru's sword). Five Singhs promptly offered themselves and were duly honoured with the honorific of 'shaheed' for their willingness to be sacrificed. Among the five was a warrior named Deep Singh (1682-1757).*
Today Baba Deep Singh is remembered by Sikhs as a noted warrior and scholar who pledged to wrest Amritsar from the hands of an Afghan garrison in 1757. The Afgans, under the conqueror Ahmad Shah Durani had invaded India numerous times to plunder the massive wealth of its cities and take captive men, women and children in the tens of thousands to be sold as slaves in Kabul. However, on their return journey through the Punjab, the Sikhs would attack and harass the invading army, take back the wealth and free scores of captives. Akali Nihungs were often at the forefront of these attacks and these warriors of the 'shaheed' or martyr battalions were always the first to enter the battlefield but the last to leave it. The Afgans took revenge on the Sikhs by attacking their spiritual heart, the Harimandir Sahib. They destroyed Harimandir Sahib with a barrage of artillery and as a final act of contempt, filled the holy tank with blood and animal carcasses.
The news of the desecration of the Sikh's holiest place soon reached Baba Deep Singh Ji who, at age 75 years old, emerged from scholastic retirement and declared to the congregation at Damdama Sahib that he intended to expel the Afghan garrison besieging the temple and rebuild it. He took a vow before the assembled sangat not to come back alive without fulfilling this mission and performed Ardas, promising to reach to Sri Harimander Sahib: "Sir jaave ta jaave, mera Sikhi sidhak na jaave" (If my head is severed, let it be, but don't severe my Sikh way of life)". In defiance of the Afgans, he announced that the coming Diwali festival would be celebrated at Amritsar. Five hundred men came forward to go with him and as he went from village to village, many more Sikhs joined him. By the time they reached Tarn Taaran, their numbers had swelled to several thousand. Then Baba Ji drew a line on the ground with his khanda, and beseeched only those who were willing to fight and die to cross it. All the assembled Sikhs crossed this line eagerly. Baba Deep Singh Ji then recited the Shabad: "Jo to praym khaylan ka chaao, sir dhar tale galee mayree aao." (Those who wish to play the game of love, come to me with your head in your palm). "It maarag pair dhareejai, sir deejai kaan na keejai." (If you wish your feet to travel this path, don't delay in accepting to give your head). His companions were eager to win martyrdom in this sacred cause so they bathed in the pool at Tarn Taaran and offered prayers. They put on the dress of bridegrooms, tied festal ribbons called ganas on their wrists and sprinkled saffron on their robes. Thus dressed, they marched forth to wed Princess Death.
When news of Baba Deep Singh Ji's intentions reached the Afgan General, he immediately mobilized an army of 20,000 men and proceeded towards Tarn Taran. Baba Deep Singh Ji and the Sikh shaheedi army intercepted the Afghan forces near the village of Gohalwar, about five miles from Amritsar. At this point, there was a bloody clash between both sides. Baba Deep Singh Ji fought with his 18-ser khanda (weighing about 32 lbs). Each Sikh fought with such great valor and courage that the enemy was near defeat. However, in the midst of the battle, a large contingent of reinforcements arrived for the Afgan side, turning the odds against the Sikhs. Despite this, the Sikhs lead by Baba Deep Singh Ji, continued fighting tirelessly and advancing towards Amritsar. During the pitched battle, Baba Deep Singh ji received a mortal wound to his neck that would have severed the head of an ordinary man. Upon seeing this scene, a young Sikh warrior called out to Baba Ji, reminding him of his vow to reach Sri Harimandir Sahib. Baba Deep Singh Ji stood back up, supported his head on his left palm and, holding his khanda upright in his right hand, continued fighting and moving towards Sri Harimandir Sahib. Upon seeing the sight of Baba Deep Singh, most of the men in the Afgan army lost heart and began to flee. Baba Deep Singh Ji was able to continue fighting and reached Sri Harimander Sahib, where he bowed his head at the prakarma and died a martyr. Baba Deep Singh Ji's shaheedi inspired the Sikhs to continue to fight against oppression for many years and even today, his life serves as an example for all Sikhs on how to live and die with dignity. He acknowledged neither bodily comfort nor pain, living and dying as a true martyr. In the true Akali Nihung spirit of old, Baba Deep Singh was a tenaciously chaste man of divine contemplation and penance, and was given to charity. Though a true warrior, he remained absorbed in deep contemplation. Where there was battle to be fought, he was not held back for fear of death. Where the Khalsa community faced its greatest danger, he placed his body at the very front. Wherever the battle was, he was to be found in its vanguard, with standard in hand, beating the war drum, he was always the first to engage the enemy.*
*source – Warrior Saints – Four Centuries of Military History Vol.1 by Amandeep Singh Madra & Parmjit Singh
<!- hello ->