{"id":7227079688352,"title":"Gurgaddi Siri Guru Granth Sahib","handle":"gurgaddi-siri-guru-granth-sahib-sikh-art-print","description":"\u003cmeta charset=\"utf-8\"\u003e\n\u003cp data-mce-fragment=\"1\"\u003eIn 1708, Guru Gobind Singh, the tenth Guru of the Sikhs, having consciously witnessed the sacrifice of the lives of all his four sons, handed over the legacy to the Guruship of the Shabad Guru, embodied in the Siri Guru Granth Sahib. He understood that the age of lineage was over, and so he consciously left no heirs. The unique beauty of this is that the Siri Guru Granth Sahib, our present Guru, can neither be altered nor changed in any way. It is a touchstone for all humanity that exists beyond the limitations of time and space, now and in the future.\u003c\/p\u003e\n\u003cp data-mce-fragment=\"1\"\u003eArtist's note: The Gurgaddi Siri Guru Granth Sahib piece is how the painting was originally conceived in my mind and laid out in early sketches. However, in the fall of 2008, the 300 anniversary of the event was fast approaching and I decided to recompose the painting from the original grand conception of the historic event to a more intimate portrayal, focusing on the silent communion between Guru Gobind Singh ji and the Siri Guru Granth Sahib ji. The version that was released that year was well received and has become quite iconic. However, the desire to paint it exactly as I had originally conceived the painting never left me.\u003c\/p\u003e\n\u003cp data-mce-fragment=\"1\"\u003eHistory records that when Guru Gobind Singh ji passed the Guruship to the Guru Granth Sahib ji, our eternal Guru, the event was witnessed by a loyal retinue of Sikhs who had accompanied him south to Nanded. This closely knit sangat, said to be composed of roughly three hundred Khalsa soldiers including Mai Bhago, devout Sikhs and the few remaining members of the Guru's own family, had endured much tragedy and hardship to remain by his side in those difficult times. In 1708, on the banks of the river Godavari, on a spot chosen by the Guru, they assembled and bore witness this sublime moment that defined Sikhism forever after. Guru Gobind Singh instructed them to follow the Guru Granth Sahib just as if it were a living, breathing Guru:\u003c\/p\u003e\n\u003cp data-mce-fragment=\"1\"\u003e"The Eternal Father willed and I raised the Panth. All my Sikhs are hereby ordered to accept the Granth as their preceptor. Have faith in the Holy Granth as your master and consider it the visible manifestation of the Gurus. He who hath a pure heart will seek guidance from its holy words."\u003c\/p\u003e\n\u003cbr\u003e","published_at":"2022-01-22T17:30:52-05:00","created_at":"2022-01-22T17:28:17-05:00","vendor":"ArtOfPunjabInc","type":"Posters, Prints, \u0026 Visual Artwork","tags":["banda singh bahadur","Sikh art","sikh artist","sikh gift","sikh painting"],"price":5300,"price_min":5300,"price_max":112700,"available":true,"price_varies":true,"compare_at_price":null,"compare_at_price_min":0,"compare_at_price_max":0,"compare_at_price_varies":false,"variants":[{"id":41649875189920,"title":"Premium Canvas (rolled) \/ SMALL 34 W x 20 H inches","option1":"Premium Canvas (rolled)","option2":"SMALL 34 W x 20 H inches","option3":null,"sku":null,"requires_shipping":true,"taxable":true,"featured_image":null,"available":true,"name":"Gurgaddi Siri Guru Granth Sahib - Premium Canvas (rolled) \/ SMALL 34 W x 20 H inches","public_title":"Premium Canvas (rolled) \/ SMALL 34 W x 20 H inches","options":["Premium Canvas (rolled)","SMALL 34 W x 20 H inches"],"price":24100,"weight":0,"compare_at_price":null,"inventory_management":null,"barcode":null,"requires_selling_plan":false,"selling_plan_allocations":[]},{"id":41649875222688,"title":"Premium Canvas (rolled) \/ MEDIUM 43 W x 25 H inches","option1":"Premium Canvas (rolled)","option2":"MEDIUM 43 W x 25 H inches","option3":null,"sku":null,"requires_shipping":true,"taxable":true,"featured_image":null,"available":true,"name":"Gurgaddi Siri Guru Granth Sahib - Premium Canvas (rolled) \/ MEDIUM 43 W x 25 H inches","public_title":"Premium Canvas (rolled) \/ MEDIUM 43 W x 25 H inches","options":["Premium Canvas (rolled)","MEDIUM 43 W x 25 H inches"],"price":30100,"weight":0,"compare_at_price":null,"inventory_management":null,"barcode":null,"requires_selling_plan":false,"selling_plan_allocations":[]},{"id":41649875255456,"title":"Premium Canvas (rolled) \/ LARGE 52 W x 30 H inches","option1":"Premium Canvas (rolled)","option2":"LARGE 52 W x 30 H inches","option3":null,"sku":null,"requires_shipping":true,"taxable":true,"featured_image":null,"available":true,"name":"Gurgaddi Siri Guru Granth Sahib - Premium Canvas (rolled) \/ LARGE 52 W x 30 H inches","public_title":"Premium Canvas (rolled) \/ LARGE 52 W x 30 H inches","options":["Premium Canvas (rolled)","LARGE 52 W x 30 H inches"],"price":40600,"weight":0,"compare_at_price":null,"inventory_management":null,"barcode":null,"requires_selling_plan":false,"selling_plan_allocations":[]},{"id":41649875288224,"title":"Premium Canvas (rolled) \/ GRAND 65 W x 38 H inches","option1":"Premium Canvas (rolled)","option2":"GRAND 65 W x 38 H inches","option3":null,"sku":null,"requires_shipping":true,"taxable":true,"featured_image":null,"available":true,"name":"Gurgaddi Siri Guru Granth Sahib - Premium Canvas (rolled) \/ GRAND 65 W x 38 H inches","public_title":"Premium Canvas (rolled) \/ GRAND 65 W x 38 H inches","options":["Premium Canvas (rolled)","GRAND 65 W x 38 H inches"],"price":57100,"weight":0,"compare_at_price":null,"inventory_management":null,"barcode":null,"requires_selling_plan":false,"selling_plan_allocations":[]},{"id":41649875320992,"title":"Premium Canvas (rolled) \/ MASSIVE 93 W x 54 H inches","option1":"Premium Canvas (rolled)","option2":"MASSIVE 93 W x 54 H inches","option3":null,"sku":null,"requires_shipping":true,"taxable":true,"featured_image":null,"available":true,"name":"Gurgaddi Siri Guru Granth Sahib - Premium Canvas (rolled) \/ MASSIVE 93 W x 54 H inches","public_title":"Premium Canvas (rolled) \/ MASSIVE 93 W x 54 H inches","options":["Premium Canvas (rolled)","MASSIVE 93 W x 54 H inches"],"price":112700,"weight":0,"compare_at_price":null,"inventory_management":null,"barcode":null,"requires_selling_plan":false,"selling_plan_allocations":[]},{"id":41649875091616,"title":"Textured Watercolor Print \/ SMALL 34 W x 20 H inches","option1":"Textured Watercolor Print","option2":"SMALL 34 W x 20 H inches","option3":null,"sku":null,"requires_shipping":true,"taxable":true,"featured_image":null,"available":true,"name":"Gurgaddi Siri Guru Granth Sahib - Textured Watercolor Print \/ SMALL 34 W x 20 H inches","public_title":"Textured Watercolor Print \/ SMALL 34 W x 20 H inches","options":["Textured Watercolor Print","SMALL 34 W x 20 H inches"],"price":13600,"weight":0,"compare_at_price":null,"inventory_management":null,"barcode":null,"requires_selling_plan":false,"selling_plan_allocations":[]},{"id":41649875124384,"title":"Textured Watercolor Print \/ MEDIUM 43 W x 25 H inches","option1":"Textured Watercolor Print","option2":"MEDIUM 43 W x 25 H inches","option3":null,"sku":null,"requires_shipping":true,"taxable":true,"featured_image":null,"available":true,"name":"Gurgaddi Siri Guru Granth Sahib - Textured Watercolor Print \/ MEDIUM 43 W x 25 H inches","public_title":"Textured Watercolor Print \/ MEDIUM 43 W x 25 H inches","options":["Textured Watercolor Print","MEDIUM 43 W x 25 H inches"],"price":22600,"weight":0,"compare_at_price":null,"inventory_management":null,"barcode":null,"requires_selling_plan":false,"selling_plan_allocations":[]},{"id":41649875157152,"title":"Textured Watercolor Print \/ LARGE 52 W x 30 H inches","option1":"Textured Watercolor Print","option2":"LARGE 52 W x 30 H inches","option3":null,"sku":null,"requires_shipping":true,"taxable":true,"featured_image":null,"available":true,"name":"Gurgaddi Siri Guru Granth Sahib - Textured Watercolor Print \/ LARGE 52 W x 30 H inches","public_title":"Textured Watercolor Print \/ LARGE 52 W x 30 H inches","options":["Textured Watercolor Print","LARGE 52 W x 30 H inches"],"price":31600,"weight":0,"compare_at_price":null,"inventory_management":null,"barcode":null,"requires_selling_plan":false,"selling_plan_allocations":[]},{"id":41649875058848,"title":"Enhanced Matte Print \/ SMALL 34 W x 20 H inches","option1":"Enhanced Matte Print","option2":"SMALL 34 W x 20 H inches","option3":null,"sku":null,"requires_shipping":true,"taxable":true,"featured_image":null,"available":true,"name":"Gurgaddi Siri Guru Granth Sahib - Enhanced Matte Print \/ SMALL 34 W x 20 H inches","public_title":"Enhanced Matte Print \/ SMALL 34 W x 20 H inches","options":["Enhanced Matte Print","SMALL 34 W x 20 H inches"],"price":5300,"weight":0,"compare_at_price":null,"inventory_management":null,"barcode":null,"requires_selling_plan":false,"selling_plan_allocations":[]}],"images":["\/\/artofpunjab.com\/cdn\/shop\/products\/gurugadi-of-siri-guru-granth-painting.jpg?v=1642890519","\/\/artofpunjab.com\/cdn\/shop\/products\/eternal-guru-sikh-art-guru-granth-picture1_e1c54ea2-47fc-444b-940c-7ffc506394f9.jpg?v=1642890527","\/\/artofpunjab.com\/cdn\/shop\/products\/eternal-guru-sikh-art-guru-granth-picture2_61752efd-2408-4376-9446-b40c643ca871.jpg?v=1642890529","\/\/artofpunjab.com\/cdn\/shop\/products\/eternal-guru-sikh-art-guru-granth-picture3_80117b55-4143-492a-aabf-5c9eb30cd68c.jpg?v=1642890531","\/\/artofpunjab.com\/cdn\/shop\/products\/eternal-guru-sikh-art-guru-granth-picture4_2b8c0904-9d3e-45ba-8182-f6a396fe4664.jpg?v=1642890567","\/\/artofpunjab.com\/cdn\/shop\/products\/gurugadi-of-siri-guru-granth-picture5.jpg?v=1642890567","\/\/artofpunjab.com\/cdn\/shop\/products\/gurugadi-of-siri-guru-granth-picture6.jpg?v=1642890567","\/\/artofpunjab.com\/cdn\/shop\/products\/GurgaddiSiriGurGranthSahib-SikhArtforyourhome.jpg?v=1654821184"],"featured_image":"\/\/artofpunjab.com\/cdn\/shop\/products\/gurugadi-of-siri-guru-granth-painting.jpg?v=1642890519","options":["Choose Print Type","Choose Size"],"media":[{"alt":"Guru Gobind Sikh history Painting by artist Kanwar Singh","id":23840479903904,"position":1,"preview_image":{"aspect_ratio":1.717,"height":700,"width":1202,"src":"\/\/artofpunjab.com\/cdn\/shop\/products\/gurugadi-of-siri-guru-granth-painting.jpg?v=1642890519"},"aspect_ratio":1.717,"height":700,"media_type":"image","src":"\/\/artofpunjab.com\/cdn\/shop\/products\/gurugadi-of-siri-guru-granth-painting.jpg?v=1642890519","width":1202},{"alt":"Gurgaddi Siri Guru Granth Sahib Sikh history and religion","id":23840480198816,"position":2,"preview_image":{"aspect_ratio":1.0,"height":600,"width":600,"src":"\/\/artofpunjab.com\/cdn\/shop\/products\/eternal-guru-sikh-art-guru-granth-picture1_e1c54ea2-47fc-444b-940c-7ffc506394f9.jpg?v=1642890527"},"aspect_ratio":1.0,"height":600,"media_type":"image","src":"\/\/artofpunjab.com\/cdn\/shop\/products\/eternal-guru-sikh-art-guru-granth-picture1_e1c54ea2-47fc-444b-940c-7ffc506394f9.jpg?v=1642890527","width":600},{"alt":"Sikh Religious Leader","id":23840480362656,"position":3,"preview_image":{"aspect_ratio":1.0,"height":600,"width":600,"src":"\/\/artofpunjab.com\/cdn\/shop\/products\/eternal-guru-sikh-art-guru-granth-picture2_61752efd-2408-4376-9446-b40c643ca871.jpg?v=1642890529"},"aspect_ratio":1.0,"height":600,"media_type":"image","src":"\/\/artofpunjab.com\/cdn\/shop\/products\/eternal-guru-sikh-art-guru-granth-picture2_61752efd-2408-4376-9446-b40c643ca871.jpg?v=1642890529","width":600},{"alt":"Guru Gobind Singh ji","id":23840480428192,"position":4,"preview_image":{"aspect_ratio":1.0,"height":600,"width":600,"src":"\/\/artofpunjab.com\/cdn\/shop\/products\/eternal-guru-sikh-art-guru-granth-picture3_80117b55-4143-492a-aabf-5c9eb30cd68c.jpg?v=1642890531"},"aspect_ratio":1.0,"height":600,"media_type":"image","src":"\/\/artofpunjab.com\/cdn\/shop\/products\/eternal-guru-sikh-art-guru-granth-picture3_80117b55-4143-492a-aabf-5c9eb30cd68c.jpg?v=1642890531","width":600},{"alt":"Sikh Art Picture","id":23840483246240,"position":5,"preview_image":{"aspect_ratio":1.0,"height":600,"width":600,"src":"\/\/artofpunjab.com\/cdn\/shop\/products\/eternal-guru-sikh-art-guru-granth-picture4_2b8c0904-9d3e-45ba-8182-f6a396fe4664.jpg?v=1642890567"},"aspect_ratio":1.0,"height":600,"media_type":"image","src":"\/\/artofpunjab.com\/cdn\/shop\/products\/eternal-guru-sikh-art-guru-granth-picture4_2b8c0904-9d3e-45ba-8182-f6a396fe4664.jpg?v=1642890567","width":600},{"alt":"Sikh Sangat","id":23840482164896,"position":6,"preview_image":{"aspect_ratio":1.0,"height":600,"width":600,"src":"\/\/artofpunjab.com\/cdn\/shop\/products\/gurugadi-of-siri-guru-granth-picture5.jpg?v=1642890567"},"aspect_ratio":1.0,"height":600,"media_type":"image","src":"\/\/artofpunjab.com\/cdn\/shop\/products\/gurugadi-of-siri-guru-granth-picture5.jpg?v=1642890567","width":600},{"alt":null,"id":23840482427040,"position":7,"preview_image":{"aspect_ratio":1.0,"height":600,"width":600,"src":"\/\/artofpunjab.com\/cdn\/shop\/products\/gurugadi-of-siri-guru-granth-picture6.jpg?v=1642890567"},"aspect_ratio":1.0,"height":600,"media_type":"image","src":"\/\/artofpunjab.com\/cdn\/shop\/products\/gurugadi-of-siri-guru-granth-picture6.jpg?v=1642890567","width":600},{"alt":"Guru Gobind Singh ji sikh art pictures","id":24832180191392,"position":8,"preview_image":{"aspect_ratio":1.007,"height":596,"width":600,"src":"\/\/artofpunjab.com\/cdn\/shop\/products\/GurgaddiSiriGurGranthSahib-SikhArtforyourhome.jpg?v=1654821184"},"aspect_ratio":1.007,"height":596,"media_type":"image","src":"\/\/artofpunjab.com\/cdn\/shop\/products\/GurgaddiSiriGurGranthSahib-SikhArtforyourhome.jpg?v=1654821184","width":600}],"requires_selling_plan":false,"selling_plan_groups":[],"content":"\u003cmeta charset=\"utf-8\"\u003e\n\u003cp data-mce-fragment=\"1\"\u003eIn 1708, Guru Gobind Singh, the tenth Guru of the Sikhs, having consciously witnessed the sacrifice of the lives of all his four sons, handed over the legacy to the Guruship of the Shabad Guru, embodied in the Siri Guru Granth Sahib. He understood that the age of lineage was over, and so he consciously left no heirs. The unique beauty of this is that the Siri Guru Granth Sahib, our present Guru, can neither be altered nor changed in any way. It is a touchstone for all humanity that exists beyond the limitations of time and space, now and in the future.\u003c\/p\u003e\n\u003cp data-mce-fragment=\"1\"\u003eArtist's note: The Gurgaddi Siri Guru Granth Sahib piece is how the painting was originally conceived in my mind and laid out in early sketches. However, in the fall of 2008, the 300 anniversary of the event was fast approaching and I decided to recompose the painting from the original grand conception of the historic event to a more intimate portrayal, focusing on the silent communion between Guru Gobind Singh ji and the Siri Guru Granth Sahib ji. The version that was released that year was well received and has become quite iconic. However, the desire to paint it exactly as I had originally conceived the painting never left me.\u003c\/p\u003e\n\u003cp data-mce-fragment=\"1\"\u003eHistory records that when Guru Gobind Singh ji passed the Guruship to the Guru Granth Sahib ji, our eternal Guru, the event was witnessed by a loyal retinue of Sikhs who had accompanied him south to Nanded. This closely knit sangat, said to be composed of roughly three hundred Khalsa soldiers including Mai Bhago, devout Sikhs and the few remaining members of the Guru's own family, had endured much tragedy and hardship to remain by his side in those difficult times. In 1708, on the banks of the river Godavari, on a spot chosen by the Guru, they assembled and bore witness this sublime moment that defined Sikhism forever after. Guru Gobind Singh instructed them to follow the Guru Granth Sahib just as if it were a living, breathing Guru:\u003c\/p\u003e\n\u003cp data-mce-fragment=\"1\"\u003e"The Eternal Father willed and I raised the Panth. All my Sikhs are hereby ordered to accept the Granth as their preceptor. Have faith in the Holy Granth as your master and consider it the visible manifestation of the Gurus. He who hath a pure heart will seek guidance from its holy words."\u003c\/p\u003e\n\u003cbr\u003e"}
Regular price
$241.00 USD
Regular price
Sale price
$241.00 USD
Unit price
per
Sale
Sold out
Paintings
All paintings are shipped rolled in a secure mailing tube to ensure safe delivery (frames are not included).  We offer the highest quality fine art prints in three different formats. Our premium product is the limited edition artist hand-signed Premium Canvas. This museum grade canvas looks and feels just like an oil painting and can be displayed without glass. Equally beautiful are our fine art prints on Textured Watercolour paper, selected by the artist for its beautifully textured all natural finish and our Enhanced Matte paper which is a quality economical art paper with a smooth finish.
We are happy to assist you through the framing process and can recommend local frame shops in your areas where we have contacts.  Please email us at contact@artofpunjab.com after placing your order if you have have questions about the framing process or any of our products.
Premium Canvas
Our highest quality product is the Giclee fine art prints on Premium Canvas.  This museum quality print produces vibrant colours and is made to look like an original oil painting. This elegantly textured canvas features a matte non-reflective surface with a bright white point, exceptionally high Dmax and wide colour gamut. Premium Canvas prints are initially offered as part of a Limited Edition series of 100 copies hand-signed by artist Kanwar Singh.
Specifications:
Extra 3 inches of canvas added to all sides to allow for stretching
Cotton fabric textured finish, all nature acid-free canvas
Clear UV protective coating applied to canvas to allow for glass-free framing
395 gsm Weight, 23 mil Thickness, lignin and acid free
Lab tested to last over 200 years without fading
Textured Watercolour Paper
Giclee fine art prints on Textured Watercolour paper is a cotton rag media with luxurious weight that delivers museum quality appearance.  This paper has an extremely-high colour gamut and black density.  Selected by the artist for its quality and the beautiful texture.
Specifications:
Bright Textured Matte

 Finish

All nature acid-free paper
Opacity 98%, ISO Brightness 96%
Lab tested to last over 120 years without fading
Enhanced Matte Paper
Giclee fine art prints on Enhanced Matte Paper is an un-textured bright, white paper which yields highly saturated images for a 'painterly' look.
Specifications:
Bright Textured Matte Finish, all nature acid-free paper
Thickness 10.3 mil, Basis weight 192 gsm
Opacity 94%, ISO brightness 104%
Lab tested to last over 80 years without fading
Gifts Cards
Artofpunjab e-Gift Cards will be delivered by email and will contain a unique code to be used at checkout for its value. These cards offer the unique and specials gift of art for your family and friends. Great for weddings, engagements, birthdays, anniversary, house warmings and more. Your loved ones can select a unique painting of their choice from artist Kanwar Singh's extraordinary collection of over 40 paintings. This truly inspiring gift will last a lifetime.
We offer FREE worldwide shipping on all orders over $100 Canadian dollars.  A flat rate shipping fee is applied to orders under $100 CAD.
Paintings are shipped WORLDWIDE in a secure mailing tube with guaranteed safe delivery (frames are not included).  The creation of all Fine Art prints are overseen by the artist Kanwar Singh to ensure high quality and superb colours.
Order Preparation Time
We require 1 week to prepare your order. This time is used to ensure your print meets our high quality standards. The Giclee fine art printing process we use offers the best colour accuracy for print reproduction and is considered the gold standard of the art print industry. 
For canvas orders, extra time may be required for the application and drying of the UV and scratch resistant coating which will greatly extend the life of the canvas. Most people prefer to frame canvas prints without glass and this provides the necessary protection for glass free framing.
If you require a RUSH delivery for a special occasion or event please email us after placing the order at contact@artofpunjab.com and we will do our very best to accommodate.
We are confident in the quality of our high quality prints and your satisfaction is 100% guaranteed. If for any reason you are not satisfied with your purchase, you may return it within 30 days of receiving the artwork for a full refund on the price of the item. Shipping charges are not refunded.
All prints must be returned to ArtofPunjab directly. Please email us at contact@artofpunjab.com prior to mailing a return to avoid additional duty charges.  Prints must be undamaged and in the original packaging.  If 30 days or more have passed since your purchase, we cannot offer you a refund or an exchange.
Upon receipt of the returned item we will process a refund and a credit will automatically be applied to your original method of payment. Any amounts refunded will not include the cost of shipping.
View full details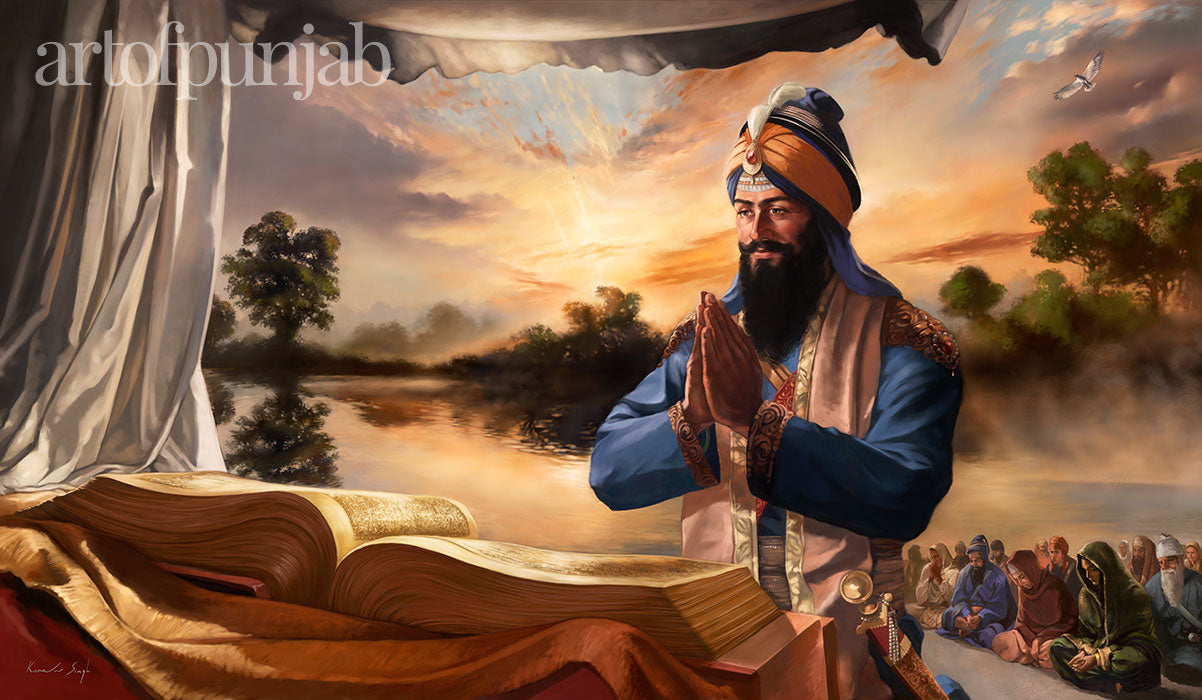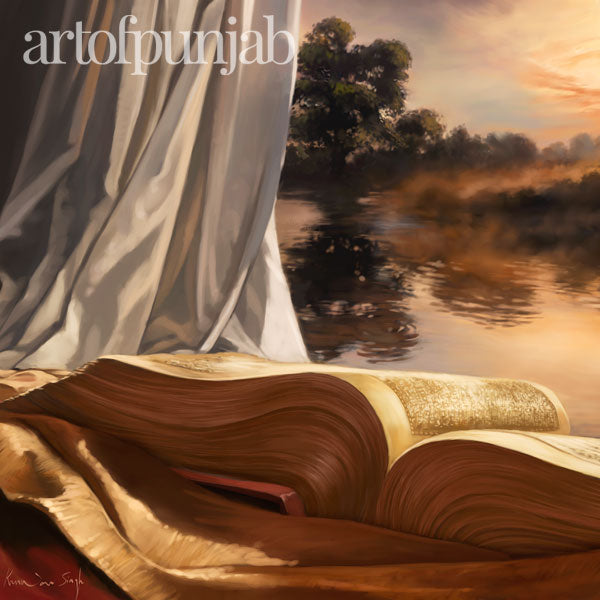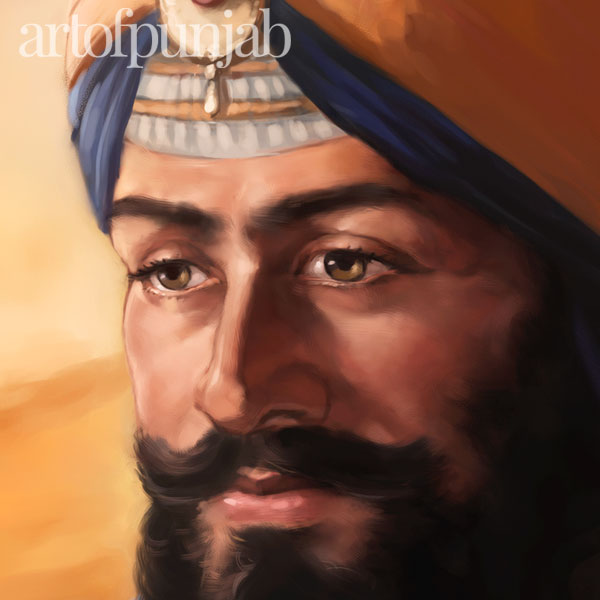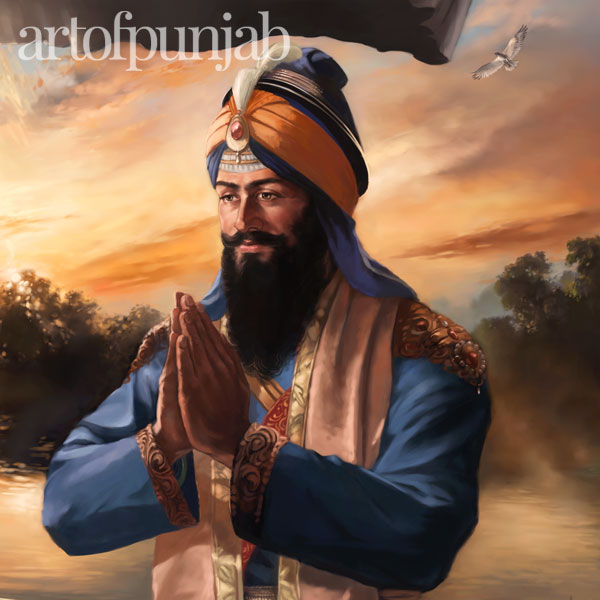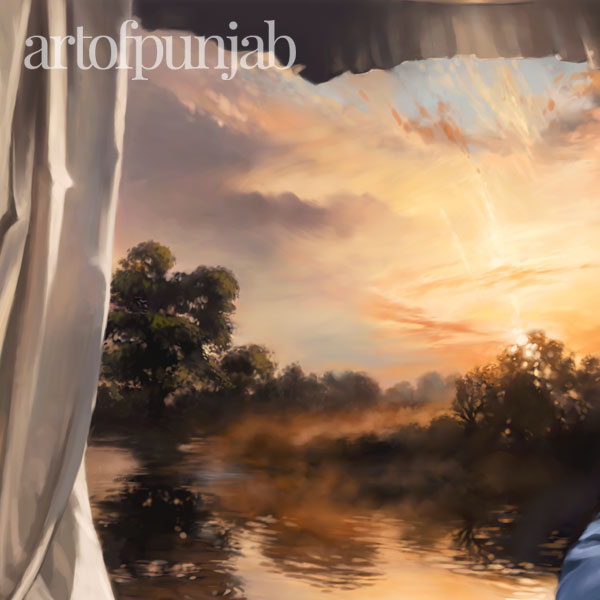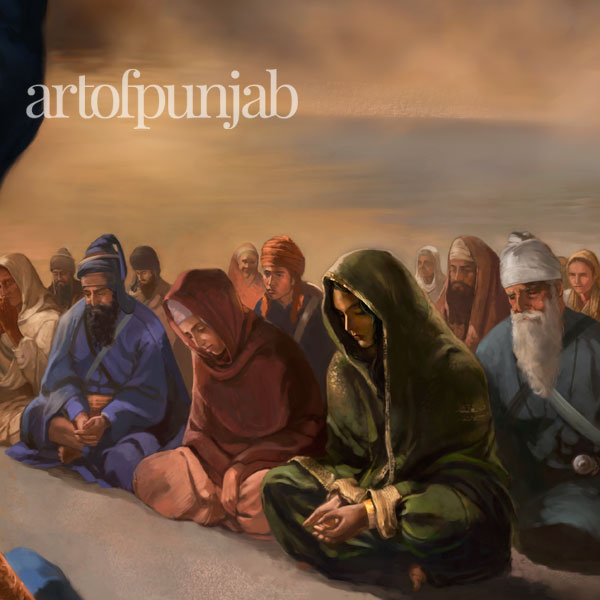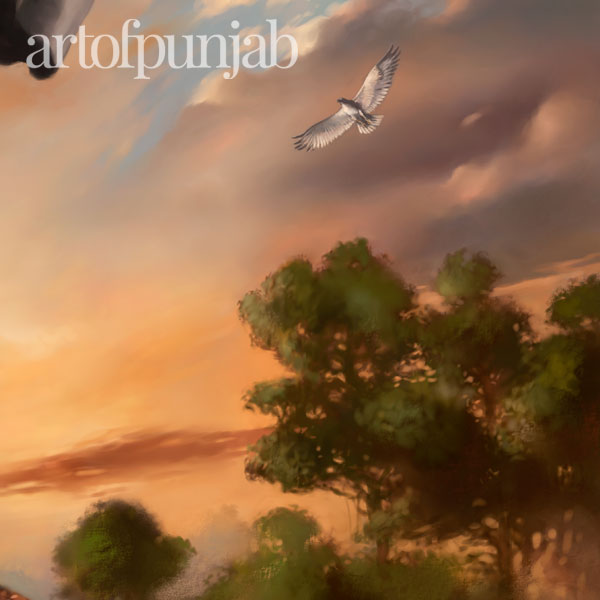 The Story
In 1708, Guru Gobind Singh, the tenth Guru of the Sikhs, having consciously witnessed the sacrifice of the lives of all his four sons, handed over the legacy to the Guruship of the Shabad Guru, embodied in the Siri Guru Granth Sahib. He understood that the age of lineage was over, and so he consciously left no heirs. The unique beauty of this is that the Siri Guru Granth Sahib, our present Guru, can neither be altered nor changed in any way. It is a touchstone for all humanity that exists beyond the limitations of time and space, now and in the future.
Artist's note: The Gurgaddi Siri Guru Granth Sahib piece is how the painting was originally conceived in my mind and laid out in early sketches. However, in the fall of 2008, the 300 anniversary of the event was fast approaching and I decided to recompose the painting from the original grand conception of the historic event to a more intimate portrayal, focusing on the silent communion between Guru Gobind Singh ji and the Siri Guru Granth Sahib ji. The version that was released that year was well received and has become quite iconic. However, the desire to paint it exactly as I had originally conceived the painting never left me.
History records that when Guru Gobind Singh ji passed the Guruship to the Guru Granth Sahib ji, our eternal Guru, the event was witnessed by a loyal retinue of Sikhs who had accompanied him south to Nanded. This closely knit sangat, said to be composed of roughly three hundred Khalsa soldiers including Mai Bhago, devout Sikhs and the few remaining members of the Guru's own family, had endured much tragedy and hardship to remain by his side in those difficult times. In 1708, on the banks of the river Godavari, on a spot chosen by the Guru, they assembled and bore witness this sublime moment that defined Sikhism forever after. Guru Gobind Singh instructed them to follow the Guru Granth Sahib just as if it were a living, breathing Guru:
"The Eternal Father willed and I raised the Panth. All my Sikhs are hereby ordered to accept the Granth as their preceptor. Have faith in the Holy Granth as your master and consider it the visible manifestation of the Gurus. He who hath a pure heart will seek guidance from its holy words."
<!- hello ->